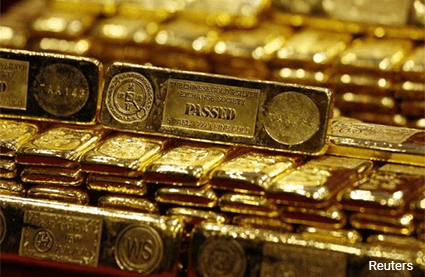 (Feb 14): Gold prices firmed on Tuesday as investors turned their attention to testimony from US Federal Reserve Chair Janet Yellen later in the day for hints on the central bank's interest rate strategy.
Spot gold was mostly unchanged at US$1,225.84 per ounce at 0230 GMT, while US gold futures inched up 0.1% to US$1,226.8.
Investors are focusing on testimony by Yellen before Congress on Tuesday and Wednesday in the wake of hints from other policymakers that could suggest they are leaning towards more hikes in interest rates this year than the two currently priced in by markets.
"The commentary will be keenly followed. Any guide to whether (a rate hike in) March is on the table will be key to moving gold," said ANZ analyst Daniel Hynes.
"I would not expect to see much volatility, don't think anyone is really confident enough to put on any sort of directional trades at the moment until they hear from Yellen."
Dallas Fed President Robert Kaplan on Monday said the US central bank should act soon to raise rates, or risk having to abandon its plan to do so slowly.
Gold is highly-sensitive to rising US interest rates, which increase the opportunity cost of holding non-yielding bullion while boosting the US dollar, in which it is priced.
Spot gold may test resistance at US$1,230 per ounce, a break above which could lead to a gain to US$1,235, according to Reuters technical analyst Wang Tao.
Meanwhile, the US dollar, which was trading near a three-week high against a basket of currencies on Tuesday, was seen limiting any uptick in bullion.
The dollar index was nearly flat on the day at 100.94. That was not far from Monday's high of 101.11, its strongest since Jan 20.
A stronger greenback makes US dollar-denominated commodities more expensive for holders of other currencies, potentially subduing demand.
In other precious metals, spot silver rose 0.22% to US$17.83 per ounce. The metal hit its highest since Nov 11 at US$18 in the previous session.
Platinum was flat at US$994.75 per ounce.
Palladium inched down 0.23% to US$772.68 per ounce. That was down from its highest in over two weeks a US$786.90, hit the session before.