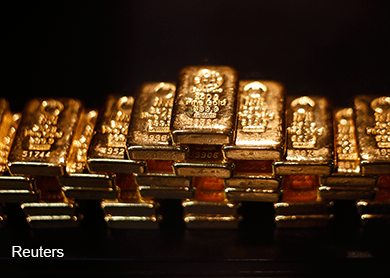 LONDON (June 2): Gold steadied on Tuesday as the dollar moved lower against the euro on uncertainty over whether a high-level meeting on Greece's debt crisis might herald a significant breakthrough.
Spot gold was unchanged on the day at $1,187.90 an ounce by 1008 GMT. The metal had climbed above $1,200 for the first time in a week in the previous session after poor U.S. data and comments on interest rates from a Federal Reserve official weighed on the dollar. The metal, however, failed to hold its gains after more data came in higher than expected.
"People are still expecting a U.S. rate hike by the end of the year and then when you have weaker data then it tends to cause a little bit of panic on whether it will be a December rate hike or not," Citi strategist David Wilson said.
The stronger U.S. manufacturing data kept alive expectations the Fed will raise rates later this year from record lows, boosting the dollar. Higher rates would reduce demand for non-interest-paying bullion.
"The lack of follow-through buying after clearing $1,200 is a worrying sign for the yellow metal and it looks again likely to test a break lower through the broad $1,180 to $1,185 support range," said MKS Group in a note.
The dollar was down 0.4 percent against a basket of currencies, mostly on euro gains after euro zone inflation data. It had risen above 125 yen in earlier trade for the first time since late 2002.
More U.S. economic data, which will culminate with the monthly non-farm payrolls report on Friday, will be watched by investors for clues on the timing of a rate rise.
Bullion traders were also keeping an eye out for news on the Greek debt crisis, any worsening of which could trigger demand for gold coins and bars. The metal is usually seen as a hedge against political and financial risk, although the impact on demand from wider political concerns is usually short lived.
Athens and its creditors from the euro zone countries and the International Monetary Fund are racing to hammer out a deal that would prevent the country from defaulting and potentially leaving the euro zone.
In a reflection of investor sentiment, holdings in SPDR Gold Trust, the top gold-backed exchange-traded fund, fell 0.25 percent to 714.07 tonnes on Monday, the lowest since mid January.
After a five-day losing streak, spot platinum was trading up 0.3 percent at $1,105.17, still close to its lowest in nearly 11 weeks. It was trading at the cheapest to gold since January 2013, with a $90 an ounce discount to the yellow metal.
Silver fell 0.3 percent to $16.62 an ounce, while palladium was unchanged at $771.25 an ounce.