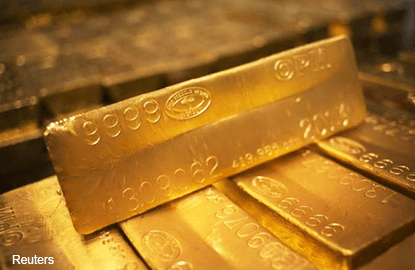 BENGALURU (March 7): Gold prices were little changed on Tuesday, hovering above a two-week low hit on Friday, amid expectations of a U.S. interest rate hike this month and ahead of key economic data due later in the week.
The U.S. monthly jobs report due on Friday includes the non-farm payrolls, seen rising by 190,000 in a Reuters poll.
Prices on most U.S. interest rates futures rose modestly on Monday, as traders bet on a strong likelihood the Federal Reserve will raise rates at its upcoming policy meeting next week.
            
"We expect the precious metal to have a bumpy ride the rest of the week, as we await further economic indicators from the U.S. such as the key February jobs numbers on Friday and the Fed meeting next week," said Mihir Kapadia, CEO and Founder of Sun Global Investments.
Spot gold was mostly unchanged at US$1,225.21 per ounce at 0650 GMT. U.S. gold futures were also flat at US$1,225.50.
The metal hit US$1,222.51, the lowest since Feb 15, on Friday, after U.S. Federal Reserve Chair Janet Yellen said that the Fed was poised to lift benchmark U.S. rates, provided jobs and inflation data held up, comments seen as cementing plans for an increase at the Fed's March 14-15 meeting.    
Spot gold may break a support at US$1,223 per ounce and fall more to the next support at US$1,213, probably after a moderate bounce to a resistance at US$1,230, according to Reuters technical analyst Wang Tao.    
Higher U.S. interest rates would boost the dollar and make commodities priced in the greenback costlier for holders of other currencies.
"I think that the rate rise is now in the price more or less, but the market will be focusing on the language surrounding the pace of future rate rises," said Nicholas Frappell, general manager with ABC Bullion.
The market will also await monetary policy decisions from the European Central Bank. The ECB will stay in the background through upcoming elections in key European countries and is only likely to signal a shift away from its ultra-easy monetary policy toward the end of this year or early next, a Reuters poll found. 
Meanwhile, holdings of the SPDR Gold Trust, the world's largest gold-backed exchange-traded fund, fell 0.45% to 836.77 tonnes on Monday. Holdings fell for second straight day on Monday.   
The steady outflow is putting a lid on prices, MKS PAMP Group trader Alex Thorndike said.
"We expect this to continue into the Fed rate decision, which will remain a drag."
In other precious metals, silver fell 0.5% to US$17.69 per ounce. 
Platinum was down 0.4% to US$970.55, after hitting US$969.90, its lowest since Jan 27.
Palladium was down 0.1% to US$769.88.