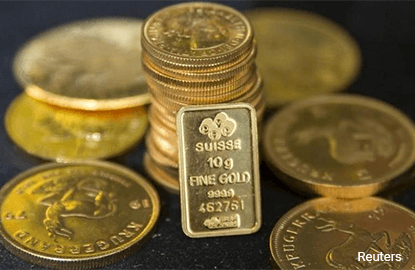 BENGALURU (March 6): Gold steadied on Monday after falling to two-week lows in the previous session, after Fed Chair Janet Yellen reinforced expectations the U.S. central bank would raise U.S. interest rates this month.
Spot gold was down 0.2% to US$1,231.6 an ounce at 1054 GMT, after Friday's slide to US$1,222.51, the lowest since Feb 15. U.S. gold futures were up 0.5% to
US$1,232.
Yellen said last week that the Federal Reserve was set to lift benchmark U.S. interest rates provided jobs and inflation data held up, comments seen as cementing plans for a hike at the March 14-15 meeting.
Higher U.S. rates would boost the U.S. currency and make dollar-priced commodities more expensive for holders of other currencies.
"Fed comments have become increasingly hawkish," Societe Generale analyst Robin Bhar said, adding that the next set of U.S. data to watch would be non-farm payrolls later this week.
The U.S. monthly jobs report on Friday includes the non-farm payrolls, which a Reuters poll sees rising by 190,000.  
"The U.S. labour market is tight, inflation is picking up ... investment is revving up, consumer confidence readings are increasing and both housing and equity valuations are moving higher," INTL FCStone analyst Edward Meir said in the note. 
"All this should be enough to persuade the Fed to make a move should it want to get at least one of its three advertised rate hikes out of the way for this year."
 
However, traders say geopolitical tensions created by North Korea firing four ballistic missiles into the sea off Japan's northwest coast were helping gold.             
 
"European elections are also a source of uncertainty, gold will get support from that," one gold trader said, adding there was strong support for gold around US$1,210, the 100-day moving average.
Gold holdings in physically backed exchange traded funds have fallen since last week, partly due to the stronger dollar, but at 54.855 million ounces they are still more than three percent higher than at the start of February.      
Elsewhere, spot silver fell one percent to US$17.78 per ounce, platinum slipped one percent to US$984.21 and palladium ceded 0.3% at US$768.8.