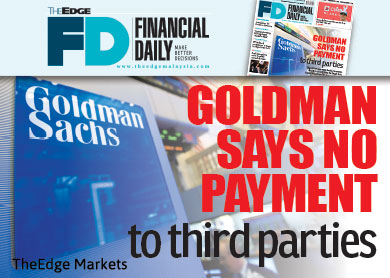 KUALA LUMPUR: Goldman Sachs Group Inc, the firm which courted rival bankers' envy for high fees and bagged two 1Malaysia Development Bhd (1MDB) private bond issuances, said the RM1.5 billion fees and commissions referred in the offer documents "are standard terms used to describe part of Goldman Sachs' compensation for the risks assumed in underwriting the bonds in question".
"Other than legal and accounting firms providing professional services, no fees or commissions were paid by 1MDB or Goldman Sachs to external third parties in connection with these transactions, nor have we ever been asked by 1MDB or others to pay such fees or commissions," Goldman Sachs head of corporate communications (Asia-Pacific) Edward Naylor told The Edge Financial Daily.
He was commenting on The Edge weekly's cover story "1MDB's habit of overpaying to raise money" (issue for the week of Oct 27 to Nov 2) in which it reported that 1MDB had incurred "certain commissions, fees and expenses" of US$479.4 million (RM1.57 billion) for two bond issuances totalling US$4.75 billion that only raised net proceeds of US$4.27 billion.
The two bond issuances are the debt papers of 1MDB Global Investments Ltd in which "certain fees, commissions and expenses" were 9.4% of US$3 billion gross proceeds, and debt papers by 1MDB Energy Ltd in which fees were 11.2% of US$1.75 billion gross proceeds.
Nevertheless, Naylor declined to explain why the fees and commissions incurred for the two bond issuances of 9.4% and 11.2% were so much higher than the industry norm of between 0.2% and 3%.
He also did not provide a breakdown of the fees for Goldman Sachs and the "legal and accounting firms providing professional services".
When contacted, a 1MDB spokesperson also did not explain why the fees were exceptionally high, except to say that the state investment body had "considered all of its options with regard to pricing structure, investment bank, market conditions and speed to market in the financing exercise and its requirements, and chose the optimal path in light of the various considerations".
Apart from the high fees and commissions, investment bankers berated Goldman Sachs for the 5.99% coupon paid via the US$1.75 billion papers — issued by 1MDB Energy to buy the power assets of billionaire Ananda Krishnan's Tanjong Energy — for being at least 150 basis points higher than comparable papers.
1MDB was likely to have overpaid for its power assets and land in Penang. According to The Edge's calculations, 1MDB should have paid about RM2.65 billion less for its RM10.85 billion purchases of Tanjong plc and Genting Bhd's power assets. Citing valuation from a property consultant, The Edge calculated that 1MDB could potentially lose at least RM1 billion from building 9,999 affordable homes on the 260-acre (105.22ha) plot of land in Penang it bought for RM1.38 billion.
The weekly also pointed out that the government's exposure to 1MDB's RM36 billion debts is likely to be higher than RM5.8 billion, the amount that the Ministry of Finance (MoF)'s 100%-owned 1MDB claims is guaranteed by the federal government.
While the MoF stressed that the letter of support dated March 14, 2013 — included in the offer documents for the US$3 billion 1MDB Global Investment Ltd debt papers — was not an expressed or implied guarantee, it said "the government of Malaysia hereby confirms and undertakes to provide necessary financial assistance to the issuer" in the event the issuer is unable to meet payments. The guarantee is valid through March 19, 2023.
Citing The Edge's write-up, DAP national publicity secretary and Petaling Jaya Utara Member of Parliament Tony Pua had called on Prime Minister Datuk Seri Najib Razak to explain why fees paid by 1MDB in regard to the two bond issues arranged by Goldman Sachs were so high. Najib is finance minister and 1MDB chairman.
"I have done fundraising exercises before and run public-listed companies and raised loans and equities, but the fees have never exceeded 2% and 3%," Pua was quoted in The Edge Financial Daily report yesterday.
This article first appeared in The Edge Financial Daily, on October 29, 2014.