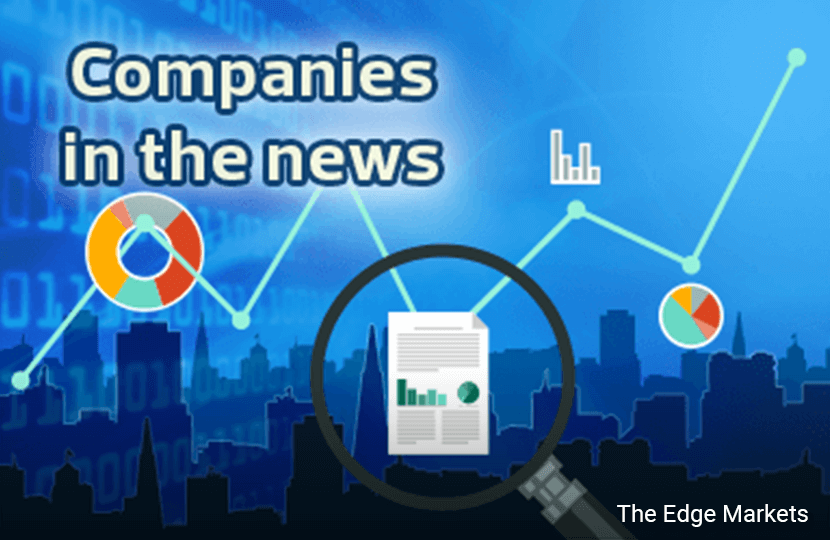 KUALA LUMPUR (Oct 19): Based on corporate announcements and news flow today, companies that may be in focus tomorrow (Tuesday, Oct 20) could include: Guocoland, WCT, Axis REIT, ConnectCounty, Yinson, Anzo, MMC, Trive Property, VS Industry and Wintoni.
Guocoland (M) Bhd's associate, Vintage Heights Sdn Bhd, is disposing of a 679.2ha land in Sepang, Selangor to Putrajaya Properties Sdn Bhd, for RM474.99 million cash.
Upon completion of the proposed disposal, Vintage Heights is expected to realise a net gain on disposal of some RM290 million. About RM116 million is expected to be attributable to Guocoland.
Guocoland said Vintage Heights had on Friday (Oct 16), signed the conditional sale and purchase agreement with Putrajaya Properties and Hap Seng Consolidated Bhd for the proposed disposal.
Vintage Heights had on March 27, 1992, acquired the land from its shareholder, Hap Seng Consolidated, for RM50.48 million.
 
WCT Holdings Bhd has been awarded a RM754.8 million infrastructure package for the Tun Razak Exchange (TRX) here, following an earlier award of the earthwork contract package in 2013.
"The two-year contract will cover underground road structures, installation of direct buried utilities, at-grade and elevated roadway, as well as associated earthworks and mechanical and electrical works," it told Bursa Malaysia today.
Separately, the group said it is also buying a plot of residential land in TRX, measuring 1.7 acres, for RM223 million or RM3,100 per sq ft. It said the acquisition is part of its strategy to seek opportunities in prime development, with strong growth and earnings potential.
 
Axis Real Estate Investment Trust (Axis REIT) reported a 25% increase in its realised income to RM23.71 million for the third quarter ended Sept 30, 2015 (3QFY15), from RM18.89 million a year ago.
The REIT also announced a dividend per unit (DPU) of 2.2 sen for the quarter, up 2% from 2QFY15. The dividend is payable on Dec 9. Revenue for 3QFY15 rose 26% to RM41.86 million, compared with RM33.12 million in 3QFY14.
 
ConnectCounty Holdings Bhd has proposed a rights issue of up to 800.99 million new irredeemable convertible preference shares (ICPS), to raise funds for its capital expenditure (capex) and working capital requirements.
According to its filing with the exchange, the ICPS will be issued at an issue price of 2.5 sen per unit, on the basis of three units for every one share held in the company.
The rights shares will be accompanied by an issue of up to 53.40 million free detachable warrants, on the basis of one free warrant for every 15 ICPS subscribed.
ConnectCounty said that it expects to raise up to RM20.03 million in proceeds from the proposed rights issue, of which RM2.5 million will be utilised for capex, RM6 million for working capital, and RM550,000 to cover expenses related to the proposals.
The balance RM10.98 million will be used for future working capital or investment purposes.
 
Yinson Holdings Bhd's indirect wholly-owned subsidiary, Adoon Pte Ltd, has clinched a US$129 million (RM543 million) charter from Addax Petroleum Development (Nigeria) Ltd for its floating production, storage and offloading vessel (FPSO), for another three years until Oct 16, 2018.
In a filing with Bursa Malaysia today, Yinson said Addax has extended, for the second time, its contract for the charter of FPSO Adoon by three years, with effect from Oct 17, 2015 to Oct 16, 2018.
The original contract for the FPSO was awarded on Oct 17, 2006, for a firm eight-year period, with option to renew up to eight years, and the said original contract had expired on Oct 16, 2014.
The first extension of the contract was agreed by both parties from Oct 17, 2014 to Oct 16, 2015, worth US$39 million.
 
Anzo Holdings Bhd (formerly Harvest Court Industries Bhd) has bagged a housing development project, along with infrastructure jobs, from Tinta Anggun Engineering Sdn Bhd (TAESB) in Melaka, worth a combined RM153 million.
In a filing with Bursa Malaysia, the group said its wholly-owned subsidiary, Harvest Court Construction Sdn Bhd (HCCSB), had received a letter of acceptance today from TAESB, appointing HCCSB as the main contractor for the project.
The contract, according to Anzo, is for the proposed turnkey design, approval, build and delivery, with certificate of completion and compliance for Phase 1 of the Porto De Melaka Hotel and Resort development in Melaka.
The group expects the project to have positive contribution to its earnings per share, net assets per share and gearing.
MMC Corp Bhd plans to acquire an additional 53.42% stake in NCB Holdings Bhd, from Permodalan Nasional Bhd (PNB) and AmanahRaya Trustees Bhd, for RM1.11 billion or RM4.40 per share, thereby increasing its holding in the port operating company to 83.55%, from 30.13% currently.
This would trigger a mandatory general offer (MGO) for the remaining 16.45% shares of NCB that it does not already own, and pave way for MMC to become the country's largest port operator.
In a filing with Bursa Malaysia, MMC said its wholly-owned subsidiary, MMC Port Holdings Sdn Bhd, had signed a conditional sale of shares agreement with PNB and AmanahRaya Trustees today, to acquire 251.2 million NCB shares, representing a 53.42% equity interest in NCB.
Upon completion of the proposed MGO, MMC said it does not intend to maintain the listing status of NCB on the Main Market of Bursa Malaysia. However, the proposed acquisition is subject to approval of MMC shareholders, at an extraordinary general meeting to be convened before Jan 19, 2016.
Trive Property Group Bhd, formerly known as ETI Tech Corp Bhd, said the RM62 million worth contract in Sabah awarded to its wholly-owned subsidiary, has been withdrawn.
In a filing with the exchange, the battery-solutions provider said the contract awarded by Wira Syukur (M) Sdn Bhd to its wholly-owned unit, Proper Methods Sdn Bhd, as a sub-contractor to design, construct and complete 500 units of apartments in Tawau, Sabah, has been withdrawn.
The contract is part of the people's housing programme.
Trive said both parties had mutually agreed to withdraw the awarded contract, as they were unable to obtain consensus on the total contract value.
Both parties would not make any claim against each other due to the withdrawal, the company added.
V.S. Industry Bhd is proposing a bonus issue of up to 290.77 million free warrants, on the basis of one bonus warrant for every four existing shares held.
In a filing with Bursa Malaysia, the Johor-based electronic manufacturing services (EMS) provider said the proposed corporate exercise is to reward its shareholders.
It said the exercise will also increase shareholders' equity participation by exercising their bonus warrants at a pre-determined exercise price, during the tenure of the bonus warrants.
"The proposed bonus warrants will also strengthen the capital base of the company, and potentially provide additional funds to the group, if the bonus warrants are exercised," it added.
 
Wintoni Group Bhd's share price and volume jump in recent days, prompted Bursa Malaysia to issue an unusual market activity (UMA) query to the industrial automation systems provider.
Last week, Wintoni's shares soared to close at 21 sen on Friday (Oct 16), from 15.5 sen on Thursday (Oct 15).
Between Tuesday (Oct 13) and Friday (Oct 16), there were 98.01 million shares traded on the open market. Friday's volume made up the lion's share, at 76.6 million.
(Note: The Edge Research's fundamental score reflects a company's profitability and balance sheet strength, calculated based on historical numbers. The valuation score determines if a stock is attractively valued or not, also based on historical numbers. A score of 3 suggests strong fundamentals and attractive valuations.)