This article first appeared in Wealth, The Edge Malaysia Weekly, on July 26, 2021 - August 01, 2021.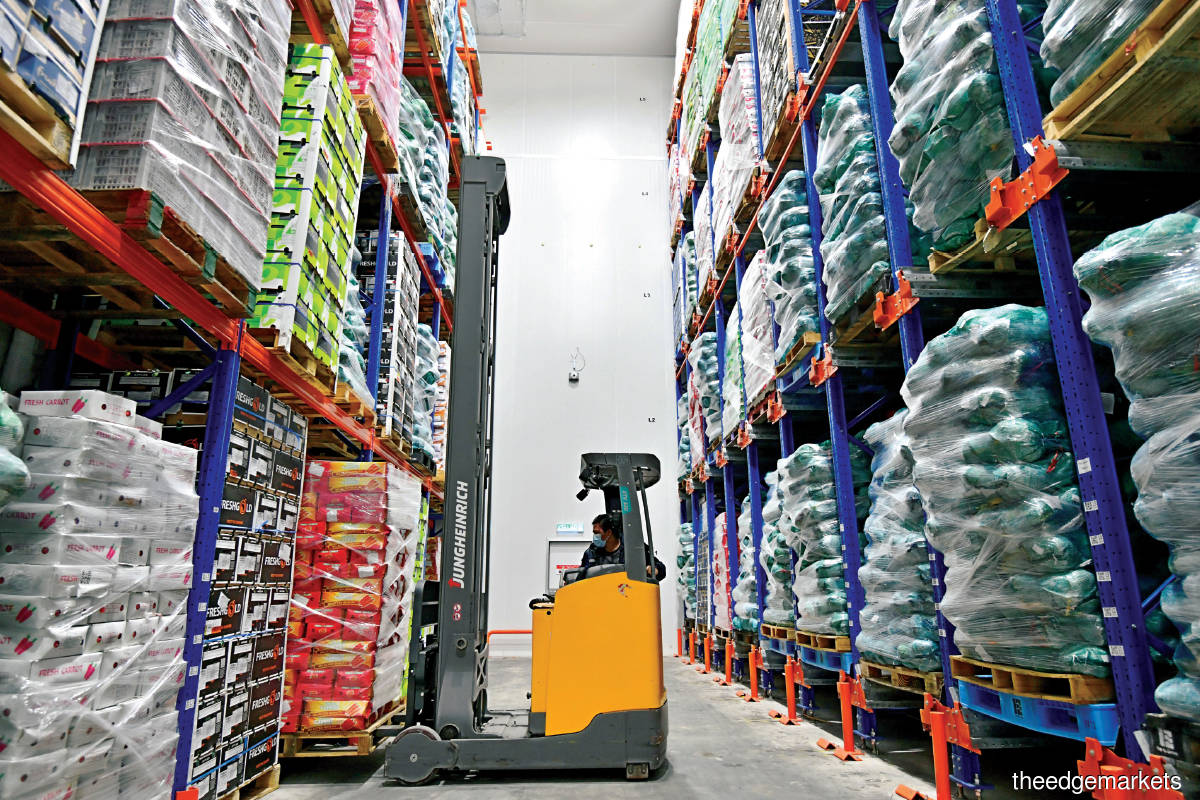 Datuk Khor Kok Seng, 38, has successfully transformed his family's traditional customs brokerage business into a multimillion-ringgit logistics company serving major retailers, wholesalers and importers across the country.
"The EL Group specialises in the cold chain transport of food items and temperature-sensitive products. We are regarded as an essential service provider and thus, have been able to continue operating throughout the lockdowns," says its managing director.
"The Covid-19 pandemic has affected our cash flow and we are now more careful with our credit terms, especially for new customers. Fortunately, our financials have not been as badly impacted as those of other industries and companies," says Khor, who grew up watching his mother take on multiple part-time jobs to support the family.
At the end of 2019, before the outbreak of the pandemic, he had established EL Cold Chain Logistics Sdn Bhd — in line with the EL Group's target of becoming an integrated logistics company. EL Cold Chain Logistics, which provides rental of cold storage space as well as cold-chain transport services, is Khor's biggest project to date.
It encompasses a multimillion-ringgit, 40,000 sq ft facility that can store more than 4,500 pallets, or over 200 containers of goods such as poultry, meat, seafood, fruits and vegetables in cold temperatures.
"Revenue for the EL Group fell during the first and second Movement Control Order (MCO) periods, only to rebound when restrictions were lifted. That is why I am optimistic about the outlook and believe that the local economy and consumer sentiment will recover quickly when the spread of the coronavirus is contained," says Khor.
He describes himself as a conservative and cautious investor, but that has not stopped him from investing in business ventures outside the transport industry. "I have recently invested in two restaurants since I believe that consumers will be happy to dine out after the lockdowns."
One of his restaurants, which serves bak kut teh, commenced operations last year and was doing well, with customers queuing to enter, before the Full MCO (FMCO) was implemented in May this year. The other restaurant, an Italian eatery, is scheduled to open before the end of the year.
"Everyone is eagerly anticipating some good news. This could be a large reduction in the number of daily Covid-19 cases or a huge increase in the number of people who have been vaccinated. I hope that either scenario will materialise in the later part of this year, hopefully by November. This is when restaurants should benefit from customers looking to socialise and celebrate," says Khor.
"I am a much more conservative investor now given the pandemic and economic slowdown. I recently turned down a number of interesting business ventures that I would have explored in the past. But the current environment is more challenging and entrepreneurs must be more careful. Cash flow is tight and the environment is unpredictable," he continues.
"The EL Group transports food items to many clients in the food and beverage (F&B) industry and I am familiar with how it works. In a way, investing in restaurants has allowed me to move up the supply chain and into providing the final product to consumers. There is also the added benefit of diversifying my business ventures. But the main reason that compelled me to invest in these particular restaurants are the people behind the ventures."
Much like when seeking professional asset managers, Khor looks for leadership ability and a strong management team. This was the lesson he learnt about eight years ago when he invested in a business providing car security systems. 
"I had two partners but none of us were involved in the day-to-day operations. When it failed, I realised that money is not made easily and that good people are essential for a business to succeed," he says. 
"I lost about RM300,000 in that venture, but it was a good learning experience. That was when I decided to invest only when I truly believe in the founder or key personnel who will be involved in the daily operations of the business." 
Apart from restaurants, Khor has invested in a fresh food retail company that sells pork. It has about 20 outlets, with some branches performing better than others during the current lockdown. While he is not involved in the day-to-day operations, he visits the company about once a week to give advice and provide support, where needed. 
"There are so many asset classes but I prefer to invest directly in businesses. This way, I am more involved in the outcome and get to be part of a small operation that grows into an established and profitable entity. It is more challenging in many ways but it is also much more satisfying," he says.
He adds that business investments are riskier than conventional assets such as bonds, properties and unit trust funds. "But there are ways to manage or divert business risks. For example, you can buy insurance if there is a high risk of theft. 
"Then, there are risks that cannot be mitigated or minimised. This is when it pays to be cautious. For example, we are taking our time to increase the number of our fresh food retail outlets now, even though the business tends to benefit during lockdowns. During this period, consumers prefer to buy from smaller shops where they don't have to queue."
Apart from business ventures, Khor's investment portfolio includes real estate, unit trust funds and education insurance policies for his children. He does not invest directly in the stock market as he finds that it is rarely driven by fundamentals, and prefers to employ a professional fund manager to separate the wheat from the chaff. All the unit trust funds that he has bought into have a moderate to low-risk profile.
To further diversify his portfolio, Khor has invested in unit trust funds that hold assets outside of the country, as well as acquired real estate in Chiang Mai, Thailand, and Melbourne, Australia.
"My wife and I like Chiang Mai. The weather is cool and it is a nice place to retire. So, we decided to buy a condominium there. I also have a unit in Melbourne because we like the city. That is all the personal foreign investments that I have," he says.
In Malaysia, Khor recently purchased industrial land for his company in Shah Alam, Selangor. He finds that the demand for industrial land has not been affected by the economic slowdown. 
"The residential property market may have seen a slump in prices, but this is not the case for industrial properties. Prices for such land have been holding steady, so it is not right to say the entire property market is not doing well," he says.
"I only buy property if my family or my businesses require it. I don't speculate or buy to rent. In a way, I am a conservative investor. But since I prefer to invest directly in a business, I am willing to take on risks that I can manage and mitigate."