This article first appeared in The Edge Financial Daily, on September 11, 2019.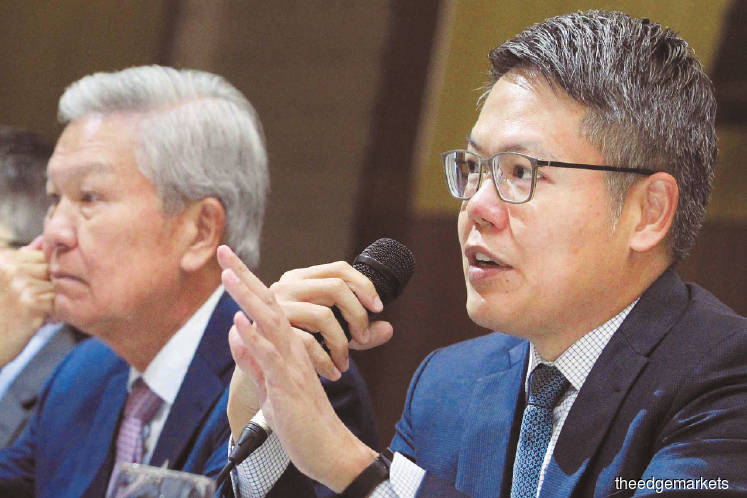 (From left) Hartalega executive chairman Kuan Kam Hon and Mun Leong at the company's AGM. Photo by Kenny Yap
KUALA LUMPUR: Hartalega Holdings Bhd sees strong growth in glove demand from the US, as buyers there switch from China to Malaysia amid the trade tension between the two economic superpowers.
Hartalega managing director Kuan Mun Leong said the US remains its core market and expects sales orders to pick up from October following the imposition of new tariffs on Chinese imports by the US.
"In the second half, we are seeing a much better volume. We have been operating at a utilisation rate of 95% since August compared with 88% previously. We are expecting that plant utilisation will be full in October and November," Kuan said at a press conference after the group's annual general meeting (AGM) yesterday.
However, Kuan said Hartalega needs to keep its eyes on China, as the glove producers there are expanding into other markets, especially Europe.
He expects some impact on glove pricing in the European market as Chinese glove manufacturers have adopted a more aggressive pricing strategy in Europe after losing the US market.
Both the US and China have imposed fresh tariffs on each other's goods from September. Washington announced a 15% tariff on a variety of Chinese goods — including footwear, smartwatches and medical gloves — as China imposed new duties on US goods such as crude oil and soybean.
Hartalega's sales volume rose 10.1% to over 28 billion pieces for the financial year ended March 31, 2019 (FY19), of which 95% were nitrile gloves.
The group is the world's largest nitrile glove producer and the US is its No 1 export market, accounting for 54% of total sales in FY19. Europe and Asia-Pacific account for 25% and 18% of total exports respectively.
Despite Hartalega being the first mover in nitrile gloves, Kuan noted that competition remains stiff in the rubber glove industry as other manufacturers have caught up by expanding their nitrile glove production lately.
"I am very well aware of that [competition]. We will continue to make improvements in our operation, including cost optimisation. For example, we look into further automatisation in the production line and also advancement in technology, and research and development to make us more competitive," he added.
Asked about the group's strategy to strengthen its performance in the coming quarters, Kuan said the group's focus is to defend its market share. Hence, Hartalega has lowered the average selling prices across its products and also ensured its plants are running at a high utilisation rate.
The group's net profit fell by a quarter to RM94.06 million for the first quarter ended June 30, 2019, from RM124.87 million a year earlier, on lower sales and higher costs. Revenue dropped 9% to RM640.1 million from RM706.35 million.
Hartalega's share price rose 15 sen or 2.91% to RM5.31 yesterday, bringing the group a market capitalisation of RM17.84 billion. Over the past year, the group has retreated by 20.54%.