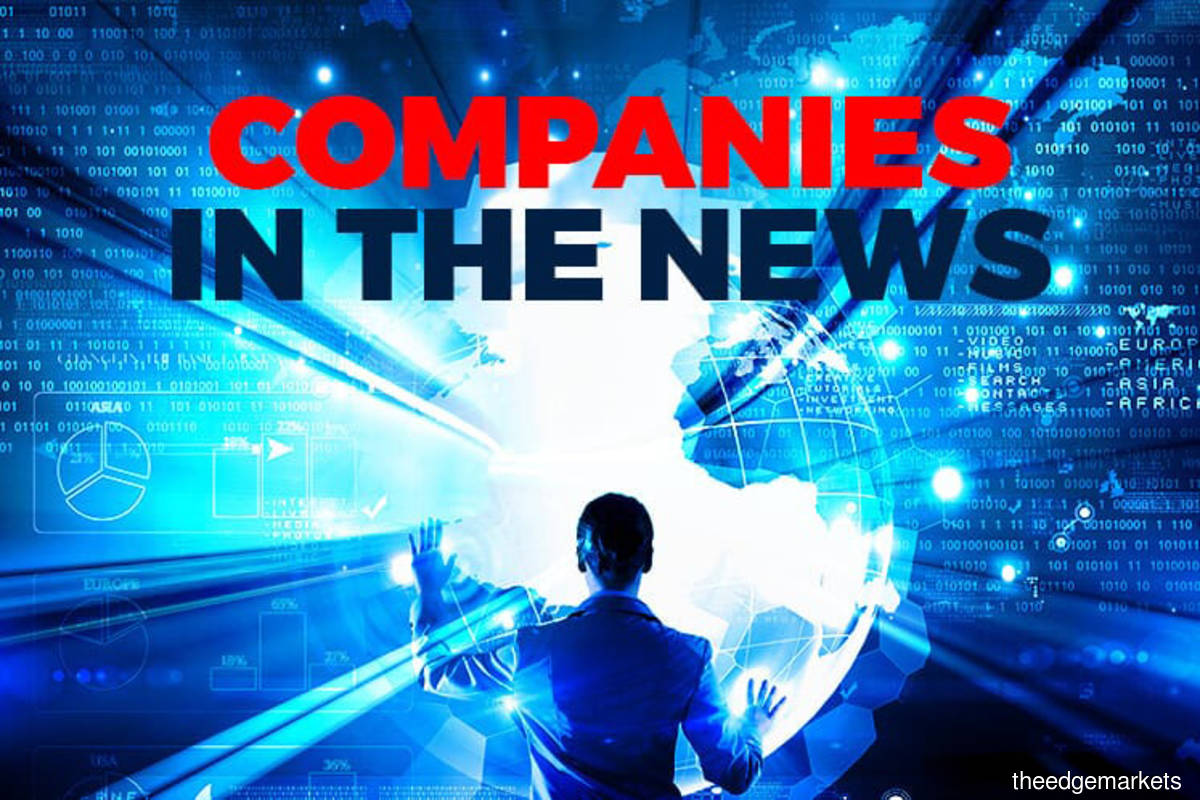 KUALA LUMPUR (May 4): Based on corporate announcements and news flow today, companies that may be in focus tomorrow (Wednesday, May 5) include: Hartalega Holdings Bhd, T7 Global Bhd, KLCCP Stapled Group, Fraser & Neave Holdings Bhd (F&N), Can-One Bhd, Tomei Consolidated Bhd, YTL Corp Bhd, Mah Sing Group Bhd, S P Setia Bhd, Velesto Energy Bhd, Rohas Tecnic Bhd, Focus Dynamics Group Bhd and LKL International Bhd.
Hartalega Holdings Bhd's net profit for the fourth quarter ended March 31, 2021 (4QFY21) grew 11.73% to RM1.12 billion, from RM1.01 billion in the immediate preceding quarter, due to higher sales revenue and lower operation costs, offset by higher raw material price. Quarterly revenue rose 8% to RM2.3 billion from RM2.12 billion in 3QFY21. On a year-on-year basis, the glove maker's net profit skyrocketed from RM114.42 million, while revenue also jumped from RM778.24 million a year ago. The group declared a third interim single tier dividend of 17.7 sen for the full financial year ended March 31, 2021 (FY21). For FY21, the company's net profit soared to RM2.89 billion from RM433.62 million in the previous year. Full-year revenue climbed 129% to RM6.7 billion from RM2.92 billion.
T7 Global Bhd has secured a RM50 million work order award from Petronas Carigali Sdn Bhd for the provision of plug and abandonment integrated services. The energy solution provider said the work order was awarded to its wholly-owned subsidiary Tanjung Offshore Services Sdn Bhd and is effective from March 29 to Dec 28.
KLCCP Stapled Group's net profit for the first quarter ended March 31, 2021 (1QFY21) fell 17.39% to RM146.13 million, from RM176.88 million a year ago, as the prolonged Covid-19 pandemic dragged the group's retail and hotel segments. The group, which comprises KLCC Property Holdings Bhd and KLCC Real Estate Investment Trust (KLCC REIT), also saw its quarterly revenue slip 20.37% to RM282.37 million, from RM354.59 million a year ago. The group declared a dividend of seven sen per stapled security for 1QFY21.
Fraser & Neave Holdings Bhd's (F&N) net profit grew 1.3% to RM103.51 million for its second quarter ended March 31, 2021 (2QFY21). from RM102.17 million a year earlier, on the back of higher sales, favourable product mix, as well as prudent control of advertising and promotion spend. Quarterly revenue rose 8.6% to RM1.09 billion from RM1.01 billion. The group declared an interim dividend of 27 sen per share for the financial year ending Sept 30, 2021 (FY21), payable on June 16. For the first six months of FY21, its net profit rose 4.2% to RM240.32 million from RM230.54 million a year ago, while revenue rose 2.8% to RM2.17 billion from RM2.12 billion.
Can-One Bhd has received a notice of unconditional mandatory takeover offer from major shareholder Eller Axis Sdn Bhd to acquire the remaining shares in Can-One not owned by Eller Axis and the ultimate offeror Yeoh Jin Hoe for RM2.50 per share. Eller Axis inked an unconditional share sale agreement with Genkho Candoz Sdn Bhd today to acquire 40.24 million shares or 20.94% in the metal-can manufacturer at RM2.50 per share or RM100.6 million in total, in cash. With the 20.94% stake buy, the collective equity interest held by the offeror and persons acting in concert increased to 60.57%, prompting this mandatory offer. The joint offerors, however, intend to maintain the listing status of Can-One on Bursa Malaysia.
Tomei Consolidated Bhd's net profit for the first quarter ended March 31, 2021 jumped more than three times y-o-y to RM13.76 million, from RM4 million, on higher revenue. Quarterly revenue almost doubled to RM244.15 million from RM127.8 million a year before, mainly due to an increase in consumer demand, particularly for yellow gold jewellery.
YTL Corp Bhd's 98%-owned subsidiary YTL Cement (Hong Kong) Ltd has finalised the disposal of its 100% equity interest in Zhejiang Hangzhou Dama Cement Co Ltd (Dama Cement). YTL Cement invested in Dama Cement in 2007, and has seen aggregate returns of about CNY1.3 billion (RM827 million) and profits of about RM250 million from it, since. YTL Corp, however, did not disclose the disposal price for Dama Cement.
Mah Sing Group Bhd's wholly-owned subsidiary Nova Century Development Sdn Bhd is buying an approximately two-hectare (about five acres) land in Tempat Jalan Genting Kelang, Setapak here for a proposed estimated RM618 million mixed development, comprising residential and retail components, from Teratai Constructors Sdn Bhd. Based on preliminary plans and subject to approval from authorities, the new project, to be named M Astra, is planned for a mixed development comprising two blocks of serviced suites and some retail lots.
S P Setia Bhd has proposed the establishment of an Islamic medium term note programme of up to RM3 billion in nominal value. Malaysian Rating Corporation Bhd (MARC) has assigned a preliminary rating of AA-IS with a stable outlook to the sukuk programme. Proceeds from the proposed issuance will largely be used to fund capital injection into the group's joint-venture Battersea Power Station project and refinance earlier borrowings undertaken to fund this project.
Velesto Energy Bhd is investigating yesterday's worksite incident involving one of its rigs, and is evaluating its options. The incident involving the Velesto Naga 7 rig occurred at the worksite due to rapid penetration into the formation whilst operating in offshore Sarawak for a client. The rig is covered by insurance, and recovery efforts are ongoing and monitored. Drilling activities have not commenced and no well has been drilled.
Rohas Tecnic Bhd had secured a transmission line fabrication job with an estimated value of RM37 million. Its wholly-owned subsidiary Rohas-Euco Industries Bhd had accepted an order from Larsen & Toubro Ltd for the fabrication of 500 kilovolt Overhead Transmission Towers for the transmission line connecting a 1,200MW power generation plant in Pulau Indah to the Olak Lempit main intake substation. The transmission line is approximately 37km long and the project comprises the fabrication and supply of lattice towers.
Focus Dynamics Group Bhd and LKL International Bhd have teamed up to initiate the rollout of a chain of lifestyle-based pharmacies in the Klang Valley, and eventually nationwide. The two companies will set up a dedicated vehicle to house the new business, with Focus Dynamics taking a majority stake of 60% and LKL the remaining 40%.