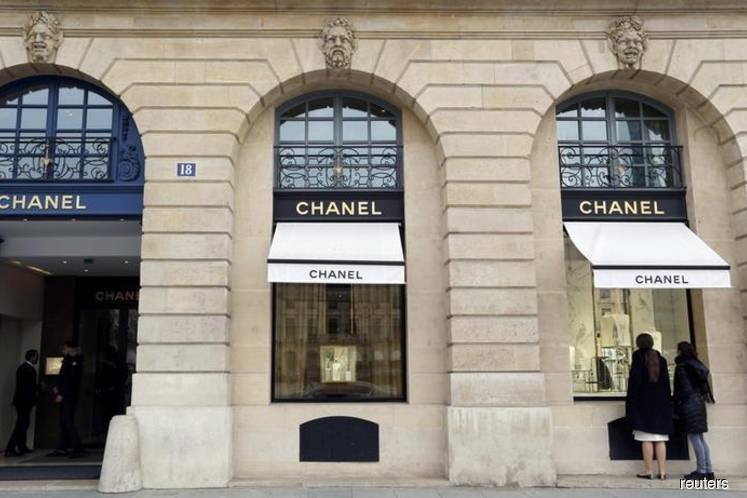 The Chanel boutique in Paris, France. (Source: Reuters)
This article first appeared as 'Najib's SRC trial: How he received and spent RM606 million in 19 months' in The Edge Malaysia Weekly, on August 12, 2019 - August 18, 2019.
Witnesses have testified that Datuk Seri Najib Razak's three personal AmBank accounts received a total of RM606.51 million over 19 months, during which the entire amount was rapidly exhausted, providing Malaysians a sneak peek into the spending power — and habits — of the country's sixth prime minister.
The three current accounts in question with the last three digits ending 898, 880 and 906 were active between July 31, 2013, and March 9, 2015.
That is 586 days or a little more than 19 months. In essence, Najib's total spending averaged to RM31.92 million per month or RM1.035 million a day!
The figure was reached in Najib's SRC International Sdn Bhd trial on Tuesday as the prosecution concluded its examination of the 54th prosecution witness, AmBank relationship liaison manager Joanna Yu Ging Ping.
However, it was not tendered as evidence. Najib' defence attorney Harvinderjit Singh argued that the final sum was not accurate as he contended that the prosecution had included inter-account transfers as well.
Of the RM606.51 million deposited, RM162.44 million was the balance transferred from Najib's previous AmBank account (three digits ending 694) upon the closure of the account. These funds were the remainder from "Arab donations" to Najib, Jho Low told the bank.
Another RM45.84 million and RM4.09 million were deposited from investment firms Vista Equity International Partners (Seychelles) and BlackRock Commodities Global Ltd, both linked to Jho Low's associate, Eric Tan.
This leaves RM394.14 million or 65% of the total sum unaccounted for, some of which was allegedly deposited by units of SRC International Sdn Bhd and subsidiaries of Putrajaya Perdana Bhd. In addition, a whopping RM12.38 million was deposited in cash over-the-counter over the period.
Bank statements show that Najib spent the monies via cheques and credit cards on numerous goods at various locations, including jewellery in Rome, a five-star hotel in Bangkok and even Chanel goods in Hawaii.
In Malaysia, Najib issued cheques worth millions of ringgit to fund political parties such as Umno and Upko, to finance social media accounts and online news portals and support charitable bodies. In addition, the former premier also used the money to fund his hefty home renovations in Kuala Lumpur and Pekan, Pahang, among others.
The Edge is reporting the SRC trial live here.