This article first appeared in The Edge Financial Daily, on February 11, 2019.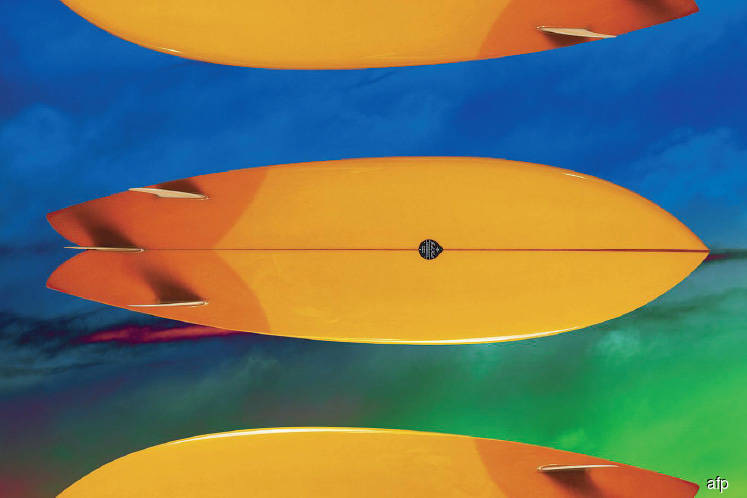 An illustration of Josh Hal surfboards. Courtesy of Josh Hall;
An illustration of Mazda Miata;
Torres Novas castle in Portugal;
Here at Bloomberg Pursuits, we often get asked for shopping advice. After all, we spend our time researching the best products and experiences, from cars to watches, and real estate to travel. It is our job to tell you how to pamper yourself.
However, this year, during bonus season in heated economic times, it seems appropriate to turn the question around. We asked the people that we talk to everyday, from fashion insiders to car designers and finance types, about this: If you knew you were going to lose all your money tomorrow, what luxury would you splurge on today? Here is what we heard back.
Sports and pastimes
Josh Hall surfboards (US$1,150/ RM4,679 each)
"I would buy half a dozen Josh Hall surfboards. They are stunning, amazing rides. And I can also use them as beautiful art." — Michael Solomonov, chef, Zahav
Four spots on the 2019 TD Five Boro bike tour (US$440)
"Riding with my wife and teenage daughters for 40 miles (64.37km) on NYC (New York City) streets on the first Sunday in May without having to encounter a single car is priceless. To do good while doing well, I would ride in support of a great NYC charity like Good Shepherd Services." — Colin Teichholtz, head of fixed income, BlueMountain Capital Management LLC
Gaelforce Equalizer fly rod (£925/RM4,821.62)
"I am a fly-fishing fanatic; I would take my bonus and go salmon fishing in Iceland. It is shockingly expensive because the season is short, usually just three months, with June and July being the best. There are only a few rivers, and they are pristine, so the authorities are very strict about cleanliness of gear and your personal footprint. Specifically, I would get the Gaelforce Equalizer 13ft rod and an 8/9 weighted line." — Ken Aretsky, owner, Aretsky's Patroon restaurant
Create a car club (US$10 million)
"With unlimited funds, I would find an abandoned art deco-style factory warehouse to completely transform into a 'clubhouse' for me and my car-minded friends. This would include a fully equipped workshop area to detail your cars, a fully stocked cocktail lounge, and a large enough property that it would allow for a small driving course. All membership dues would support the Automotive Restoration Program at McPherson College in Kansas." — Jonathan Klinger, automotive specialist, Hagerty Group LLC
Planes, boats and automobiles
Mazda Miata (US$30,000)
"Ideally, it would be the convertible with the optional hardtop; [it is] one of the best bang-for-the-buck sports cars ever made." — Alexander Weaver, chief automotive specialist, RM Sotheby's
Airstream trailer (US$84,000)
"I would buy an Airstream trailer big enough for my family, put some surfboards in the back, and drive off towards the waters. No one would need to know where I was." — Curtis Stone, chef, Maude restaurant
Land Rover Defender and a safari (US$50,000)
"I would buy a Land Rover Defender and then go on an African safari with the family, travelling with LV (Louis Vuitton) trunks designed by Virgil Abloh. If I have any money left, I will donate it to conservation charities." — Jim Meehan, co-founder, PDT Bar
Cessna Citation X private jet (US$23 million)
"A PJ (private jet), honestly. In my brain, I am thinking about places I want to go. If I had a private jet, I would be like, 'I am out?'" — Michael B Jordan, actor
Home and real estate
Soundproofed floors (US$1,600)
"So I do not have to listen to my neighbours below us complain about my kids being too loud!" — Michael Sabat, vice president, equity derivative sales, Sanford C Bernstein & Co.
A Portuguese castle with formal gardens (US$6 million)
A case of old Chartreuse or Tarragona from the 1970s or '80s (US$9,700 for 12 bottles)
"Chartreuse is an otherworldly liquid time capsule that becomes more layered and nuanced with age, as it also increases in value. Bottles labelled 'Tarragona' were produced in Spain between 1902 and 1989, but it is not produced any longer. I would buy a mix of yellow and green bottlings. The yellow liquid includes honey and saffron in the secret recipe and is a bit more melodic, while the green version is sharper and arguably, more complex." — Jordan Salcito Bohr, founder, Ramona Wine Cooler
12.4 acres (5.018ha) of land in Abiquiu, New Mexico (US$325,000)
"I would build artist studios and set up an artist residency programme. It is a magical part of the country, and I have seen how transformative a productive residency can be for an artist. To support an artist's creative growth would be a gift that keeps on giving." — Maureen Bray, Art Dealers Association of America executive director
Art and collectibles
Anni Albers's Study for Har Tzeon Panel (V), 1967 (US$200,000)
"After an almost universally lauded show of Anni Albers's work at the Tate Modern, Albers (1899 to 1994) is having a resurgence. Her work on paper is just as interesting as her painting — and much more affordable." — James Tarmy, arts columnist, Bloomberg Pursuits
An original Bach orchestral manuscript (US$3.3 million)
"I am a classical musician, so to me, original music written by a composer represents the ultimate in lasting creativity. An original leaf in Bach, Beethoven or Mozart's own hands lives forever." — Roy Niederhoffer, president, RG Niederhoffer Capital Management Inc.
• Egyptian sarcophagus mask, circa 943-716 BC (US$85,000)
White gold Rolex Cosmograph Daytona (US$28,800)
"I never regret buying something sustainable and handcrafted in our digital age. I would buy an automatic chronograph, which I could later pass to my children and start a sustainable tradition." — Gorden Wagener, chief of design, Mercedes-Benz
Fashion and beauty
Chanel Deauville tote (from US$1,000)
"The Chanel Deauville tote is my go-to bag. I have a rotation of different colours that I wear for work, for travel, even to go to the beach! My only regrets are when I hold out on buying a colour and miss the chance! I feel like Chanel, in general, is just a splurge-worthy brand because, unlike a lot of luxury brands, it really never goes out of style." —Stephanie Gottlieb, jewellery designer
Prada slingback pumps (US$890)
"I would go with emotional pieces. Those can guarantee my happiness 'for a while'. Specifically, a good Alaia dress, one that is special but classic enough so I can wear it year after year. Also something tie dye, preferably from Raf Simon's latest collections for Calvin Klein (that will now be a collector's piece). And a Prada slingback!" — Marina Larroude, fashion director, Barneys
Travel and experiences
An Asian safari (US$2,000 per person)
"I would take as many friends as I could to go see an elephant in real life. They are just such serene giants. They emanate love." — Waris Ahluwalia, actor
Pasta tour and cooking class in Rome (about US$30,000)
"I would go on a dedicated cacio e pepe tour of Rome for a one-weekend stay at the Casa Manni Roma, where a private chef would give me pasta-cooking classes. Then I would come home and hire a personal trainer for a five-day-a-week workout for a month." — Kate Krader, food editor, Bloomberg Pursuits
Crazy backwoods party (from US$3,095 per night)
"The obvious thing here would be to find an accommodating farm, maybe a bed and breakfast. Invite 20 close friends and family, my three favourite chefs — Brian Loiacono, Josh Capon and Jean Georges to help prepare [breakfast, lunch and dinner] courses, with wine pairing by Gerard Basset, the world's best sommelier, for a weekend. [For] entertainment, [it would] consist of live music sets by John Legend and Chris Botti, and a visual experience curated by my buddy Etienne Russo, founder of Villa Eugenie. It is all about having all senses stimulated. I am about sharing in the experience I create." — Ronnie Madra, owner 1OAK, EAROS
Jewellery design course (US$10,000)
"I would go back to art college to do a jewellery design course. I love the idea of getting back to basics and learning a new set of skills where I could explore and create unique products quickly, at least when compared to how long it takes to develop a supercar. I would then look to mix traditional and digital craftsmanship to create ultra-modern pieces of jewellery." — Robert Melville, head of design, McLaren
A trip to Tahiti (from US$50,000)
"I would blow a chunk of cash for the best flying experience, by far, this side of a private jet: Etihad's the Residence. On the upper deck of an Airbus A380, you get your own bedroom (for two!) in the sky, your own shower and bathroom, and even a butler. Stay at the Brando in unparalleled, ultra-private luxury." — Brian Kelly, the Points Guy
Take stock of what is important
"Like many people who have finished organising their homes, when I shop, I think about whether something is really important in my life. I have two children, and looking after them is really important to me. So it would be water, rice, and food; making sure I have those is all I can think of." — Marie Kondo, tidiness expert
Six months off (from US$30,000)
"I love my job, but I also love recharging. I cannot think of any object or experience I would buy that would be better than some extended me-time." — Sonya Shrier, director of visitor engagement, Metropolitan Museum of Art. — Bloomberg