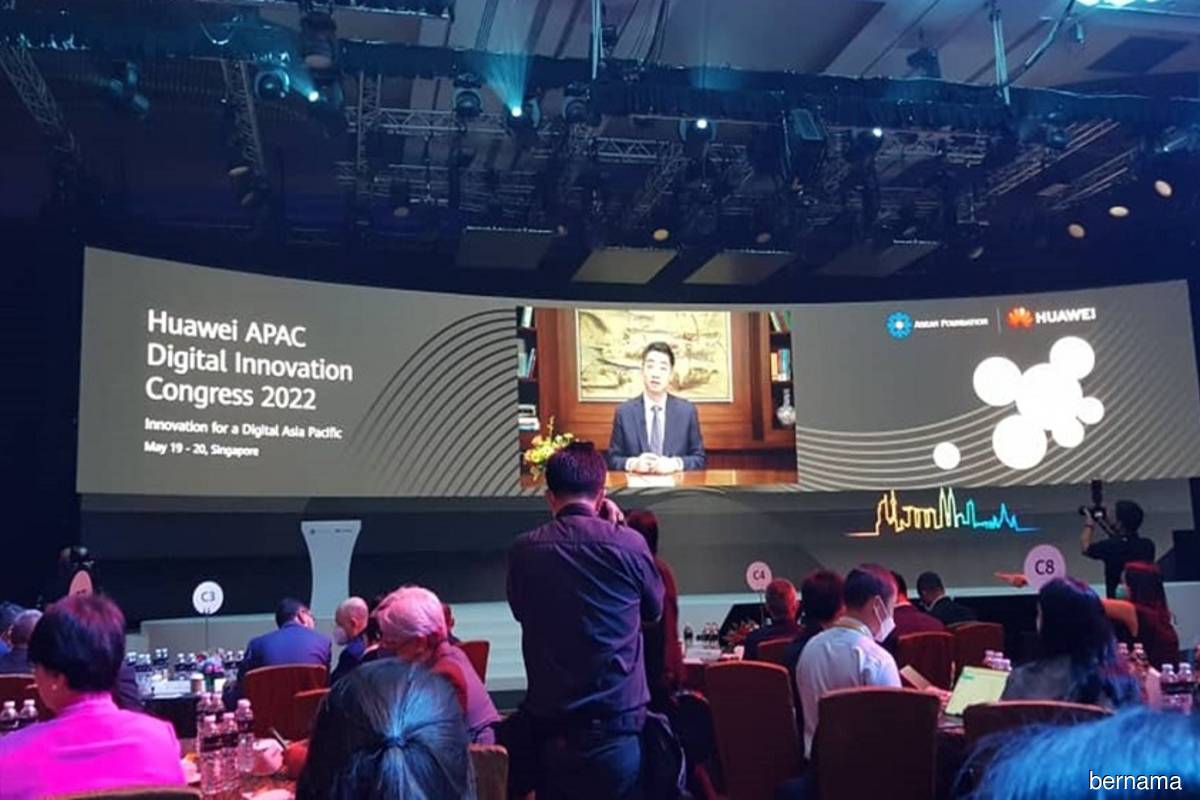 SINGAPORE (May 19): Asia-Pacific (APAC) countries can embrace digital more successfully by focusing on three areas — digital infrastructure, industrial applications and digital talent, says Huawei rotating chairman Ken Hu.
In sharing his thoughts, Hu said APAC countries are already doing a great job on digital infrastructure as according to the International Telecommunication Union (ITU), mobile coverage in the region has reached almost 100%. 
"This is an incredible achievement. Just 10 years ago, some APAC countries did not have any 3G or 4G infrastructure at all. 
"Now, the Global System for Mobile Communications Association (GSMA) estimates that by 2025, APAC will have 1.2 billion 5G connections," he said in his keynote address at the Huawei Asia Pacific Digital Innovation Conference 2022 here on Thursday (May 19).
In addition to strong connectivity, Hu said APAC countries also need to build more important infrastructure like cloud and data centres.
On industry applications, Hu noted that industries across the APAC region are working hard to speed up the development and adoption of digital applications. 
"This is already creating real value. For example, Thailand is using 5G to bring healthcare services to more people in remote regions, and in the Philippines, people are using artificial intelligence (AI) and connected devices to help protect the rainforest. 
"The possibilities are endless, and I am sure that each industry will be able to figure out where and how they can get help from digital technologies to meet their specific needs," said Hu.
Hu also stressed on the importance of  digital talent, whereby by 2030, APAC's workforce is estimated to reach 2.2 billion people. 
"And compared to other regions, this workforce will be relatively young. This is an important advantage, and we should invest more in the next generation of digital talent," added Hu.
Hu shared Huawei will keep investing heavily in innovation to help its partners in the APAC region meet their strategic development goals.
"In 2022, Huawei will increase its support for a green and digital APAC by promoting digital infrastructure, low-carbon development and digital inclusion," he said.
The two-day conference themed "Innovation for a digital Asia Pacific" at Marina Bay Sands here brought together industry leaders, major stakeholders, key customers and authoritative organisations across the region, totalling over 1,000 people onsite and over 30,000 online participants.
Hu also noted that many APAC countries have elevated digital transformation to a strategic policy level, and are taking real action. 
"For example, policies like Digital Indonesia, MyDIGITAL in Malaysia, Digital Hub in Thailand and South Korea's Digital New Deal. 
"These are accelerating the deployment of digital infrastructure across the region, and laying strong foundations for a robust digital economy," he said.
APAC is going green, said Hu, with countries really committed to sustainable development. 
"For example, Japan and Thailand have committed to carbon neutrality by 2050. Singapore is committed to reaching peak carbon emissions by 2030. 
"China will reach peak carbon emissions by 2030 and carbon neutrality by 2060. Of course, digital technology will be a key enabler throughout this process," added Hu.