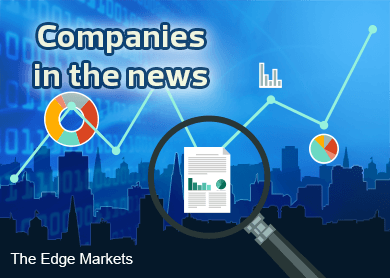 KUALA LUMPUR (Apr 30): Based on corporate announcements and news flow today, companies in focus on the resumption of the market next Tuesday (May 5) could be: Icon Offshore, Nylex, REDtone, Ancom, Taliworks, PetGas, MISC, HeveaBoard and Parkson.
Ekuiti Nasional Bhd (Ekuinas) — which owns 42% of Malaysia's largest pure play offshore support vessel (OSV) provider Icon Offshore Bhd, and one of the largest in Asia now in terms of the number of vessels it owns — is confident of unlocking the company's value.
Ekuinas chairman Raja Tan Sri Arshad Raja Tan Uda said the government-linked private equity fund will stay invested in Icon Offshore and continue to add value to the company.
Icon Offshore, which was only listed on the local exchange on June 25 last year, has been in the news of late due to the remand to its chief executive officer Dr Jamal Yusof and chief operating officer Rahman Yusof by the Malaysian Anti-Corruption Commission (MACC), to facilitate and assist in investigations conducted by the MACC.
Both directors are now on a six-month leave of absence to focus on assisting the MACC in its ongoing investigations, according to the group.
Nylex (Malaysia) Bhd's (fundamental: 0.75; valuation: 2) wholly-owned subsidiary ALB Marine Sdn Bhd (AMSB) is acquiring a 6,800 tonne chemical tanker from Japan's Grulla Oceano Inc for 1.923 billion yen (RM58.3 million).
The acquisition is part of its plan to venture into the business of shipowning, ship management and charter hire of tanker.
Nylex said AMSB had signed a shipbuilding contract with Grulla for the proposed acquisition, which is expected to be completed by January 2017.
The group will finance 70% of the purchase consideration through bank borrowings and the remaining 30% by internal funds.
As at May 31, 2014, Nylex's net debt amounted to RM77.3 million, with a gearing ratio of 26.8%. Assuming bank borrowings related to the acquisition are drawn down in full, Nylex said its gearing will go up to 40.9% with the tanker buy.
Data and broadband services provider REDtone International Bhd (fundamental: 2.3; valuation: 0.5)'s net profit fell 36.8% in its third financial quarter ended Feb 28, 2015, to RM3.15 million or 0.61 sen a share, from (3QFY15) RM4.99 million or 0.99 sen a share a year ago.
In what it described as a "historically low quarter", its revenue also fell 3.4% to RM39.52 million, from RM40.92 million in 3QFY14.
REDtone said it experienced a slight growth this year, which was not sufficient to support the drop in data project revenues. Coupled with higher costs, the company said compounding factors resulted in a higher percentage drop in revenue for the same period.
For the cumulative nine-month period (9MFY15), REDtone's net profit contracted 12.3% to RM12.88 million or 2.47 sen a share, from RM14.68 million or 2.9 sen a share a year ago.
This came on the back of a 10.2% improvement in REDtone's revenue for 9MFY15 to RM118.49 million, from RM107.48 million a year ago.
Ancom Bhd (fundamental: 0.55; valuation: 1.2) swung to a net loss of RM2.27 million in the third financial quarter ended Feb 28, 2015 (3QFY15), compared to a net profit of RM3.76 million a year ago, mainly due to lower contribution from its investment holding, agricultural and industrial chemicals, information technology, as well as logistics divisions.
This translates into a loss per share of 1.05 sen in 3QFY15, from an earnings per share of 1.74 sen per share in 3QFY14.
Its revenue for 3QFY15 dipped 14.56% to RM339.64 million, from RM397.53 million a year ago.
For the nine months period (9MFY15), the group posted a net loss of RM2.24 million, as compared to a net profit of RM9.95 million a year ago; while revenue fell 19.72% to RM1.14 billion, from RM1.42 billion in 9MFY14.
Going forward, Ancom said its agricultural and industrial chemicals, as well as polymer divisions, are expecting challenging business environment with continued pressure on profit margin, as product suppliers and logistic providers seek higher prices.
Taliworks Corp Bhd (fundamental: 1.4; valuation: 2.4) is looking at one or two mergers and acquisitions (M&A) involving operational brownfield infrastructure assets in Australia and other foreign markets, to increase its revenue.
Executive director Lim Yew Boon told reporters today that the M&A move — which is being pursued by Taliworks EPF Instructure Sdn Bhd (TEI), its 51:49 joint venture firm with the Employees Provident Fund (EPF) — is however only at its exploratory stage at the moment.
He said TEI is looking at acquiring long-term highway concessionaires that have strong recurring assets. As for the group, Taliworks has a few infrastructure projects, including water supply ones, earmarked in the current financial year.
Taliworks' order book stands currently at RM500 million.
Lim said the group was confident of seeing a slight improvement in its revenue in its next financial quarter (2QFY15), following the contribution from the water tariff reviews in Selangor and Langkawi, Kedah, early last year.
Petronas Gas Bhd (PetGas) will allocate RM5 billion as capital expenditure (capex) over the next five years.
Managing director cum chief executive officer Yusa Hassan said 60% of the capex would finance PetGas' (fundamental: 2.7; valuation: 1.1) liquified natural gas (LNG) regasification terminal and air separation projects in Pengerang, Johor. The balance 40% portion is for maintenance and operation capex, according to him.
Yusa also said the company's "immediate growth" would come from the LNG regasification and air separation projects.
On the regasification terminal, he expects the first tank to start operations by the end of 2017, while the second tank is anticipated to commence operations in the middle of 2018.
Yusa said the air separation unit was expected to begin operations by end of 2018.
MISC Bhd's (fundamental: 2; valuation: 1) first quarter net profit came in flat at RM486.31 million, as compared to the RM486.4 million it saw a year earlier, on lower income from liquefied natural gas (LNG) shipping operations and higher cost at its heavy engineering unit.
MISC said higher minority interest also led to lower profit in the first quarter ended March 31, 2015, from RM486.4 million. Revenue however rose 8.7% to RM2.49 billion, from RM2.29 billion.
It said group operating profit of RM468.2 million was 7.2% lower than the corresponding quarter's profit of RM504.3 million, mainly due to lower revenue in LNG business and additional costs incurred on some heavy engineering projects.
However, higher profit in offshore business and lower losses in chemical business helped to mitigate the decrease in group operating profit, said MISC, which is a 62.67%-owned subsidiary of Petroliam Nasional Bhd (Petronas).
MISC's heavy engineering unit comes under 66.5%-owned unit, Malaysia Marine and Heavy Engineering Holdings Bhd.
Particleboard maker HeveaBoard Bhd (fundamental: 1.3, valuation: 1.4) has proposed a 1-to-4 share split of every one of its existing ordinary share of RM1, held on an entitlement date to be determined later, into four shares of 25 sen each.
HeveaBoard said the proposed share split, to be implemented within the next one month, is expected to "enhance the marketability and trading liquidity" of the shares of the company.
It further noted that the proposed corporate exercise will result in an adjustment to the market price of the ordinary shares of HeveaBoard, making the shares more affordable to appeal to a wider group of public shareholders and/or investors to participate in the company's growth.
The company's issued and paid-up share capital currently stands at RM99.45 million, comprising 99.45 million shares. The company has 42.66 million outstanding warrants prior now.
Assuming the full exercise of the warrants prior to the entitlement date, the enlarged issued and paid-up share capital of the company shall be RM142.11 million, comprising 568.43 subdivided shares, upon completion of the proposed share split.
Parkson Holdings Bhd said its indirect subsidiary Parkson Corp Sdn Bhd (PCSB) has entered into an agreement with Studio Kingdoms Network Sdn Bhd (SKN) to establish a 70:30 joint venture in the business of operating a theme park, education centres, nursery centres, food and beverage operations and merchandising operations in Malaysia.
PCSB is a wholly-owned subsidiary of Parkson Retail Asia Ltd, which is in turn a 67.61%-owned unit of Parkson Holdings.
In a filing with Bursa Malaysia, Parkson said Studio Kingdoms will manage the JV company, which will be named Parkson Edutainment World Sdn Bhd.
"The initial project of the JV shall be situated in Maju Junction Mall, Kuala Lumpur, and shall involve a total investment of approximately RM11 million," the filing read.
"In addition to the initial paid-up capital of RM1 million, both PCSB and SKN will provide the JV company [with] an interest-free shareholders' loan of up to RM7.8 million and up to RM2.2 million respectively," it added.
PCSB's initial paid up capital will be sourced from internally-generated funds, the filing stated.
Parkson (fundamental: 1.8; valuation: 1.7) said any further funding requirements will be fulfilled by shareholders' loans or external bank borrowings.
Under the JV, the theme park will operate within shopping malls in Malaysia, and feature 35 "Happy Toon World" characters from the US.
(Note: The Edge Research's fundamental score reflects a company's profitability and balance sheet strength, calculated based on historical numbers. The valuation score determines if a stock is attractively valued or not, also based on historical numbers. A score of 3 suggests strong fundamentals and attractive valuations.)