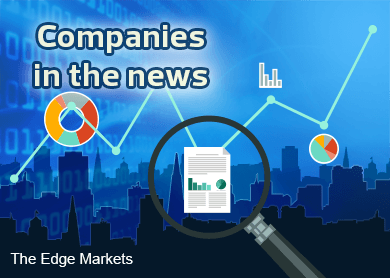 KUALA LUMPUR (April 23): Based on corporate announcements and news flow today, companies that may be in focus tomorrow (Friday, April 24) could be: Icon Offshore Bhd, Utusan Melayu (Malaysia) Bhd, TAS Offshore Bhd, Scanwolf Corp Bhd, Pavilion Real Estate Investment Trust (REIT), GHL Systems Bhd, Muhibbah Engineering (M) Bhd, Karex Bhd, Maxis Bhd, WZ Satu Bhd, Mah Sing Group Bhd, Eco World Development Bhd, Nestle (Malaysia) Bhd, Ireka Corp Bhd and S P Setia Bhd.
Offshore supply vessel provider Icon Offshore Bhd told Bursa Malaysia today that its deputy chief executive officer (CEO) Captain Hassan Ali is now in charge of the group's day-to-day management, following the remand of its CEO Dr Jamal Yusof and the latter's brother, chief operating officer Rahman Yusof.
The group said it has been informed by Dr Jamal and Rahman's legal counsel that the duo's remand will be for a period of three days and thus, Hassan is now in charge of the coordination of the group's administrative and business activities in their absence.
As such, Icon Offshore said it does not expect the remand to have any financial or operational impact on the group.
"In the absence of the CEO, Captain Hassan, as the Deputy CEO, has assumed the functions of the CEO with effect from Apr 22, 2015, in addition to his existing responsibilities," it said.
The statement was in response to the local exchange's query on the operations of the company, following the remand of the Dr Jamal and Rahman on Wednesday to "facilitate and assist [in] investigations", currently being conducted by the Malaysian Anti-Corruption Commission.
Utusan Malaysia newspaper publisher Utusan Melayu (Malaysia) Bhd is disposing of its 40% stake in Swan Malaysia Sendirian Bhd (Swan) to Germany-based Schwan-STABILO Schwanhäußer Finanzholding GMBH (Schwan) for RM31.8 million, resulting in a gain of RM3.62 million.
Schwan already has a 60% stake in Swan.
In a filing with Bursa Malaysia today, Utusan (fundamental: 0.2; valuation: 0.9) said the proposed disposal will enable it to realise the gain on its investment of about RM3.62 million.
Swan is principally involved in the manufacturing and trading of educational aids, writing instruments and related products, which is not Utusan's core business activities.
Utusan said it will utilise the bulk of proceeds from the disposal, as working capital. It expects the corporate exercise to be completed by the first half of 2015.
Ship builder TAS Offshore Bhd saw its third financial quarter ended Feb 28, 2015 (3QFY15)'s net profit fall 93.5% on-year to RM676,000, from RM10.46 million a year ago, which drove its earnings per share (EPS) down to 0.38 sen from 5.95 sen, on lower revenue.
Revenue for 3QFY15 came in 34.93% lower at RM74.37 million, compared with RM114.29 million in the previous corresponding quarter, its filing to Bursa Malaysia today showed.
Cumulatively, the group's net profit for the nine-month period (9MFY15) was down 60.85% to RM10.28 million, from RM26.25 million in 9MFY14; revenue was up 4.66% to RM201.97 million, from RM192.98 million.
TAS Offshore (fundamental: 1.65; valuation: 1.8) said its earnings declined, mainly due to changes in specifications for vessel during the current quarter.
Scanwolf Corp Bhd, which is involved in property development as well as the design and manufacturing of plastic extrusions, said today that it has appointed PKF Covenant to conduct an investigative review on the group's operations.
Scanwolf (fundamental: 0.75; valuation: 0.3) told Bursa that the appointment was due to "insufficient measures, severe discrepancies and possible irregularities in the implementation of its development projects that were discovered during a review of its management, operation and practice of certain projects and their contract management processes".
Scanwolf expects the full review to be completed within eight weeks from the commencement of work today.
The group is also involved in polyvinyl chloride (PVC) compounding, processing of PVC coils for home and office fittings, trading of industrial consumables, as well as other building materials.
Pavilion Real Estate Investment Trust (REIT) saw its first financial quarter ended Mar 31, 2015 (1QFY15)'s distributable income rise 6.7% on-year to RM62.34 million, from RM58.43 million, in tandem with its single digit top line growth.
This translates into a distribution per unit of 2.06 sen per unit, compared to 1.94 sen per unit a year ago, its filing to Bursa Malaysia today showed.
Gross revenue for the quarter was RM105.16 million, up 3.9% from 1QFY14's RM101.21 million.
Pavilion REIT's manager pledged to continue its effort to attract shoppers, manage its operational cost effectively, and seek investment prospects to ensure achievable return to unitholders.
Payment system provider GHL Systems Bhd has signed an agreement to provide payment facilitator or third party acquisition (TPA) services to CIMB Bank Bhd.
Under the agreement, GHL (fundamental: 1.2; valuation: 0.2) will seek to acquire between 3,000 and 4,000 merchants on behalf of CIMB Bank in the first year. These merchants will then be able to accept payments from the various International Card Associations.
In a statement, GHL said its revenue will be from terminal rental and merchant discount rates, which will continue as long as the group signs-up merchants for card acceptance as a TPA with CIMB Bank.
It said its strategy going forward, will involve the deployment of conventional electronic data capture terminals and mobile point of sales devices, as well as e-commerce.
GHL will also offer e-pay services such as mobile prepaid reload and bill payment collection services to these merchants, as value-added services.
Oil and gas engineering firm Muhibbah Engineering (M) Bhd's group finance director Shirleen Lee expects the outcome of the RM1 billion tender in Petronas' Refinery and Petrochemicals Integrated Development (Rapid) to be known in the second half of this year or sometime next year.
At the sidelines of the Invest Malaysia 2015 conference today, she said Muhibbah's (fundamental: 1.1; valuation: 0.8) tender book stood at about RM4 billion, while its order book was slightly over RM2 billion as at February this year.
Karex Bhd (fundamental: 2.25; valuation: 0.3)'s chief executive officer Goh Miah Kiat said the group, which is on the lookout for merger and acquisition (M&A) opportunities to build its own-brand business, expects to buy at least one company "that will provide relevant synergies and complement its existing business — particularly in the distribution channel" in the next 12 months.
However, he said the discussion is still "very much preliminary", with no firm agreement sealed.
Maxis Bhd is reducing up to 50% of the prices for its prepaid tablet plans, effective May 1, 2015.
Maxis (fundamental: 1.15; valuation: 1.1) said the price of its 'Hotlink Tablet Plan Simpack' will be reduced by 50% from RM60 to RM30, with free 1GB data valid for 365 days.
Its 1GB data add-on price, meanwhile, will be cut from RM30 to RM25. The telecommunications company is also introducing a 2GB data add-on that will be priced at RM45.
WZ Satu Bhd registered a net profit of RM5.11 million for the second financial quarter ended Feb 28, 2015 (2QFY15), with its mining and engineering businesses contributing to the bulk of earnings.
Meanwhile, revenue came in at RM86.37 million. Earnings per share (EPS) for the quarter was 2.01 sen.
There is no year-on-year comparison, due to a change in its financial year end from April 30 to Aug 31.
For the six months to Feb 28, 2015 (1HFY15), WZ Satu (fundamental: 1.7; valuation: 1.1) reported net profit of RM10.59 million on revenue of RM146.3 million. EPS for 1HFY15 was 4.53 sen.
Earlier today at WZ Satu's extraordinary general meeting (EGM), executive chairman and chief executive officer Tengku Uzir Tengku Ubaidillah said he hopes to see the group's net profit for FY15 double, compared to a year ago.
The group posted a substantial jump in net profit to RM11.68 million for the 16-month consolidated financial period ended Aug 31, 2014.
Property developer Mah Sing Group Bhd is on track to achieving its sales target of RM3.43 billion for the financial year ended Dec 31, 2015 (FY15), according to its founder cum group managing director Tan Sri Leong Hoy Kum.
Mah Sing (fundamental: 2; valuation: 2.4) had only chalked up RM761 million in sales as at April 22, but Leong believes this is due to the festive season in the first quarter of 2015, and thinks the group will be able to catch up and meet its target this year.
Eco World Development Bhd (EcoWorld), often viewed as tycoon Tan Sri Liew Kee Sin's brainchild, is looking at a second half listing for its special purpose acquisition company (SPAC), Eco World International (EWI).
At a news conference on the sidelines of Invest Malaysia Kuala Lumpur, EcoWorld's chief financial officer Datuk Heah Kok Boon said the Securities Commission Malaysia (SC) is still looking at the SPAC's listing submission, which was handed in at the end of last year.
Heah kept mum on details on the SPAC's specific timeline and specifications, while citing that it's an ongoing application.
Meanwhile, Heah also revealed Eco World will not propose any dividend for its shareholders for the next two to three years, as it is still in a growth phase.
Nestle (M) Bhd's capital expenditure (capex) will be lower in financial year ending Dec 31, 2015 (FY15).
At a media conference after the group's annual general meeting, executive director responsible for finance and control Martin Peter Krugel, said the group has allocated a capex ranging from RM150 million to RM180 million for FY15.
Last year, Nestle (fundamental: 1.75; valuation: 1.5)'s capex was RM350 million.
Builder cum property developer Ireka Corp Bhd's managing director Lai Voon Hon said the management intends to grow its property division to be on par with its construction division.
Currently, he said Ireka (fundamental: 0.2; valuation: 0.9) derives 85% of its turnover from the construction segment, while the property division contributes some 15%.
Property player S P Setia Bhd has fixed the price of its new shares to be issued in relation to its third dividend reinvestment plan (3rd DRP) at RM3.10 per share.
(Note: The Edge Research's fundamental score reflects a company's profitability and balance sheet strength, calculated based on historical numbers. The valuation score determines if a stock is attractively valued or not, also based on historical numbers. A score of 3 suggests strong fundamentals and attractive valuations.)