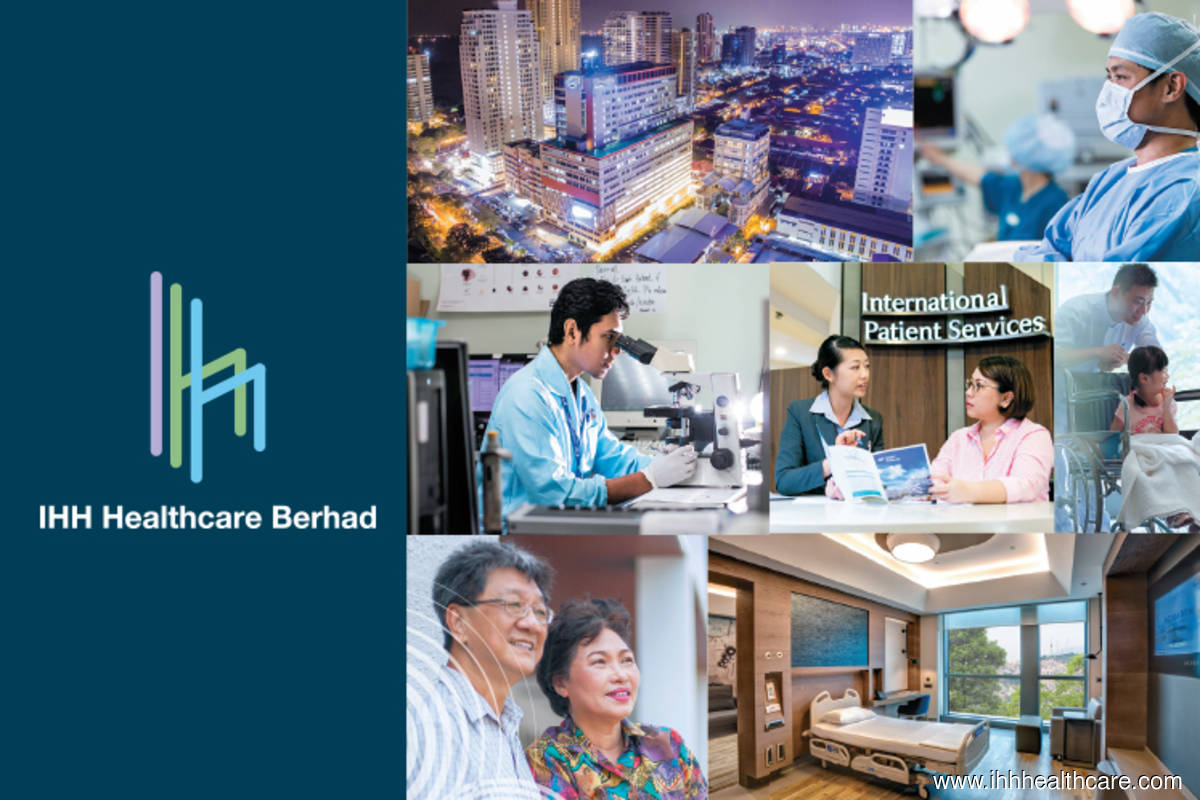 KUALA LUMPUR (Nov 26): IHH Healthcare Bhd's net profit jumped 31% to RM309.95 million in its third quarter ended Sept 30, 2020 (3QFY20), from RM236.34 million a year ago, on operational recovery and the realisation of a one-off foreign currency translation reserve of RM193.5 million on the substantive liquidation of IHH (Bharat) Ltd.
And despite lower revenue, the group's earnings before interest, tax, depreciation and amortisation was marginally higher at RM832.7 million versus RM828.86 million previously, amid tighter cost control, aided with the receipt of government grants and reliefs, its stock exchange filing today showed.
Excluding the exceptional item, IHH said its profit after tax and minority interests would still have increased 18% year-on-year, as net interest expense was lower due to lower borrowing rates and loan quantum.
While the healthcare group's quarterly revenue is down 7% y-o-y to RM3.52 billion from RM3.79 billion, it has rebounded 47% from RM2.57 billion in the immediate preceding quarter of 2QFY20 — when it incurred a net loss of RM120.64 million — as local patients including elective cases, returned in strength even as restrictions remained on the international level.
For the nine months ended Sept 30, the group reported a net loss of MR130.48 million versus a net profit of RM510.85 million a year ago, while revenue retreated 13% to RM9.64 billion from RM11.08 billion. The cumulative period's EBITDA sank 24% y-o-y to RM1.83 billion from RM2.42 billion..
IHH said it has seen local patient volumes and occupancy recovery to between 50%-65% in 3QFY20. Occupancies of its hospitals in Malaysia, Singapore and Turkey are now at about 70%-90% of pre-Covid-19 levels.
"Foreign patients are expected to return with the gradual opening of international borders. Foreign patient revenues at the group's hospitals in Turkey recovered to almost pre-Covid-19 levels in 3QFY20, after Turkey reopened its borders," it said.
Meanwhile, it said it had taken proactive initiative to mitigate the effects of lower patient volumes, such as collaborating with public healthcare sector to provide Covid-19 screening services and laboratory testing, and to care for stable Covid-19 patients who were decanted from public hospitals to the group's Singapore hospitals and to perform temperature screening at the Singapore borders.
"Covid-19 related services contributed about 10%, 7% and 26% of the 3QFY20 revenues from the group's operations in Singapore, Turkey and India respectively," it noted.
Going forward, the group said it is confident that its longer-term growth trajectory remains intact. It has also reduced its forex exposure on its unhedged non-lira gross debt to EUR92.0 million in November, and continues to explore avenues to further deleverage it.
"With the group's robust financial position, strong cash flow, operational resilience and continued focus on delivering its refreshed strategy, it believes it is well-prepared to ride out this pandemic in the short-term and deliver long-term growth," its filing read.
In a separate statement, Managing Director and CEO Dr Kelvin Loh noted that the group had divested stake in India's Apollo Gleneagles Hospital that will allow it to recycle its capital for more value-accretive opportunities.  
"In Malaysia, the addition of Prince Court Medical Centre boosts our metro cluster strategy by giving us a strong core of quality hospitals right in the heart of Kuala Lumpur, all done while ensuring we continue to have ample liquidity and debt headroom.
"Our geographical footprint gives us earning resilience as some of our key markets are on the pandemic recovery path, even as others are experiencing a resurgence of Covid-19. Looking forward, we will remain nimble to meet the needs of our patients and help governments win the war against the pandemic to emerge stronger together," Loh added.
IHH shares closed 0.72% or four sen higher at RM5.60 today, valuing it at RM49.15 billion. It saw 5.08 million shares done.