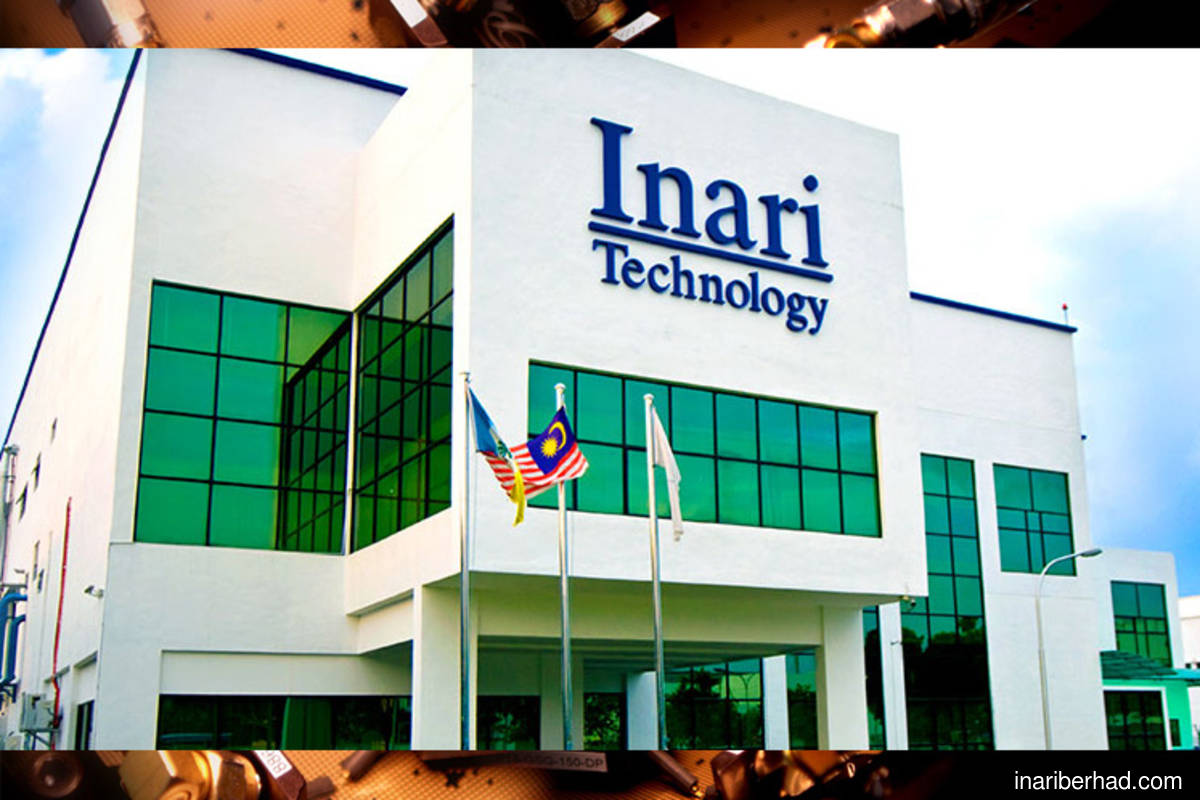 KUALA LUMPUR (Nov 15): Inari Amertron Bhd's share price climbed over 4% to a record high of RM4.18 in Monday (Nov 15) morning trade on Bursa Malaysia, after the semiconductor contract manufacturer reported last Friday that its first-quarter net profit and revenue rose to all-time highs of RM106.93 million and RM431.12 million respectively from a year earlier.
Inari also declared an interim dividend of 2.8 sen a share to reward shareholders.
On market close, the stock pared some gains to settle at RM4.09, still up 9 sen or 2.3%, after 39.91 million shares were traded, giving the group a market capitalisation of RM15.09 billion. Year to date, Inari has jumped some 54% from RM2.65 on Jan 4.
Last Friday, Inari said its net profit rose to RM106.93 million for the first quarter ended Sept 30, 2021 (1QFY22) from RM70.07 million a year earlier, while revenue climbed to RM431.12 million from RM347.62 million.
According to Inari's Bursa filings, its 2.8 sen-a-share dividend's ex- and payment dates fall on Dec 9, 2021 and Jan 7, 2022 respectively.
On Monday, analysts said Inari's earnings came in within expectations.
RHB Investment Bank Bhd analyst Lee Meng Horng wrote in a note: "Inari's 1QFY22 record-high revenue of RM431.1 million (+19.3% quarter-on-quarter; +24% year-on-year) and core earnings of RM105.6 million were within expectations at 26.9% and 27.4% of our and street full-year estimates."
A company's core earnings exclude extraordinary items.
MIDF Amanah Investment Bank Bhd's research team wrote in a note: "All in, Inari's 1QFY22 financial performance came in line with our and consensus expectations, accounting for 24.8% and 26.6% of the full FY22 earnings estimates respectively."
RHB and MIDF both raised their target prices (TP) for Inari with "buy" calls for the stock.
Lee raised RHB's TP for Inari to RM4.63 from RM4.35, while MIDF increased its TP to RM4.55 from RM4.51
According to Lee, Inari's growth visibility is backed by growing adoption of 5G smartphones and an improving optoelectronic segment. "Its new China venture should be a major midterm growth driver," he said.
MIDF, meanwhile, said Inari experienced a robust growth in 1QFY22 earnings that was in line with the research house's expectations. 
"Moving forward, we view that the group's volume loading would improve further as the impact of Covid-19 dissipates and the economy starts to reopen. This would primarily come from the RF (radio frequency) segment as Inari is a close proxy for 5G. 
"Operationally, we also expect [Inari's] profit margin to improve, arising from various measures to control costs and capex (capital expenditure)," MIDF added.
Read also:
As its shares hit new high, Inari announces record quarterly results and dividend of 2.8 sen
Chong Jin Hun & Tan Choe Choe