This article first appeared in Capital, The Edge Malaysia Weekly, on August 5, 2019 - August 11, 2019.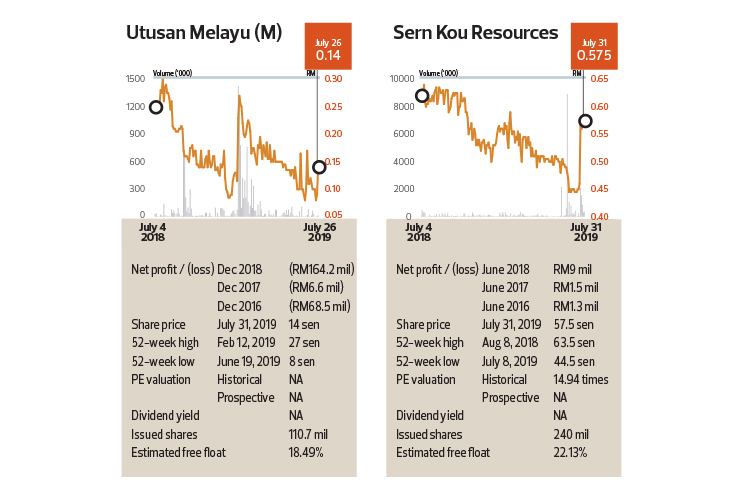 Notable filings
BETWEEN July 22 and 26, notable changes in shareholding included that at Borneo Oil Bhd, where Datuk Freddy Lim Nyuk Sang acquired 55.56 million shares off market. Filings with Bursa Malaysia showed that the acquisition bumped Lim's shareholding in the company to 5.99%, or 320.04 million shares. Lim is the CEO of Kretam Holdings Bhd.
For the quarter ended March 31, Borneo Oil registered a net profit of RM482,000 on revenue of RM22.74 million. The company changed its financial year end from Jan 31 to June 30 effective from the financial period ended June 30, 2018. Hence, there are no comparative figures for the quarter.
At Hubline Bhd, 22 million shares were acquired off market by Billion Power Sdn Bhd. Post acquisition, the company's stake in Hubline increased to 8.18% from 7.61%.
Hubline's largest shareholder is BNDM Inc Holdings Sdn Bhd with a 32.38% stake.
For the second quarter ended March 31, Hubline's net profit rose to RM452,000 from RM318,000 a year ago, in line with the 11.3% increase in revenue to RM24.55 million.
Over at Nationwide Express Holdings Bhd, its largest shareholder, BHR Enterprise Sdn Bhd, disposed of 54 million shares. Bursa filings show that BHR's shareholding in the logistics company reduced to 9.66% after the disposal.
On the same date, Bursa filings also showed Rozana Zeti Basir and Roshayati Basir acquiring an indirect stake of 27 million shares each.
Rozana is a director of BHR Enterprise Sdn Bhd, which is the family vehicle of the late Tan Sri Basir Ismail. Non-independent non-executive director Rozilawati Basir is also linked to BHR Enterprise.
At Prinsiptek Corp Bhd, Daya Setempat Sdn Bhd disposed of 80 million shares while Chin Kok Foong acquired 26.61 million. Datuk Liew Kok Leong also picked up 34.4 million shares.
The transactions involving the two individuals were done off market. Post acquisition, Chin's stake in the company increased to 14.47% while Liew's direct stake rose to 8.07%.
Notable movements
Utusan Melayu (M) Bhd's share price surged 40% to 14 sen. A July 22 Bursa filing revealed that Nilam Setar (M) Sdn Bhd acquired 5.5 million shares, or a 4.97% stake, in the company through a direct business transaction on July 19.
Nilam Setar is believed to be linked to business tycoon Tan Sri Syed Mokhtar Albukhary. It is said to be almost wholly-owned by Datuk Seri Ismail Yusof, a member of the board of trustees and the executive vice-chairman of Syed Mokhtar's Albukhary Foundation.
This acquisition raised Nilam Setar's stake in Utusan to 19.72%, or 21.84 million shares.
Sern Kou Resources Bhd's share price climbed 25.56% to 56.5 sen.
Filings with Bursa showed CIMB Commerce Trustee Bhd ceased to be a shareholder of the company after it sold 13.71 million shares. Filings also showed that Koh Poh Seng acquired 13.71 million shares, which made him a substantial shareholder as his stake increased to 10.12% post-acquisition.