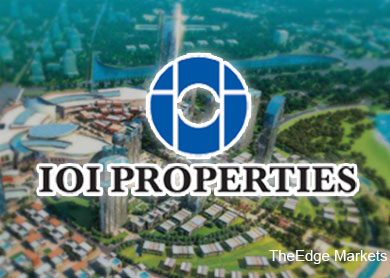 KUALA LUMPUR (Nov 10): IOI Properties Group Bhd plans to undertake a renounceable rights issue of 539.94 million new shares to raise up to RM1.025 billion, mainly for its investment properties at IOI Resort City in Putrajaya.
The amount raised, according to the company's announcement, will cover the development costs for the completion of common infrastructure at IOI City Tower One, IOI City Tower Two and IOI City Hotel.
"Any shortfall or excess in funds allocated for capital expenditure will be funded from or used for investment opportunities," it said, adding that the expected time frame for utilisation is about 18 months.
Besides, some RM200 million will be used for investment opportunities which may arise in the future while RM324.8 million will be allocated for working capital, which include the payment to suppliers and contractors for on-going development projects, as well as for day-to-day operations.
The remaining amount is to be used as fees payable to the relevant authorities, printing cost of circular and abridged prospectus, advertisement and miscellaneous expenses.
"After due consideration of the various methods of fund raising, the board is of the opinion that raising funds by way of the proposed rights issue is most suitable for the company to raise the requisite funds," IOI Properties said in a filing with Bursa Malaysia.
The rights issue will strengthen the IOI Properties's financial position with enhanced shareholders' funds and reduced gearing level, it added.
IOI Properties is suggesting an issue price of RM1.90, representing a discount of about 28% to the theoretical ex-all price (TEAP) of RM2.64 based on a five-day volume weighted average market price (VWAP) of IOI Properties shares.
Based on the parameters, the proceeds to be raised from the proposed rights issue will amount to approximately RM1.025 billion, it said.
Meanwhile, IOI Properties has also proposed the establishment of an employees' share option scheme (ESOS) of up to 10% of the issued and paid-up share capital.
It said the proposed ESOS will be valid for a duration of five years. Upon the expiry of the scheme, any ESOS options which have yet to be exercised or vested shall be deemed cancelled and be null and void.
The exercise price, IOI Properties said, shall be based on the higher of a discount of not more than 10% from the five-day VWAP of its shares, as quoted on Bursa.
Shares of IOI Properties fell seven sen to close at RM2.70, giving it a market capitalisation of RM8.78 billion.