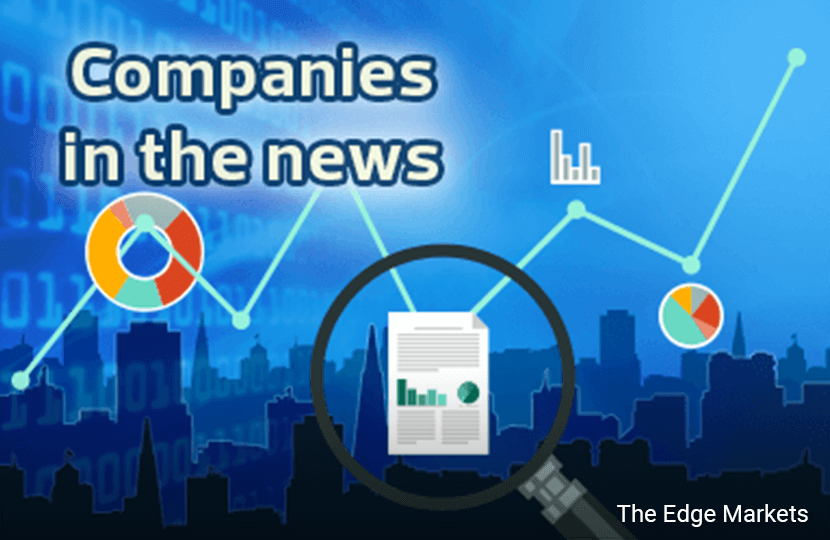 KUALA LUMPUR (Nov 11): Based on corporate announcements and news flow today, companies that may be in focus tomorrow (Thursday, Nov 12) could include the following: KLCCP, Asdion, Guocoland, Lion Diversified, Lion Corp, MAHB, Dolphin, Axis REIT, Bintai Kinden, Southern Steel, MMC Corp, Mudajaya, MISC and Bumi Armada.
The KLCCP Stapled Group, which comprises KLCC Property Holdings Bhd and KLCC Real Estate Investment Trust (KLCC REIT), saw its total distributable income for the third quarter ended Sept 30, 2015 (3QFY15) fall 2.3% to RM147.13 million from RM150.85 million a year ago.
The group declared a 99.85% distribution rate, versus 98.02% previously. This resulted in an 8.15 sen dividend/income distribution (versus 8.19 sen previously), comprising a third interim income distribution of 5.35 sen for KLCC REIT and a third interim dividend of 2.8 sen, both payable on Dec 21.
The stapled group said the decline in earnings was primarily due to a RM32.2 million write-off of its City Point Kompleks Dayabumi, which had been closed for redevelopment.
Nevertheless, KLCCP Stapled's revenue for 3QFY15 increased 1.31% to RM337.19 million, from RM332.82 million last year, driven by its retail segment, which saw higher rental rates coming into effect during the quarter.
In the cumulative nine-month period (9MFY15), the group's total realised distributable income was marginally higher at RM467.92 million versus RM463.69 million in 9MFY14.
However, revenue for 9MFY15 was down 1.33% at RM993.09 million from RM1.01 billion in 9MFY14.
Asdion Bhd announced today that its chief executive officer Yap Tai Tee has resigned, effective on the same day.
In a filing with Bursa Malaysia, the IT firm cited Yap's plan "to focus on the IT subsidiaries business" as the reason for his resignation.
Guocoland (Malaysia) Bhd saw its net profit surge more than sevenfold to RM21.33 million in the first quarter ended Sept 30, 2015 (1QFY16) from RM2.78 million last year, on higher revenue and recognition of fair value gain amounting to RM16.7 million arising from the valuation of investment properties.
Earnings per share for 1QFY16 was 3.18 sen compared to 0.42 sen in the previous year.
In a filing with Bursa today, the property developer also said revenue rose 148% to RM70.81 million, from RM28.50 million last year. The increase in revenue was mainly due to higher contribution from the group's residential project in Damansara City and commercial project in PJ City Corporate Hub.
Lion Diversified Holdings Bhd's and its 49.1%-owned unit Lion Corp Bhd's financial statements for the financial year ended June 30, 2015 (FY15) have both been found wanting by their respective auditors.
Lion Diversified's FY15 financials were issued a qualified opinion, while Lion Corp's were given a disclaimer of opinion.
In a filing with Bursa Malaysia today, Lion Diversified said its auditor Messrs Ernst & Young (EY)'s qualified opinion was related to the group's freight service rate.
"... the group is contractually bound to acquire freight service at rates above the current market rates from a third party service provider. However, no provision for onerous contract has been made for the abovementioned cost of freight," EY's chartered accountant Low Khung Leong said in the auditors' report.
Low also mentioned that EY was not able to obtain sufficient audit evidence in relation to the reasonableness of the assumptions used by management in their assessment of the group's future profitability.
EY also highlighted three areas of emphasis in Lion Diversified's FY15 statements: the group's going concern ability, credit risk, and the recoverability of debt from its major subsidiary Megasteel Sdn Bhd.
Meanwhile, Lion Corp disclosed that its external auditor Messrs Ong Boon Bah & Co (OBB) has expressed a disclaimer of opinion on its FY15 accounts.
OBB said Lion Corp's ability to continue as a going concern is dependent on, mainly, further protection from relevant authorities, the successful negotiations with the lenders for the renewal of or extension of repayment of borrowings, its ability to obtain new sources of financing, the successful execution of its cost reduction measures, and the ability of the group to comply with the terms of its proposed restructuring scheme to ensure no default.
"Should the group fail to achieve the above, it might not be able to continue to operate as a going concern, and adjustments would have to be made to write down the carrying values of the group's assets to their recoverable amounts … the effects of these adjustments have not been reflected in the financial statements," OBB noted.
Further, it said it could not secure sufficient audit evidence in relation to the reasonableness of Lion Corp's RM374 million deferred tax assets, and the provision of an off-take agreement with a related party, Lion DRI Sdn Bhd.
Because of the significance, the multiple uncertainties and their possible cumulative effects on the financial statements, OBB said it had not been able to obtain sufficient appropriate evidence to provide a basis for an audit opinion.
Malaysia Airports Holdings Bhd (MAHB) handled 5.3% fewer passengers in October this year compared with the same period last year, due to runway closure and cancellation of flights primarily caused by the haze that had blanketed the Southeast Asian region for months.
It saw 6.47 million passengers passing through its 39 airports in Malaysia in October 2015 compared with 6.84 million in the same month last year.
In a filing with Bursa today, MAHB said the international sector recorded 3.15 million passengers, down 3.6% year-on-year (y-o-y) from 3.26 million a year ago, while domestic traffic fell 6.8% to 3.33 million passengers from 3.57 million in the previous year.
"Overall aircraft movements declined by 4% (in October this year to 66,145), with international and domestic movements registering contractions of 0.3% and 6% respectively over October 2014," said the airport operator.
Dolphin International Bhd, which was listed in June, has proposed a bonus issue of 55.5 million warrants on the basis of one free warrant for every four existing Dolphin shares; the proceeds from the exercise of the warrants will be used to repay borrowings and for working capital.
In a filing with Bursa today, the palm oil mill manufacturer said the exercise price for the five-year warrants will be determined and fixed by the board at a later date. In any case, the exercise price of the warrants will not be lower than the par value of Dolphin share of 20 sen.
The proceeds raised will depend on the warrants exercised.
Axis Real Estate Investment Trust (Axis REIT) is buying four contiguous parcels of freehold land that collectively span 3.95 ha at Kulai, Johor, for RM61 million, to diversify and enlarge its property portfolio.
The land comes with four single-storey detached factories, each of which has a two-storey office building as an annex.
"The proposed acquisition will be accretive to Axis REIT's distributable income," said the board of directors of the REIT's manager in a statement on Bursa today.
Axis REIT Managers Bhd said Axis REIT's trustee RHB Trustees Bhd has entered into a sale and purchase agreement with Axis AME IP Sdn Bhd on behalf of the REIT for the said acquisition.
The proposed acquisition, to be funded by Axis REIT's existing bank borrowings, is expected to be completed by end-2015 and increase the total assets under management of the fund to RM2.15 billion.
Currently, the properties on the land are leased to Beyonics Technology Ltd for a fixed term of 10 years commencing Aug 1, 2015 to July 31, 2025.
Upon the lease's expiry, Beyonics can renew it for a three-year term with an option for another two years on expiry of the first renewed term, at a revised monthly rental to be mutually agreed on, based on prevailing market rates.
Bintai Kinden Corp Bhd's 69.82%-owned unit Bintai Kindenko Pte Ltd has received and accepted a letter of intent from Shanghai Chong Kee Furniture & Construction Private Ltd to undertake subcontract works for a sum of S$17.28 million (RM53.17 million) in Singapore.
In a filing to the local bourse today, Bintai Kinden noted that the contract was for proposed additions and alterations to an existing seven-storey complex and a new eight-storey annex block extension at 2 Kallang Sector, Geylang, Singapore.
The work is estimated to be completed by January 2017.
Southern Steel Bhd expects another year of losses for the current financial year ending June 30, 2016 (FY16), before it marks returning to the black in FY17, helped by higher revenue from a new hot rolled coil (HRC) steel product under its upstream segment.
Its managing director Chow Chong Long told reporters that the turnaround also hinged upon the federal government's favourable decision on trade imposition or Chinese anti-dumping measures to protect the domestic market caused by the imports.
For FY15, Southern Steel posted a net loss of RM117 million from RM19.9 million the previous year. Revenue fell to RM2.5 billion from RM2.8 billion in FY14 due to depressed selling prices.
MMC Corp Bhd's wholly-owned subsidiary MMC Pembetungan Langat Sdn Bhd (MMC PLSB) will be taking over a project to build a centralised sewage treatment plant and sewage pipes network connection in Selangor worth RM1.51 billion from the MMC-Sumimoto Consortium.
MMC Corp announced on Bursa today that it had received a letter of acceptance dated Nov 4 from the Ministry of Energy, Green Technology and Water (KeTTHA) for MMC PLSB to design and build the sewage treatment plant and the pipe network connection in the basin catchment area in Sungai Langat.
MMC Corp said the duration of the project is 59 months.
Mudajaya Group Bhd's 46%-owned associate PT Harmoni Energy Indonesia (PT HEI) has achieved the commercial operation date for its 2 x 7MW coal-fired steam power plant in Desa Baruta Analalaki, Southeast Sulawesi, Indonesia, on Oct 29.
The 2 x 7MW coal-fired steam power plant is developed on a build-operate-own concept subsequent to PT HEI entering into a power purchase agreement for a period of 25 years from the commercial operation date with PT PLN (Persero) Wilayah Sulawesi Selatan, Sulawesi Tenggara Dan Sulawesi Barat (PLN) in July 2011.
The investment is expected to provide recurrent income to the group and contribute positively towards the earnings and net assets of the group for the current and future years, Mudajaya told Bursa.
MISC Bhd clarified today it is not in any discussions with Bumi Armada Bhd "on any potential transaction".
The company said this via a filing on Bursa, in response to news reports last week and today, the latest of which that said MISC might own 65% of Bumi Armada.
(Notes: The Edge Research's fundamental score reflects a company's profitability and balance sheet strength, calculated based on historical numbers. The valuation score determines if a stock is attractively valued or not, also based on historical numbers. A score of 3 suggests strong fundamentals and attractive valuations.)