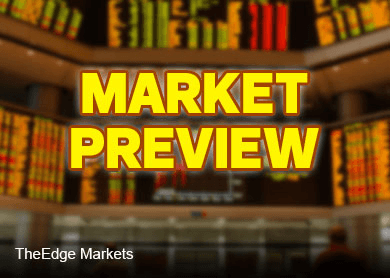 KUALA LUMPUR (Dec 17): The FBM KLCI is likely to remain below the crucial 1,700-point level today as global economic worries continute to weigh on international investor sentiment.
At the global markets, oil prices pared losses and global equity markets eased on Tuesday in roller-coaster trading as investors snapped up beaten-down energy stocks and wagered the Federal Reserve will be cautious amid the turmoil sparked by crude's collapse, according to Reuters.
Russia's huge emergency rate hike overnight failed to stabilize the ruble's decline, which jolted markets, and German Bund yields hit a new low as a collapse in Russian financial markets sent investors scurrying for top-rated assets, it said.
Meanwhile, U.S. stocks fell for a third day in a volatile session Tuesday, led by declines in consumer discretionary and technology shares, while another drop in the Russian rouble added to worries about the global economy.
Energy shares rebounded, keeping the S&P 500 and Dow mostly in positive territory until a bout of late-day selling took indexes lower. The S&P 500 moved more than 44 points from its high of the day to its low, while the CBOE Volatility index jumped 15.4 percent, according to Reuters.
AllianceDBS Research in its evening edition Tuesday said that dampened by the weak down close in the preceding day, the FBM KLCI had on Dec 16 traded lower to settle at the lowest low of a low of 1,673.94 as market participants continued to play on the selling side in anticipation of a lower market  (- 23.23, - 1.38%).
It said that in the broader market, losers outnumbered gainers with 572 stocks ending lower and 296 stocks finishing higher.
That gave a market breadth of 0.51 indicating the bears were in control, said the research house.
AllianceDBS Research said the benchmark index has lost 172 points over the past 14 market days (1,845 (27 Nov 2014) minus 1,673 (16 Dec 2014)) with 12 down closes and only 2 up closes.
It said following the down close on Dec 16, the market was expected to test lower ground again with immediate support seen at 1,670.
It said a fall below 1,670 would put pressure on the market down to the subsequent support zone between 1,600 and 1,610.
Indicator wise, the MACD is below the 9-day moving average line, it said.
"The analysis of overall market action on Dec 16 revealed that buying power was weaker than selling pressure.
"As such, the FBM KLCI would likely trade below the 1,673.94 level on Dec 17," said AllianceDBS Research.