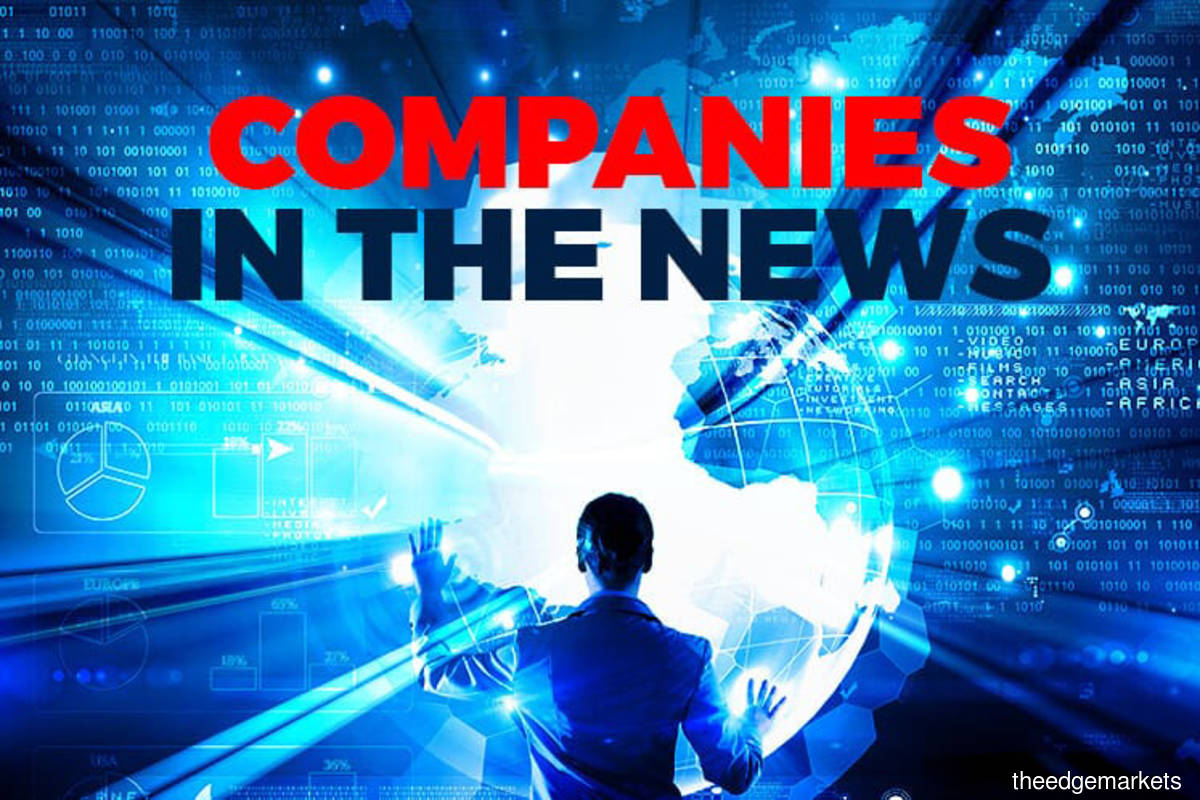 KUALA LUMPUR (April 20): Based on corporate announcements and newsflow today, companies in focus tomorrow (Wednesday April 21) may include:  Kossan Rubber Industries Bhd, KIP Real Estate Investment Trust (KIP REIT), Petronas Gas Bhd (PetGas), M3 Technologies (Asia) Bhd, Inta Bina Group Bhd, HIL Industries Bhd, Transocean Holdings Bhd, Yinson Holdings Bhd, GHL Systems Bhd, Bina Puri Holdings Bhd, 7-Eleven Malaysia Holdings Bhd, Genting Malaysia Bhd (GenM), Genting Bhd and Ajiya Bhd.
Kossan Rubber Industries Bhd reported a record high net profit of RM1.04 billion for the first quarter ended March 31, 2021 (1QFY21). The glovemaker will pay out roughly one-third of its quarterly net profit as interim dividend. Earnings per share ballooned to 40.76 sen compared with 2.53 sen for 1QFY20, while revenue for the quarter soared more than three times to RM2.19 billion from RM611.47 million a year ago. On a quarter-on-quarter basis, its net profit almost doubled from RM543.82 million posted for 4QFY20, as revenue jumped 67.72% from RM1.31 billion. The glove maker declared a first interim dividend of 12 sen per share, payable on May 20.
KIP Real Estate Investment Trust's (KIP REIT) net property income (NPI) for the third quarter ended March 31, 2021 fell 5.9% to RM13.69 million, from RM14.56 million a year ago, on the back of lower revenue. Its quarterly revenue slipped 7.33% to RM17.99 million from RM19.42 million a year ago. The group proposed a third distribution per unit (DPU) of 1.6 sen, which will be paid on May 25.
The capacity of Malaysia's two regasification terminals in Melaka and Johor has been fully booked via long-term contracts, Petronas Gas Bhd (PetGas) said today. The group, which saw growth in the regasification segment in the financial year ended Dec 31, 2020 (FY20), expects stable earnings for the segment, regardless of actual utilisation. It added that the development of its RM541.07 million, 42km gas pipeline project, which will supply gas to the proposed Pulau Indah power plant in Selangor, is progressing as scheduled, based on work done so far involving the engineering portion and land acquisition for the pipeline.
M3 Technologies (Asia) Bhd's memorandum of collaboration with AT Systematization Bhd to provide digital signage hardware and software enhancements for large scale Covid-19 disinfection chambers, has fallen through. M3 Tech said the decision was mutually agreed upon by both groups, as they had not entered into a more definitive agreement.
Inta Bina Group Bhd has bagged a RM106 million contract for the construction of serviced apartments in Klang. The group announced that its wholly-owned subsidiary Inta Bina Sdn Bhd had accepted a letter of award from Mitraland Holding (M) Sdn Bhd's wholly-owned unit Vibrantline Sdn Bhd. The contract is for Phase 2 of the project, which includes main building works for the project.
Amverton Prop Sdn Bhd, a wholly-owned subsidiary of HIL Industries Bhd, has entered into four conditional joint venture agreements to undertake residential development on five parcels of land in Sungai Buloh, Klang and Jugra in Selangor. HIL said the JVAs were entered with Unik Sejati Sdn Bhd, Pembinaan Kesentosaan Sdn Bhd and Amverton Carey Golf & Island Resort Sdn Bhd, involving a total of 41.60 hectares.
Transocean Holdings Bhd has said it is unaware of any reasons that could account for the spikes in its share price and trading volume in recent days. In response to an unusual market activity query by Bursa Malaysia, the company said it is not aware of any corporate development that has not been previously announced, that could account for the higher trading activity.
Yinson Holdings Bhd has launched its green technologies division, marking its foray into the technology sectors that drive the global transition to a net carbon-zero future. Yinson said the division was launched at the Singapore Maritime Technology Conference today. Green technologies is Yinson's newest business division, established in September 2020, to sit alongside its offshore production, renewables and offshore marine divisions.
GHL Systems Bhd has enabled GrabPay e-wallet acceptance at Shell petrol stations nationwide in Malaysia. GHL said the move further widened the cashless ways consumers can pay for products and services. It said the collaboration between GHL and GrabPay to include the GrabPay e-wallet as a payment option at Shell stations nationwide, will further encourage the adoption of cashless payments.
Bina Puri Holdings Bhd said its 20% joint venture company has bagged a contract worth 5.2 billion Nepali rupee (RM183 million) for a new construction project in Nepal. Bina Puri Kalika-Samanantar — a JV company formed by Buni Puri and two construction companies in Nepal, namely Kalika Construction Pvt Ltd and Samanantar Nirman Sewa Pvt Ltd — has been awarded the contract by the Supreme Court of Nepal for the construction of the Supreme Court Building Complex at Ramshahpath, Kathmandu. The job will entail the construction of a seven-storey building including two basements, an RCC framed structure building with complete finishing, landscaping and mechanical, plumbing and electrical works, along with firefighting works.
Malaysian Rating Corp Bhd (MARC) has assigned a preliminary rating of AA- to 7-Eleven Malaysia Holdings Bhd's proposed RM600 million medium-term notes programme with a stable outlook, to reflect the group's strong and established market position in the Malaysian convenience store segment.
Genting Malaysia Bhd (GenM) has confirmed the debt listing of its direct wholly-owned subsidiary GENM Capital Labuan Ltd on the Singapore Exchange (SGX). It has priced its offering of the US$1 billion (RM4.12 billion) aggregate principal amount of 3.882% senior unsecured notes due 2031.
Genting Bhd-owned Resorts World Las Vegas in the US will officially open its doors on June 24, 2021. Resorts World Las Vegas claimed in a statement yesterday that the property is the first ground-up resort development on the Las Vegas Strip in more than a decade. Resorts World Las Vegas said the property will feature among others, 3,500 guest rooms and suites, a gaming floor and a 5,000-capacity theatre.
Ajiya Bhd's net profit more than doubled to RM6.48 million for the first quarter ended March 31, 2021, from RM3.11 million a year ago, thanks to lower operating costs. Earnings per share rose to 2.21 sen from 1.05 sen. Operating expenses shrank 11.5% to RM65.26 million from RM73.71 million. Quarterly revenue dropped 5% to RM73.65 million, from RM77.50 million a year ago, due to lower demand for the group's products.