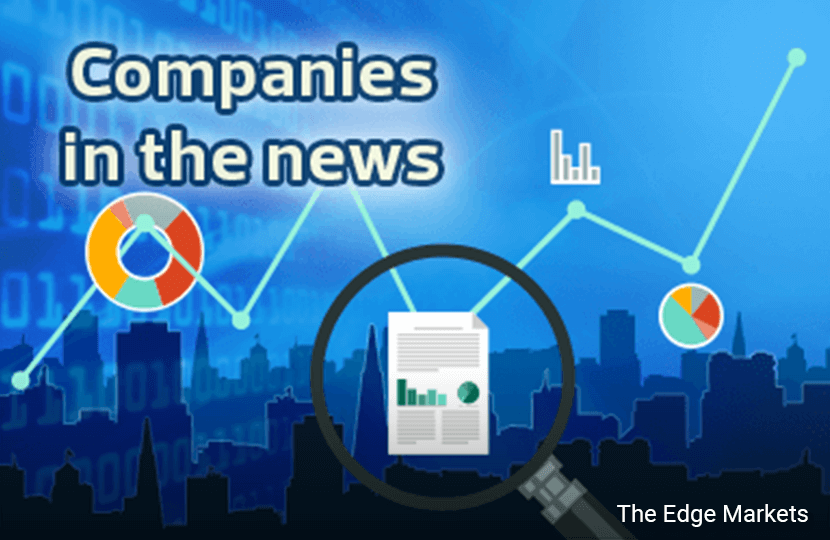 KUALA LUMPUR (Nov 5): Based on corporate announcements and news flow today, companies that may be in focus tomorrow (Friday, Nov 6) could include the following: Kulim, RCE Capital, JAG, Progressive Impact, Hibiscus, Tek Seng, MRCB-Quill REIT and Hartalega.
Kulim (M) Bhd has received a takeover offer from its major shareholder Johor Corp Bhd at RM4.10 per share, a premium of 80 sen or 24.24% over the group's last closing price of RM3.30.
In a statement on Bursa Malaysia today, Kulim said Johor Corp - which, together with parties acting in concert with it, owns a 61.87% stake in Kulim - plans to undertake the privatisation via a selective capital reduction (SCR) and repayment exercise that will entail a total payout of RM2.22 billion.
It said the offer will remain open for the board's acceptance until 5pm on Nov 20, 2015.
Johor Corp does not intend to maintain the listing status of Kulim.
Earlier today, Kulim suspended its shares from trading, pending the material announcement. Its shares will resume trading tomorrow.
RCE Capital Bhd has proposed a capital repayment and share consolidation exercise after announcing net profit gain of 81% year-on-year for its second quarter ended Sept 30, 2015 (2QFY16).
In a filing to Bursa Malaysia this evening, RCE said it is returning up to RM98.3 million or 7.5 sen per ordinary share to shareholders by way of a proposed share capital reduction.
The group also proposed a share consolidation of every four ordinary shares of 2.5 sen into one ordinary share of 10 sen each after the share capital reduction.
RCE's shareholders will be entitled to receive a cash distribution of 7.5 sen for each RCE share at an entitlement date to be announced later, while the capital repayment will see the par value of each RCE share reduced from 10 sen to 2.5 sen.
RCE expects the proposals to be completed by the end of the financial year ending Mar 31, 2016 (FY16).
In a separate filing, RCE said its net profit for 2QFY16 jumped 80.88% to RM10.22 million or 0.8 sen per share from RM5.65 million or 0.5 sen per share a year ago, on lower other operating expenses and higher net interest income.
Its quarterly revenue rose 20.68% to RM39.04 million from RM32.35 million, primarily due to higher loan base and products with improved margin introduced by the loan financing segment, which led to higher interest income.
RCE has proposed a dividend of 10.5 sen per share for the quarter.
For six months ended Sept 30, 2015 (1HFY16), the financial services provider's net profit rose 56.95% to RM19.65 million or 1.54 sen per share, compared to RM12.52 million or 1.1 sen per share a year ago, on higher net interest income.
Revenue was up 21.94% at RM76.53 million from RM62.76 million a year ago.
Waste management company JAG Bhd slipped into the red in its third financial quarter ended Sept 30, 2015 (3QFY15) with a reported net loss of RM8.23 million, due to rising staff cost pursuant to the implementation of a share issuance scheme (SIS options).
It reported a net profit of RM1.72 million in the same period a year ago.
In a statement today, JAG said its staff cost had increased due to the granting of SIS options to eligible employees, which amounted to RM9.08 million.
If the expense arising from the granting of the SIS options is excluded, JAG would have recorded a net profit of RM851,000, which would be a 50% decline in net profit compared to 3QFY14.
Meanwhile, revenue for 3QFY15 had slipped by 34.8% to RM20.24 million, from RM31.04 million in 3QFY14, which the group attributed to low commodity prices, specifically copper.
For its nine-month financial period ended Sept 30 (9MFY15), JAG reported a net loss of RM6.61 million, compared with a net profit of RM5.3 million a year ago.
Revenue for 9MFY15 decreased 40.8% to RM60.88 million, from RM102.76 million in 9MFY14.
Progressive Impact Corp Bhd's (PICorp) subsidiary Alam Sekitar Malaysia Sdn Bhd (ASMA) has failed to secure the tender for the Environmental Quality Monitoring Programme for the Department of Environment (DoE).
In its filing to Bursa Malaysia today, PICorp said ASMA had received a letter dated Oct 13, 2015 from the DoE, which stated that ASMA was not successful in the request for proposals tender process for the development and implementation of Environmental Quality Monitoring Programme for the DoE through a public private partnership.
It was previously reported that the environmental engineering consultancy firm was bidding for a 15-year environmental monitoring concession contract from the Ministry of Natural Resources and Environment.
ASMA said it will continue to operate and maintain its existing environmental monitoring and data collection and management service throughout Malaysia, or upon request by the government.
This would follow the terms and conditions of the interim agreement entered into by ASMA with the government on April 14, 2015 until the expiry of the said agreement on April 14, 2016.
To recap, PICorp signed a concession agreement with the government in 1995 to monitor air and water quality at 60 stations nationwide.
Under the original concession agreement, the government had the option to renew the contract annually, for the next five years when the concession, worth RM24 million per year, ended in April 2015.
The government had extended the concession agreement by one year to April 13, 2016, for a lower value of RM22 million per year.
ASMA will cease to generate revenue arising from this interim agreement after April 13 next year unless the government grants a further extension to the existing interim agreement.
Upon the expiry, the earnings per share and net assets per share of PICorp group for the financial year ending Dec 31, 2016 (FY16) are both expected to reduce by approximately 0.27 sen and 2 sen respectively from FY14, according to the group's announcement.
Meanwhile, Hibiscus Petroleum Bhd's share trade has been suspended since 9am today pending an announcement, the company said on Bursa Malaysia's website.
It did not say when the suspension would be lifted.
Yesterday, Hibiscus' shares rose 2.5 sen or 7% to close at 36.5 sen for a market capitalisation of RM358 million.
In comparison, Hibiscus' latest reported net assets per share was 55 sen.
Tek Seng Holdings Bhd's net profit rose almost threefold or 183% year-on-year to RM5.04 million or 2.01 sen per share for the third quarter ended Sept 30, 2015, on higher revenue, primarily from its solar segment.
Its net profit was RM1.78 million or 0.74 sen per share in the same period last year, its filing to Bursa Malaysia today showed.
Revenue was 64% higher at RM99.33 million, from RM60.75 million a year earlier.
For the nine months ended Sept 30, net profit was lower at RM10.86 million, down 14% on-year from RM12.59 million, despite revenue jumping 30% to RM237.16 million, from RM183.10 million.
This was because of higher realised foreign exchange loss and lower other operating income, it said.
MRCB-Quill Real Estate Investment Trust (MRCB-Quill REIT) reported a 76.1% rise in its realised net income to RM15.74 million for the third quarter ended Sept 30, 2015 (3QFY15), from RM8.93 million a year earlier, mainly due to the recognition of income contribution from Platinum Sentral here.
The gain on the divestment of Quill Building 10-Section 13, in Petaling Jaya, and an 88.8% higher net property income of RM25.49 million (3QFY14: RM13.5 million) also contributed to the improved results, according to the REIT's Bursa Malaysia announcement yesterday.
Meanwhile, the REIT recorded a realised earnings per unit of 2.38 sen for the quarter, up 3.9% from the 2.29% seen in 3QFY14; no income distribution was proposed for the quarter.
Its latest quarterly revenue came in 81.4% higher at RM31.81 million, mainly due to additional revenue from its acquisition of Platinum Sentral, higher revenue from Plaza Mont' Kiara (PMK) and rental rate increases on some properties.
Its nine months ended Sept 30, 2015 (9MFY15) realised income, meanwhile, increased by 44.4% to RM37.65 million, mainly due to higher net property income, which rose 59.1%, and a gain on divestment.
Revenue for 9MFY15 rose 58.6% to RM82.6 million, again due to the revenue recognition from Platinum Sentral, higher revenue from PMK and rental rate increases on some properties.
Hartalega Holdings Bhd's net profit for the second quarter ended Sep 30, 2015 (2QFY16) increased by 25.4% to RM60.41 million or 3.69 sen per share, from RM48.16 million or 3.13 sen per share a year ago due to the increase in contribution from its Next Generation Complex new production lines.
In its filing to Bursa today, the glove manufacturer reported a 37.8% jump in 2QFY16 revenue to RM379.35 million, from RM275.24 million in 2QFY15 due to the strengthening of the US dollar against the ringgit and the group's production capacity expansion.
The group declared its first interim dividend of two sen per share in respect for FY16, payable on Dec 30, 2015.
For the first half of FY16 (1HFY16), Hartalega recorded a net profit of RM123.09 million or 7.51 sen a share, which is 17% higher than its 1HFY15 net profit of RM105.25 million or 6.84 sen a share.
Revenue for 1HFY16 rose 26.2% to RM699.86 million from RM554.44 million.
(Note: The Edge Research's fundamental score reflects a company's profitability and balance sheet strength, calculated based on historical numbers. The valuation score determines if a stock is attractively valued or not, also based on historical numbers. A score of 3 suggests strong fundamentals and attractive valuations.)