This article first appeared in The Edge Financial Daily, on November 25, 2019.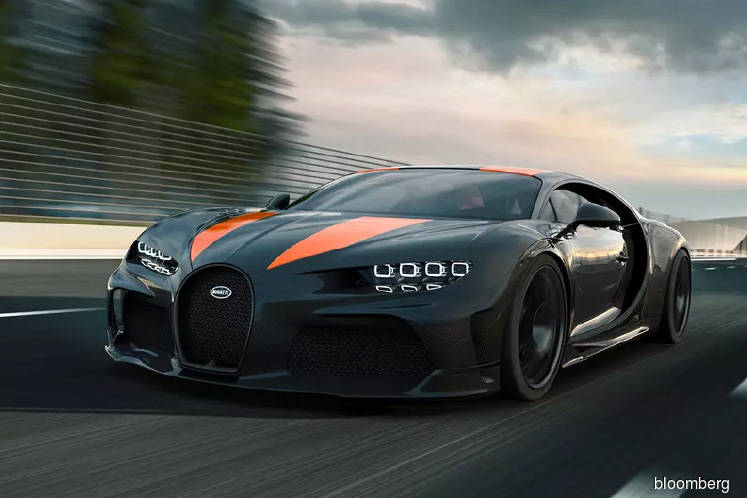 The Bugatti Chiron Longtail which Wallace piloted to the world-record 304mph earlier this year.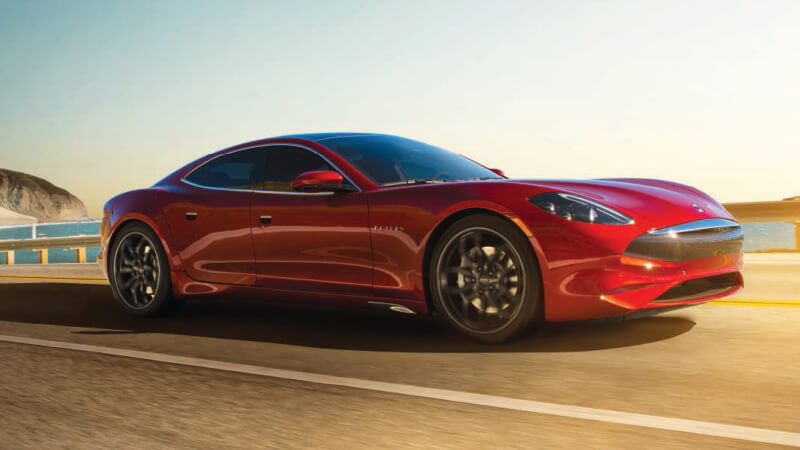 The 2020 Karma Revero GTS hybrid is a performance version of the company's luxury electric Revero GT, which debuted earlier in 2019.
Now in its 102nd year, the Los Angeles (LA) Auto Show saw a crush of electric vehicles (EVs), record-breaking supercars, and a few big trucks. Most of which, as it happens, did not actually touch the convention centre floor.
Instead, Pininfarina opted to show its progress on the all-electric Battista at an intimate, private event at the 1 Hotel in West Hollywood; Bugatti showed its Chiron Super Sport 300+ in an exposed-brick warehouse in the downtown arts district; Audi hosted the press to share the novel headlights of its e-Tron Sportback on a 5am drive in Koreatown; Aston Martin debuted its long-anticipated DBX SUV (sport utility vehicle) at a talent agency in Beverly Hills.
In fact, the two biggest splashes of the week happened out of town, technically speaking: Tesla unveiled its Armageddon-ready (but not shatterproof) Cybertruck at the company's Design Centre in Hawthorne, California; Ford, not coincidentally, was nearby, showing off its Mustang Mach-e SUV at an air strip next to Tesla's SpaceX headquarters.
Consider it another indication that the auto trade shows are running on empty when it comes to relevance for consumers and pay off for manufacturers. There are rumours the LA show will change its traditional November date in 2020. The reasoning: If expansion plans for the convention centre do not allocate enough space for the event, it will be forced to move; that seems like a pale excuse for alterations in light of how much news this year happened off-site altogether.
That said, the vehicles that did make it to the convention centre floor in LA included some hotly anticipated models, especially Porsche's Taycan, Audi's RS Q8 SUV, Land Rover's reimagined Defender, and even BMW's R18 motorcycle. Here are the best of them.
Bugatti Chiron Longtail
This is the actual vehicle that driver Andy Wallace piloted to the world-record 304mph (489.24kph) earlier this year. Bugatti has not confirmed it will make more of them … yet (although a four-seater priced at less than US$1 million [RM4.17 million] may be in the works). The production version of the Chiron has a 16-cylinder engine and an electronically regulated top speed of 261mph; this "near production" specification included an additional safety cell, aerodynamic changes, and a taller seventh gear. It was displayed prior to the LA show alongside the company's previous fastest car, the Veyron Super Sport. A production version of that record-setting car was there, too. The €3.5 million (RM18.7 million) Chiron Super Sport 300+ will be limited to just 30 examples; deliveries start in mid-2021.
Karma Revero GTS
The 2020 Revero GTS hybrid is a performance version of the company's luxury electric Revero GT, which debuted earlier in 2019. Karma has floundered in recent years but continues to eke by as it tries to make a truly sporty and reliable version of a hybrid sports car. This one has a BMW-sourced turbocharged three-cylinder engine that acts like a generator, providing electricity for two rear-mounted electric motors. In the Revero GT, those motors produce a combined 536hp and 560 lb-ft of torque; the figures for the GTS have not been released, but Karma does say it will go from zero to 60 in less than 3.9 seconds, and have an electric-only driving range of 80 miles. Top speed is anticipated to be 130mph.
Tesla Cybertruck
At a Blade Runner-themed party last Thursday in Hawthorne, Tesla founder Elon Musk unveiled his latest work, the electric and very angular Cybertruck, which has a stainless-steel skin and will come in three different variants. Car launches are usually quite scripted and over-rehearsed, but this one did not go as planned. A company spokesman broke two windows trying to demonstrate how strong its bulletproof glass was supposed to be. It was the shatter heard round the world: Tesla shares had fallen 5.5% to US$335.32 as of 9.47am in New York, the sharpest decline in almost two months. Pricing will start at US$39,900.
Ford Mustang Mach-E
At a high-energy event on Nov 17 before the opening of the LA Auto Show, Ford introduced the Mustang Mach-E, a small SUV-type EV with Mustang's familiar badge on the front and sides. Ford, which noticeably showed off the rig next to SpaceX headquarters in Hawthorne, has said the Mach-E will take on the EV offerings from Porsche and Tesla when its electrified Mustang goes on sale next fall. The Mach-E really is not a Mustang sports car at all. The vehicle trades on the iconic nameplate but puts it in a new body. The idea is that Ford will leverage its most iconic vehicles, the Mustang and F-150 truck, to build its EV profile as it struggles to gain footing in the rapidly changing automotive landscape. Pricing for the Mach-E, which is being built in Mexico, will start at US$43,895.
Porsche Taycan 4S
The company unveiled the 2020 Taycan 4S last Wednesday. The least expensive model in the new line — it starts at US$103,400 — it is also the most hyped electric vehicle since the Tesla Model S, and the next step towards total electrification, with the 911 last to go. The four-door plug-in Taycan 4S gets 252 miles (406km) on one charge of its electric battery and reaches 522 horsepower (hp). A "performance" option with an 800-volt battery extends the range to 287 miles and amps it up to 563hp. And, yes, it is fast: The 4S will hit 60mph in 2.6 seconds.
Audi AG RS Q8
The Audi AG RS Q8 is the fastest production SUV to lap the Nurburgring racetrack, with an official time of seven minutes and 42.2 seconds. More practically for the everyday driver, it features a bi-turbo V8 engine that gets to 62mph in 3.8 seconds and reaches a top speed of 189.5mph. With eight-speed automatic shifting and all-wheel-drive, the RS Q8 lets the driver customise seven different profiles behind the wheel: Comfort, auto, dynamic, all-road, off-road, and RS-specific modes RS1 and RS2. The latter two can be activated directly with a button on the steering wheel. Audi's first SUV to be sold in America will arrive in mid-2020. Pricing is yet to be announced.
Mercedes-Benz AMG GLS 63
The AMG GLS 63 is a staple for the Stuttgart-based German brand, but this year adds more room to the second row and all three rows are fully adjustable electronically. It has been equipped with a new Mercedes-Benz User Experience system, allowing drivers to control infotainment with voice commands or hand gestures. This is the first Mercedes to introduce V8 and inline-six engines enhanced with EQ Boost and a 48-volt electrical system. It gets up to 483hp on its eight-speed all-wheel-drive system and can go from zero to 60 in 5.2 seconds. Deliveries begin this summer. Daimler has yet to announce the pricing, but the 2019 GLS 63 started at US$126,150.
BMW Concept R18
BMW first showed this bike at the Concorso d'Eleganza Ville d'Este show this summer but brought it to LA, as well, to introduce in what will likely be its biggest market: California. The bike uses a prototype flat-twin engine that makes it the highest-capacity boxer motorcycle ever produced; the unusual spoked wheels are big (21-inch [53cm] front and 18-inch rear) and built to match the considerable proportions and large overall stance of the bike. The R18 is a 1,800cc concept bike meant to show the design direction BMW will take for its future cruiser segment.
Aston Martin DBX
The company finally joins the luxury SUV fray with the DBX, which starts at US$189,000. The four-door, five-passenger rig has a 542hp, twin-turbocharged V8 engine and gets 516 pound-feet (lb-ft) 700 newton metre) of torque. It will go from zero to 60 in 4.3 seconds, with a top speed of 181mph. The DBX takes notes from the Vantage, with a sharply slanted rear, but also evokes other SUVs from Lamborghini and, dare we say, Ford. A very wide grille stretches across the front of the vehicle, and frameless doors blend seamlessly into the sides, elongating the look of the car. The nine-speed automatic SUV, which begins deliveries in summer 2020, will double the manufacturer's production numbers by the time it reaches peak production.
BMW two-series Gran Coupe
The first-ever two Series Gran Coupe has four doors, but it is considered (by BMW at least) a coupe nonetheless. The doors are made sleek by their rimless outlines; the shark nose is defined by brilliant LED headlights, a new mesh kidney grille, and aggressive-looking air intakes at the bottom. The car also has frameless twin 90mm exhaust pipes — a first for any BMW two series. Under the hood, the new two series packs a turbocharged two-litre four-cylinder engine that gets 228hp and 258 lb-ft of torque. The car is expected to start at US$38,000, with deliveries beginning in March 2020.
Land Rover Defender
A much-anticipated continuation of a 70-year-old icon, the new Defender comes with two or four doors and up to 395hp on its V6 engine. Top speed is 129 mph, and it will hit 60mph in 5.8 seconds — but that is not really the point. The modern Defender is highly capable off-road, with configurable terrain response, electronic active differential, torque vectoring, all-terrain progress control and a myriad of other systems to smooth out rough roads. The starting price is US$49,900.
Volkswagen ID Space Vizzion Concept
The ID Space Vizzion EV crossover is the latest in a spate of seven electric concept cars from the Wolfsburg-based German brand. Volkswagen says the Vizzion will be powered by an electric motor on the rear axle and get 275hp; an all-wheel-drive version, with an additional electric motor on the front axle, will get 355hp. Inside, it has a 15.6-inch touchscreen and a second, smaller display that sits behind the steering wheel. A panoramic sunroof covers the top of the vehicle. The wagon will get 300 miles per charge out of an 82kWh battery, if and when it comes to the US in production form in 2022.
Buick Encore GX
The new Encore is a larger crossover that comes in just below the Envision and replaces former general models like the Verano. Buick has said little about the vehicle, which goes on sale early in 2020, except that there will be two engines available, both of them turbocharged three-cylinders: The base engine is a turbo 1.2-litre with front-wheel drive; all-wheel-drive is optional on a 1.3-litre with a traditional nine-speed automatic transmission. The SUV will deliver 155hp, according to early estimates.
BMW M2 CS
BMW is offering a special edition of its excellent M2 line, called the M2 CS. The handsome coupe, positioned as a high-performance model above the M2 Competition, joins the precedent already achieved by the M3 CS and M4 CS variants. Lighter than its siblings in the M2 line, it has a new front splitter, a distinctive "Gurney" spoiler lip on the trunk lid, and a rear diffuser made of exposed carbon fibre. It has a six-cylinder inline engine with 450hp; peak torque is 405 lb-ft. The M2 CS can hit 62mph in four seconds, and top speed is 174mph. Prices for the BMW M2 CS start at €95,000 (RM436,872). — Bloomberg