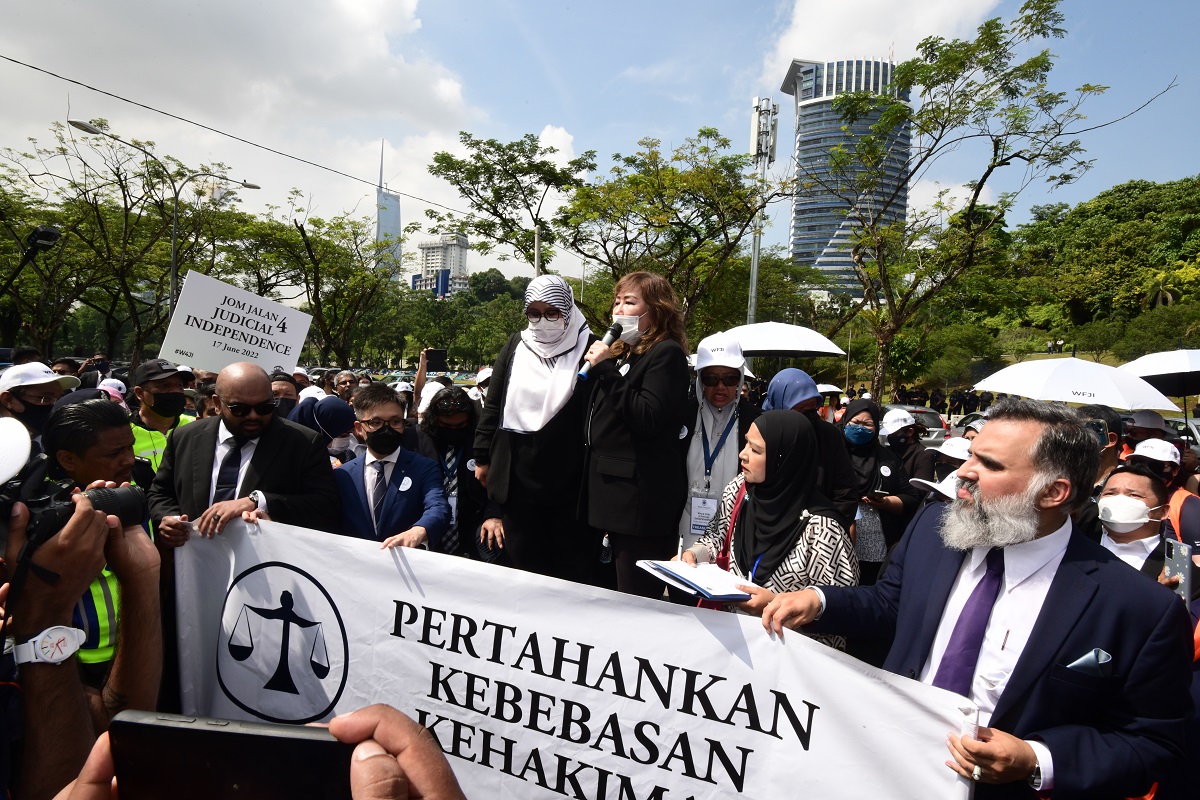 KUALA LUMPUR (June 17): Deputy de facto Law Minister Datuk Wira Mas Ermieyati Shamsudin extended an olive branch and accepted a memorandum from the Malaysian Bar on judicial independence at the Padang Merbok car park area in Kuala Lumpur on Friday morning (June 17) at 11am.
Mas Ermieyati, who was scheduled to receive the memorandum on behalf of Prime Minister Datuk Seri Ismail Sabri Yaakob, came to the lawyers after the police blocked them from proceeding to the Parliament about 2.5km away. 
More than 300 lawyers had gathered since 9am for a peaceful protest under the Malaysian Bar's "Walk for Judicial Independence" event to support the memorandum. 
In a speech on Friday, Bar president Karen Cheah Yee Lynn said that the memorandum states four demands, which include for the judiciary's independence to be upheld and the government to preserve public confidence in the judicial system.
Another demand is for possible legislative reforms to set the parameters for allegations against sitting judges to be done in a manner which does not erode judicial confidence.
She also said the Bar condemns the actions of the Malaysian Anti-Corruption Commission (MACC) in publicly announcing the commencement of an investigation into Court of Appeal Judge Justice Datuk Mohd Nazlan Mohd Ghazali. 
"We, the Malaysian Bar, view this as an intimidation of the judiciary. Isn't this a breach of the fundamental principle of separation of powers? We are all here to express our condemnation of the actions of the MACC.
"Our counterparts in Sabah are also walking with us today (Friday). They will be sending a letter and issuing a statement, and will be with us in spirit. The three bars here and in Sabah and Sarawak are doing this jointly," Cheah said. 
Mas Ermieyati, when receiving the memorandum, thanked the lawyers and said she will hand the document over to de facto Law Minister Datuk Seri Dr Wan Junaidi Tuanku Jaafar and the prime minister.  
"Hopefully, justice and the judiciary in this country will continue to be strengthened," Mas Ermieyati said. 
Several opposition leaders such as Kepong Member of Parliament (MP) Lim Lip Eng, Ipoh Barat MP M Kulasegaran, Segambut MP Hannah Yeoh and Sungai Buloh MP R Sivarasa were present at the gathering. 
Prominent lawyers such as former Attorney-General Tan Sri Tommy Thomas and former Malaysian Bar president Datuk Ambiga Sreenevasan were also in attendance. 
Commonwealth Lawyers Association vice-president (Australasia) Steven Thiru, who came as an observer, said that the Malaysian Bar's memorandum is supported by the international community.
"The independence of the judiciary is something that can never be compromised in a country that believes in the rule of law," he said. 
Read also:
Bar: Police blockade of peaceful walk by lawyers unconstitutional