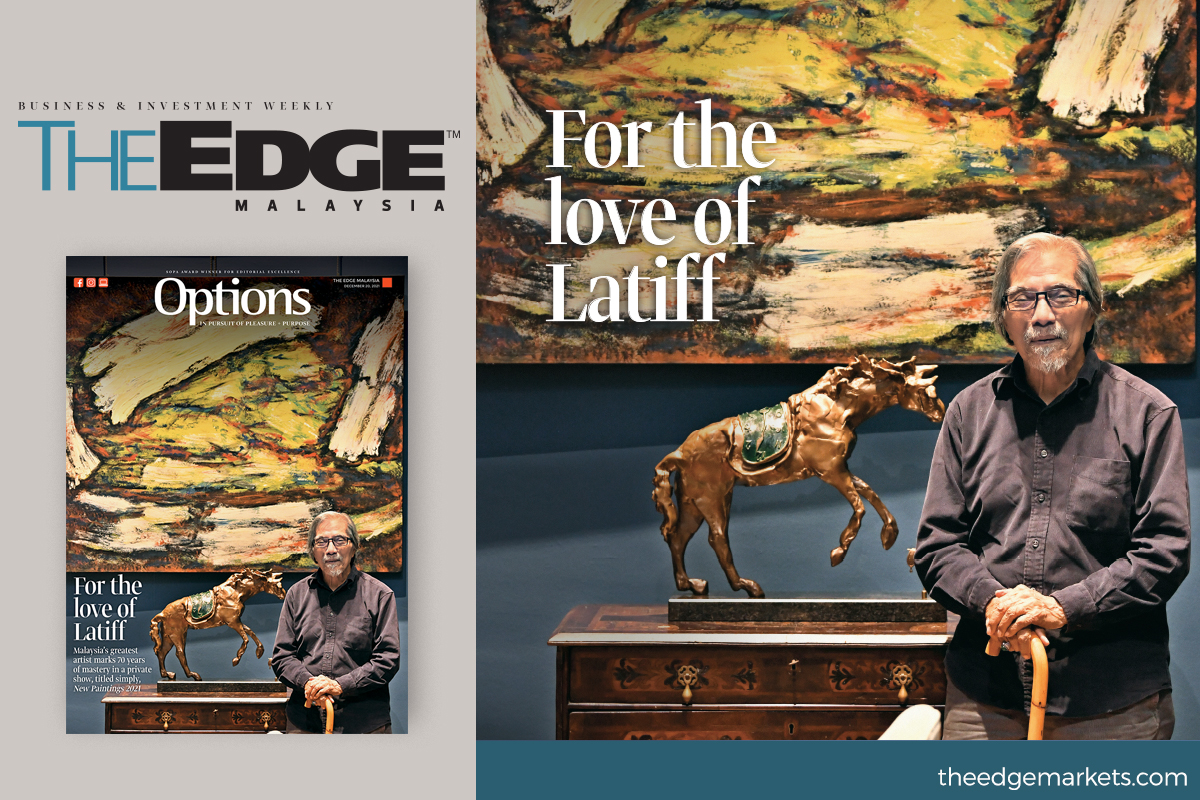 KUALA LUMPUR (Dec 19): To celebrate turning 80 in August, Latiff Mohidin held a private exhibition titled New Paintings 2021 at The Edge Galerie in the Mont' Kiara Meridin commercial centre, Kuala Lumpur from Nov 28 to Dec 12. The event also marked his "preoccupation with paints and brushes", from when he held his first solo at Kota Raja Malay School in Singapore in December 1951.
 
The 19 new paintings were part of a series Latiff started working on after returning from Paris in 2018, where the Musée National d'Art Moderne at Centre Pompidou held a retrospective for him, titled Latiff Mohidin: Pago Pago (1960-69). The pandemic and lockdown, a time of silent isolation in his studio, were also an opportunity to produce lots of good paintings, the art maestro said.
 
The House of Chanel does not hesitate to step into new territory, creatively and physically. It has appointed Leena Nair as global CEO, a move that takes the British national, who was Unilever chief human resources officer, from consumer goods to luxury fashion. The French maison also unveiled its annual Métiers d'art Collection at a new venue, Le 19M, a 9,000 sq m site in Aubervilliers, north-east Paris. Métiers d'art means "professions of art" and the show featured specialist crafts that use the language of style. When it is fully completed in about a year, Le 19M will be home to about 600 workers from the great fashion métiers d'art ateliers.
German marque Porsche revved up its all-new 911 GT3 at the Sepang International Circuit recently, as part of the Porsche World Roadshow Malaysia 2021. Three other cars that also left marks on the bitumen were its Taycan Turbo, Cayenne and Macan GTS. The first is a rocket launcher that takes off from zero to 100kph in a stomach-churning 2.8 seconds, while the second is more suited for families and urban roads. The Macan GTS, which replaces the outgoing Macan Turbo, promises fun and a hint of mischief with its revised steering wheel options for perfect control and tactility.
Read all of this in the latest issue of Options, available with the Dec 20 issue of The Edge Malaysia weekly.
Save by subscribing to us for your print and/or digital copy.
P/S: The Edge is also available on Apple's AppStore and Androids' Google Play.