This article first appeared in City & Country, The Edge Malaysia Weekly, on March 14, 2022 - March 20, 2022.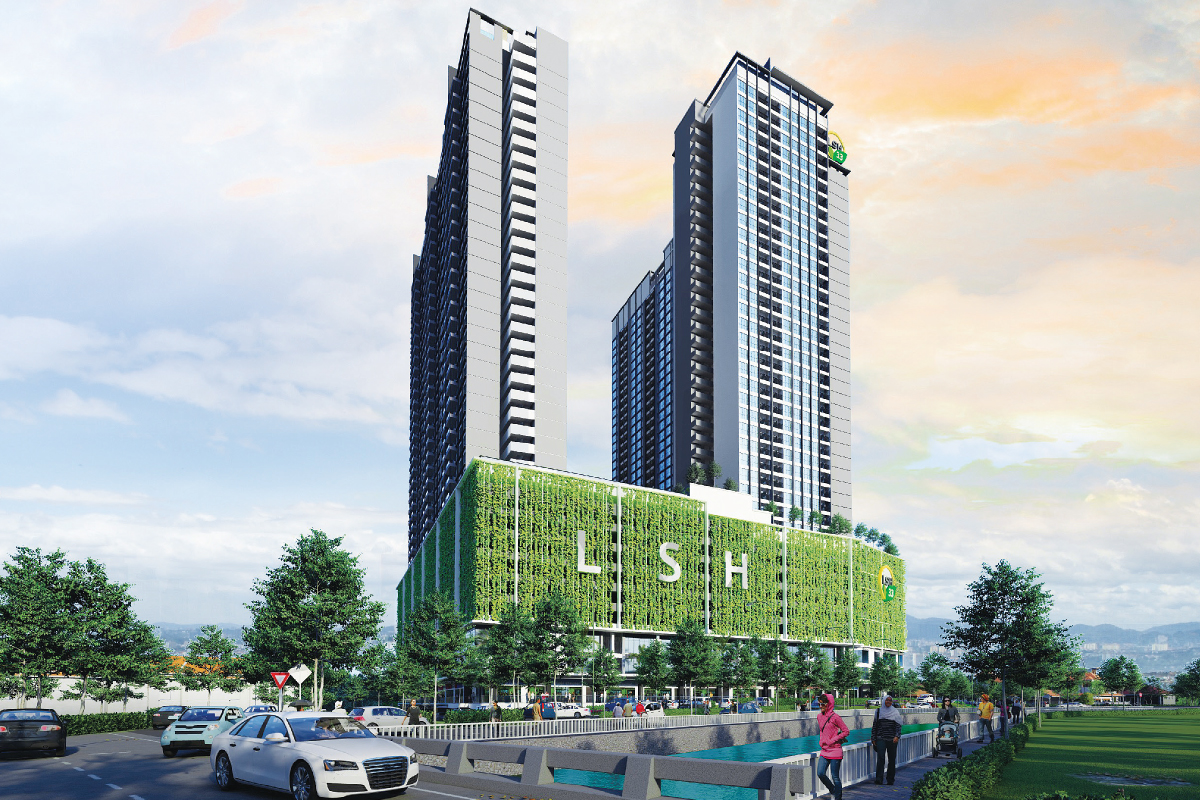 Lim Seong Hai Holdings Sdn Bhd (LSH Holdings) has unveiled two projects in the Klang Valley — LSH33 in Sentul and LSH Segar in Cheras — according to Lim Seong Hai Capital (LSH Capital) vice executive chairman Datuk Lim Keng Guan.
LSH33 is the company's maiden development, he tells City & Country in a recent interview. Developed by Besteel Engtech Sdn Bhd, the project is managed and marketed by LSH Holdings.
LSH Capital, which is part of LSH Holdings, came into the spotlight when it was successfully listed on the LEAP Market of Bursa Malaysia in July last year. Through its subsidiaries Lim Seong Hai Lighting Sdn Bhd and Knight Auto Sdn Bhd, the group is principally involved in the provision of building materials, lighting products, mechanical and electrical products and services, hardware and tools, and rental of machinery.
LSH33
LSH33 will comprise four components, namely serviced apartments, Residensi Wilayah units, Perumahan Penjawat Awam Malaysia (PPAM) units and retail space. The first three components are in separate blocks, each with a designated lift lobby and facility floor, on top of a retail and parking podium. The retail space will take up the lower ground floor, ground floor, Level 1 and Level 2.
"The development sits on a 3.74-acre land, which is next to SkyAwani Residence. This leasehold project has a gross development value of RM340 million," says Lim.
"We will keep the retail space and manage it like a shopping mall. There are different designated car park access points for residents and the retail space.
"While the three blocks share the same podium, each of them has its own lifts and facility floor. Therefore, in terms of facility usage, it is quite low density.
"The facility floor for the serviced apartments is on Level 7, while the one for Residensi Wilayah and PPAM is on Level 6. They cannot cross over to each other."
The serviced apartment component will have 300 units. There is only one layout — 950 sq ft, with three bedrooms and two bathrooms, selling from RM475,000. All the bedrooms will face outside to allow for more natural lighting and ventilation.
The serviced apartments will be partially furnished with kitchen cabinets, hood and hob, two air conditioners and two water heaters. Each unit will also be allocated two parking bays.
The facilities will include a multipurpose hall, infinity pool, wading pool, basketball court, jogging pathway, children's playground, barbecue terrace, outdoor fitness zone and gymnasium.
The PPAM and Residensi Wilayah components, which are fully sold, will have 300 units each. 
The PPAM units will have built-ups of 1,000 sq ft and come with three bedrooms, two bathrooms and a parking bay. The units are priced at RM298,000.
The Residensi Wilayah units will have built-ups of 850 sq ft and come with three bedrooms and two bathrooms. Each unit, which will come with a parking bay, sells for RM300,000.
The facilities at the PPAM block will include a multipurpose hall, swimming pool, wading pool, children's playground, nursery and gymnasium. The Residensi Wilayah block will have similar facilities.
Lim notes that the "LSH" in the name of the development, LSH33, carries two meanings. One is the name of the developer and the other is the name of the development, which is Laman Seri Harmoni.
"Meanwhile, 33 is to reflect that we are close to the Duke Highway (Duta-Ulu Klang Expressway), which has the highway code of E33. The development is located just next to the highway, where it enjoys direct access to the highway," he says.
"The Duke Highway connects to other major highways, such as Duke Phase 2, Middle Ring Road 2, Lebuhraya Damansara-Puchong and Sprint. It means many places in the Klang Valley are accessible."
LSH33 was launched in February 2021 and the take-up rate is currently 78%.
LSH Segar
The group launched the RM350 million LSH Segar in Cheras last month. The non-bumiputera units have been fully taken up.
Located near Cheras Leisure Mall, the development is also known as Luxury Sky Homes. It is a purely residential project, with condominium and Residensi Wilayah components that come with separate entrances.
Lim notes that there will be 435 condominium units and 440 Residensi Wilayah units on a 4.374-acre leasehold parcel. "It is off Jalan Manis and we will build a new road into our development," he adds.
"There are two towers — Tower A is the Residensi Wilayah block and Tower B is the condo block. There is only one typical layout for the condo block, which is 1,000 sq ft, which comes with three bedrooms, two bathrooms and two or three parking bays.
"We also offer premium units on the highest floors. There are seven sky semidees with built-ups of 2,000 sq ft, eight sky bungalows of 3,000 sq ft and 16 typical units. There are dedicated lifts for these units. The condos are also partially furnished, like LSH33. They are selling from RM550,000 to RM700,000."
The sky semidees will have four bedrooms, four bathrooms and four parking bays, while the sky bungalows will come with five bedrooms, six bathrooms, one powder room and five parking bays. The facilities will include a farming pavilion, swimming pool, multipurpose hall and children's playground.
The developer currently has 15 acres of land bank in the Klang Valley, including 11.85 acres in Sungai Besi. It also has land bank outside of the Klang Valley but the developments are still in the planning stage, says Lim.
Read also:
LSH Capital to abide by new minimum wage
Newly listed Lim Seong Hai Capital targets RM1 bil market value in 10 years
LSH Capital enters into multiple deals as part of expansion into property, construction biz