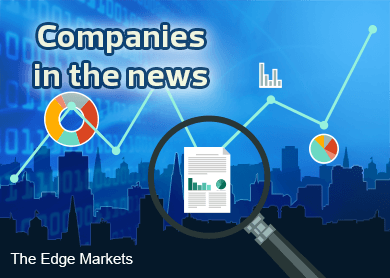 KUALA LUMPUR (May 8): Based on corporate announcements and news flow today, companies that may be in focus on Monday (May 11) could include: Luxchem, MyEG, CSC Steel, PJBumi, YFG, Ho Wah Genting, Brahim's and SLP Resources Bhd
Industrial chemical supplier Luxchem Corporation Bhd's net profit for the first financial quarter ended March 31, 2015 (1QFY15) plunged 68.7% to RM1.55 million, from RM4.96 million in the previous corresponding quarter, due to higher administration expenses from staffs exercising their employee's share option scheme (ESOS).
Luxchem told Bursa Malaysia the sharply lower net profit was caused by RM8.48 million of share option expense — a considerably large sum, given its quarterly net profit has been below RM6 million in recent years — that was charged to its profit and loss from the ESOS, which was included under administration expenses.
According to the company's latest annual report, Luxchem granted 31.98 million options to eligible employees, of which 403,000 options were exercised at 71 sen per share. Consequently, the same number of shares were issued on March 11 and listed on March 17.
Luxchem's (fundamental: 1.7; valuation: 2.4) revenue gained 20.3% to RM172.54 million, from RM143.46 million a year ago, due to higher contribution from trading segments. Its earnings per share (EPS) shrunk to 0.6 sen, from 1.91 sen in the corresponding quarter.
MyEG Services Bhd (MyEG) has proposed to acquire 22 stories of stratified parcels in the 45-storey Iconic Office (Block N) at Empire City @ Damansara, for RM155.3 million.
In a statement, MyEG (fundamental: 3; valuation: 1.1) said it has entered into 22 conditional sale and purchase agreements with Cosmopolitan Avenue Sdn Bhd, the vendor, for the acquisition.
Of the total RM155.3 million, the group said RM46.6 million will be financed by internally-generated funds, while the balance RM108.7 million will be funded by borrowings.
MYEG said the proposed acquisition will increase its gearing ratio to 72%, from 10%, based on its audited financial results as at June 30, 2014.
"The proposed acquisition facilitates the company's plans to centralise its operations and relocate all employees under one roof to improve efficiency and operational productivity," said MYEG.
The group expects to complete the acquisition in the fourth quarter of 2015.
Steel products manufacturer CSC Steel Holdings Bhd swung back to the black with a net profit of RM5.4 million in its first financial quarter ended March 31, 2015, after suffering a year of net losses, and attributed the better earnings performance to increase in sales volume and selling price of its products.
In a filing with Bursa, CSC (valuation: 1.8; fundamental: 1.2) announced its quarterly revenue increased 12.6% to RM294.3 million, from RM269.3 million in the previous corresponding quarter.
It said though the first quarter of 2015 has shown improvement over the previous quarter, the overall steel market demand was still not stable.
Sewage treatment systems services provider PJBumi Bhd has been awarded a RM1.8 million contract for the design and construction of a sewerage treatment plant in Johor.
In a filing, PJBumi (fundamental: 0.75; valuation: 0.9) said the contract, awarded by Johor Land Bhd, is for 10 months and will be completed on March 10, 2016.
"Barring any unforeseen circumstances, the board is of the opinion that the contract will contribute positively to the earnings per share and the future earnings of PJBumi group," said the company.
Electrical and mechanical engineering services provider YFG Bhd wants to raise RM100 million through the proposed issuance of redeemable convertible notes programme with a tenure of five years, for working capital (RM70.5 million) and to repay bank borrowings (RM22 million).
The amount to be raised is double YFG's market value of RM51.8 million, based on its closing price of 8.5 sen today.
In a filing, YFG (fundamental: 0.15; valuation: 0.3) said it has appointed Kenanga Investment Bank Bhd for the issuance, which comprises redeemable convertible commercial papers and/or redeemable convertible medium term notes (MTN).
YFG said it has entered into a conditional subscription agreement (subscription agreement) with Advance Opportunities Fund and Advance Capital Partners Pte Ltd today, for the proposed notes issue.
It added that the MTN is to be issued in six tranches.
Ho Wah Genting Bhd, a manufacturer of wires and cables, is diversifying into the trading of minerals related to ferrous, non-ferrous and base metal, as part of a broader plan to improve its revenue and profit.
The group is expected to rake in an additional US$29.5 million (RM105.9 million) in revenue per year from the venture.
In a filing with Bursa, Ho Wah Genting (fundamental: 0.35; valuation: 0.3) said its wholly-owned subsidiary, Ho Wah Genting Trading Sdn Bhd (HWGT), signed a cooperation agreement with Singapore Metals & Minerals Pte Ltd (SGM) today for the supply of ferrous, non-ferrous and base metal minerals.
Under the deal, SGM has committed to supply a minimum of 25,000 tonnes of ferrosilicon per year at the initial stage. Ferrosilicon is a universal "heat-blocker" used in the production of carbon and stainless steels.
"The tenure of the agreement will be a year and is renewable mutually by both parties. There are no commitments by HWGT on the order quantity, as it will be based on order basis," said Ho Wah Genting.
It said HWGT will target Malaysia, as well as overseas markets such as Japan, the US and Europe.
Brahim's Holdings Bhd and Malaysia Airline System Bhd (MAS) has agreed to extend the cut-off date to conclude the new catering agreement (NCA) for the second time, to May 10.
In a filing with Bursa, Brahim's (fundamental: 0.35; valuation: 1.2) said its 70%-owned subsidiary Brahim's Airline Catering Sdn Bhd has entered into a second extension agreement (EA) dated May 8 with MAS.
Brahim's said the extension was to facilitate documentations of the NCA to be executed with Malaysia Airlines Bhd (MAB) — the NewCo which will be formed under the restructuring exercise.
"The second extension agreement is to give more time for the parties' legal counsels to finalise and conclude the NCA, with a common goal to expedite the signing," Brahim's said.
Both Brahim's and MAS had first extended on April 1, the cut-off date for the talks on the NCA from March 31 to April 30.
SLP Resources Bhd saw its net profit jump 76.28% to RM4.46 million or 1.8 sen a share for the first quarter ended March 31, 2015 (1QFY15), from RM2.53 million or 1.02 sen a share a year ago, due to lower cost of raw materials and a better sales mix, the last of which contributed better margins.
SLP Resources (fundamental: 2.4; valuation: 1.3)'s revenue for 1QFY15 however, fell 6.8% to RM41.43 million from RM44.45 million a year ago, due to lower domestic sales, as well as lower average selling prices of the group's plastic packaging products, in line with the lower average prices of plastic resins.
(Note: The Edge Research's fundamental score reflects a company's profitability and balance sheet strength, calculated based on historical numbers. The valuation score determines if a stock is attractively valued or not, also based on historical numbers. A score of 3 suggests strong fundamentals and attractive valuations.)