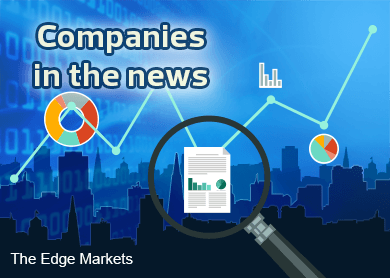 KUALA LUMPUR (May 15): Based on corporate news flow and announcements today, stocks in focus next Monday (May 18) could include: Malakoff, Amway, Insas, DNeX, Hektar REIT, Pintaras Jaya, Choo Bee, CAP, Lysaght and Jaya Tiasa.
Malakoff Corporation Bhd, which was listed on the Bursa Malaysia's Main Market today and was one of the most actively-traded counter across the bourse, has issued a statement denying it was considering buying the power assets of debt-laden 1Malaysia Development Bhd (1MDB).
In a statement after market close, the independent power producer (IPP) reiterated its stance, following a news report by Bernama earlier today which said Malakoff was keen on acquiring debt-ridden 1MDB's power assets that are held by the latter's unit, Edra Energy Global Bhd, that has dampened Malakoff's share price performance on its maiden trading day.
Malakoff said it strongly denies the report which stated it was considering the buy and urged Bernama to retract the piece, which it termed "a misrepresentation".
However, Bernama's report seems to have rubbed the shine off Malakoff's debut on Bursa today. The share price of the largest public-listed independent power producer (IPP) in Asean, in terms of capacity, ended the day at its initial public offering (IPO) price of RM1.80, with 312.93 million shares done.
Consumer products distributor Amway (Malaysia) Holdings Bhd (Amway) reported a 40.1% on-year hike in its net profit to RM36.7 million in its first quarter ended March 31, 2015 (1QFY15), from RM25.5 million previously, on higher sales before the implementation of the goods and services tax (GST).
Amway (fundamental: 2.5; valuation: 1.5)'s 1QFY15 revenue was up 50.1% on-year to RM321.9 million, from RM213.3 million; while earnings per share (EPS) improved to 22.41 sen, compared to 15.49 sen in 1QFY14.
The group declared a first interim single-tier dividend of 10 sen per share for the financial year ending Dec 31, 2015, payable on June 17.
Insas Bhd's net profit fell 8% on-year to RM28.12 million or 4.23 sen per share for the third financial quarter ended March 31, 2015 (3QFY15), from RM30.69 million or 4.61 sen per share previously, mainly due to lower profit from stock broking, structured finance and a pre-tax loss from its investment unit.
However, Insas (fundamental: 2.3; valuation: 1.8)'s revenue more-than-doubled to RM139.69 million, from RM65.97 million a year earlier.
Its financial services and credit and leasing division also saw lower revenue, due to weaker market sentiment during the quarter under review.
For its 9MFY15, net profit shrunk 55% on-year to RM58.69 million, from RM131 million, even though revenue was up 46% in the same period to RM319.47 million, from RM219.13 million.
Dagang NeXchange Bhd (DNeX) saw its net profit dropped 76% on-year to RM470,000 or 0.06 sen per share for its first quarter ended March 31, 2015 (1QFY15), from RM1.94 million or 0.25 sen previously, after a one-off voluntary separation scheme (VSS) payment of RM5.55 million.
DNeX (fundamental: 2.6; valuation: 0.2)'s revenue climbed 18% on-year to RM21.99 million in 1QFY15, from RM18.60 million, on growth in its business-to-government (B2G) business and progress billing for the provision of professional services for the implementation of the goods and services tax (GST) integrated logistic portal.
Going forward, the group expects to post positive results for its current financial year ending Dec 31, 2015 (FY15), as it leverages on its trade facilitation business.
Hektar Real Estate Investment Trust (Hektar REIT) saw its net profit rise 6.1% on-year to RM11.09 million or 2.77 sen a share for the first quarter ended March 31, 2015 (1QFY15), from RM10.46 million or 2.61 sen a share in the previous corresponding quarter, mainly due to improved revenue from its Central Square asset in Sg Petani, Kedah, on completion of its asset enhancement initiative (AEI).
Revenue also increased 3.4% on-year to RM31.21 million, from RM30.18 million. Net property income grew 5.8% to RM18.6 million in 1QFY15.
Hektar REIT (fundamental: 0.65; valuation:3) also announced a first interim income distribution of 2.6 sen per unit for 1QFY15, amounting to RM10.42 million, payable on June 17, 2015.
Pintaras Jaya Bhd saw its net profit rise 48.8% on-year to RM13.78 million or 8.60 sen per share, for the third quarter ended March 31 (3QFY15), from RM9.26 million or 5.8 sen per share.
Pintaras Jaya (fundamental: 3; valuation: 1.7)'s substantial earnings rise was mainly due to non cash employee benefits cost under its employee stock option scheme (ESOS) of RM4 million, that was incurred in the previous corresponding period.
Excluding the ESOS costs in the previous corresponding quarter, Pintaras' earnings growth would be flat.  
Revenue for 3QFY15 also increased 17.28% to RM57.34 million, outperforming last year's corresponding quarter revenue of RM48.89 million.
For 9MFY15, the company posted a profit of RM40.47 million against RM33.53 million a year ago; while revenue also increased to RM195.64 million, up 39.6% from RM140.16 million.
Pintaras Jaya declared an interim single-tier dividend of 7 sen per share, payable on June 30.
Steel products manufacturer Choo Bee Metal Industries Bhd saw its net profit risen 32.54% on-year to RM3.91 million or 3.59 sen per share in the first quarter of ended March 31, 2015 (1QFY15), from RM2.95 million or 2.71 sen per share, on stronger demand and better prices.
Choo Bee (fundamental: 1.5; valuation: 2)'s improvement was due to dealers stocking up ahead of the implementation of the goods and services tax (GST), stronger demand of steel from the construction industry, and improved average selling prices.
Revenue was up 24.89% on-year to RM144.89 million in 1QFY15, from RM116.01 million previously.
The earnings increase in 1QFY15, contributed by both its manufacturing and trading operations, was partially offset by higher sales and marketing expenses, as well as foreign exchange losses due to the weaker ringgit.
Australia-listed Siburan Resources Ltd (SBU) will emerge as a substantial shareholder in China Automobile Parts Holdings Ltd (CAP) on the completion of a proposed acquisition of a 16.67% stake in the group from CAP's major shareholder, Guotai International Holdings Ltd, for RM60 million or 60 sen per CAP share.
Under a conditional binding heads of agreement (HoA) signed between Guotai and SBU today, SBU will be acquiring 100 million shares in CAP. In return, SBU will issue to Guotai, 417.36 million shares at 5 Australian cent apiece totalling RM60 million, which will see Guotai taking a controlling 62.5% stake in SBU.
SBU is an exploration company with tungsten and gold projects in Australia, New Zealand and Papua New Guinea.
The HoA is conditional upon the satisfaction or waiver of certain conditions precedent by July 31 this year, including a mutual due diligence and the completion of a capital raising exercise by SBU to raise a minimum of A$1 million.
SBU also needs to hold a shareholders' meeting to approve the transaction and all related matters.
On completion of the acquisition, one of SBU's current directors will be appointed to the board of CAP, while two persons nominated by CAP will be appointed to SBU's board.
Lysaght Galvanized Steel Bhd's net profit for the first quarter ended March 31, 2015 (1QFY15) rose 120.92% on-year to RM6.76 million or 16.26 sen per share, from RM3.06 million or 7.57 sen per share, due to a one-off gain from the disposal of its investment property.
Revenue for the quarter gained 12.93% on-year to RM17.03 million, from RM15.08 million.
Lysaght (fundamental: 1.4; valuation: 1.65) had on Sept 5 last year, entered into a sales and purchase agreement with Semai Haruman Sdn Bhd for the disposal of a piece of leasehold land (352 sq m) in Bandar Sunway for RM6.4 million.
Jaya Tiasa Holdings Bhd's subsidiary Jaya Tiasa Timber Products Sdn Bhd (JTTP) is assisting the anti-corruption commission as part of its crackdown on illegal logging in Sarawak.
However, the main activity of JTTP is purchasing of logs, mainly from concessions owned by Jaya Tiasa Holdings Group, for processing and marketing to end customers.
Jaya Tiasa Holdings did not expect the ongoing state-wide investigation by MACC to affect the day-to-day operations of JTTP.
(Note: The Edge Research's fundamental score reflects a company's profitability and balance sheet strength, calculated based on historical numbers. The valuation score determines if a stock is attractively valued or not, also based on historical numbers. A score of 3 suggests strong fundamentals and attractive valuations.)