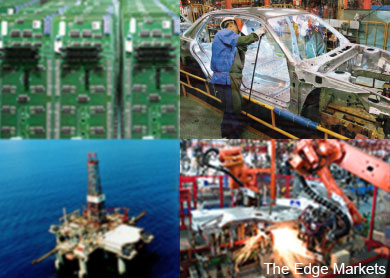 KUALA LUMPUR (Nov 11): Malaysia's industrial production index (IPI) grew 5.4% in September 2014 from a year earlier, the Statistics Department said today.
In a statement, the department said the IPI increase was attributed to growth in all three components of the IPI. Manufacturing output rose 4.7% while mining and electricity production 7.1% and 6.2% respectively.
The increase in manufacturing output was buoyed by the growth in electrical and electronics besides mineral and metal products.
Higher output of food, beverages and tobacco items also contributed to manufacturing output growth.
Growth in the mining sector was attributed to the increase in the crude oil and natural gas production.
However, on a month-on-month (m-o-m) basis, the IPI in September 2014 fell 0.2% due as the manufacturing and electricity output fell.
The mining index, however, registered an increase of 0.2%.
Cumulative third quarter IPI rose 4.1% from a year earlier on growth in all three components of the index.
 
The Statistics Department, however, did not specify IPI numbers for the nine months to September.
The on-year 5.4% growth in the September IPI had beaten a median growth forecast of
5.1%, based on a Reuters survey involving 12 economist.
 
In a separate statement, the Statistics Department said the sales value of local manufacturing sector rose 4.1% to RM55.4 billion in September compared to RM53.2 billion a year earlier.
Cumulative nine-month sales value rose 7% to RM490.7 billion from a year earlier.
On a m-o-m basis, September sales value fell 0.6% compared with August 2014.