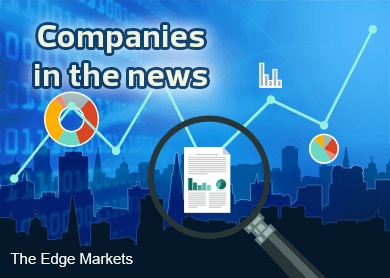 KUALA LUMPUR (Dec 16): Based on news flow and corporate announcements today, companies that may be in focus tomorrow (Dec 17) could include: Malaysia Smelting Corp Bhd, WZ Satu Bhd, SP Setia Bhd, Gamuda Bhd, Tadmax Resources Bhd, ECM Libra Financial Group Bhd, LFE Corp Bhd, Petronas Gas Bhd, Dialog Group Bhd, Malaysia Pacific Corp Bhd, CAB Cakaran Corp Bhd and Masterskill Education Group Bhd. 
Malaysia Smelting Corp Bhd expects to see an additional 15% in overall smelting capacity, with the addition of a sixth fuel-fired reverberatory furnace, built at a cost of about RM3.5 million.  
MSC's current annual refined tin production is about 35,000 tonnes, representing about 10% of the world's production of refined tin.
MSC shares ended the day 1.92% or five sen higher at RM2.65, with a market capitalisation of RM256 million. 
WZ Satu Bhd's wholly-owned subsidiary, WZS KenKeong Sdn Bhd, has won a RM33.7 million contract from Laksana Amanbina Sdn Bhd for infrastructure works.
The contract entails the construction and completion of earthworks, infrastructure works and street lighting services in Kuantan, Pahang. 
WZ Satu shares closed down 11 sen or 6.92% at RM1.48 today, bringing a market capitalisation of RM381.41 million.
SP Setia Bhd expects sales for the financial year ending Oct 31, 2015 (FY15) to be flat or slightly lower at RM4.6 billion, after achieving total sales of RM4.62 billion for FY14.
The property developer said it achieved sales of RM922 million for the fourth financial quarter ended Oct 31, 2014 (4QFY14). The group's total unbilled sales stands at RM11.1 billion, which will be carried forward to FY15.
SP Setia saw its net profit rise marginally by 1.3% to RM131.31 million for 4QFY14 from RM129.64 million a year ago. Revenue for 4QFY14 increased 17.7% to RM1.23 billion from RM965.68 million a year ago. 
For the full year (FY14), net profit fell 3% to RM405.68 million from RM418.35 million a year ago. This was despite revenue rising 16.8% to RM3.81 billion from RM3.26 billion.
SP Setia closed one sen higher at RM3.24, with a market capitalisation of RM8.22 million. 
Gamuda Bhd saw its net profit for the first quarter ended Oct 31, 2014 (1QFY15) rise 12% to RM185.85 million, from RM165.48 million in the same period last year, on higher contribution from its property, water and expressway concessions divisions.
Revenue for the quarter also improved 17% to RM569.64 million, from RM486.12 million
It also declared a single-tier interim dividend of 6 sen per share, which will be paid on Jan 28, 2015. 
On its outlook, the group anticipates a good performance this year, from on-going construction projects, substantial unbilled sales of the property division, and steady earnings from the water and expressway concessions division.
Gamuda closed unchanged at RM4.80 today, giving it a market capitalisation of RM11.2 billion.
1Malaysia Development Board Bhd (1MDB) will be getting its hands on Tadmax Resources Bhd's 310 acres (125ha) vacant leasehold land in Pulau Indah, Klang, Selangor, for RM294.37 million, which is a RM23 million or 7% discount from the original RM317.34 million that was agreed upon in a share sale agreement in February 20 this year.
Tadmax told Bursa that it has entered into a supplemental share sale agreement with 1MDB's unit Ivory Merge Sdn Bhd yesterday (Dec 15) to vary certain terms and conditions of the earlier share sale agreement (SSA) in relation to the sale.
Tadmax's earlier SSA involved the group disposing of the entire issued and paid-up share capital of its wholly owned unit, Tadmax Power Sdn Bhd, for RM317.34 million. Tadmax Power is currently the registered and beneficial owner of the Pulau Indah land.
"The disposal consideration [of Tadmax Power] will be revised from RM317.34 million to RM294.38 million, calculated at revised RM21.80 per sq ft vis-à-vis previously RM23.50 per sq ft of the subject land measuring 310 acres," read the announcement.
The supplementary agreement yesterday also stipulated that the land will be sold on an "as is where is basis" in place of Tadmax being obliged to undertake a conversion of the use of the land from 'bangunan' (building) to 'industri' (industry). 
It added that the completion of the deal shall be on or before June 30 next year. Tadmax had already received a 10% deposit from Ivory Merge upon the execution of the SSA in February.
The variation in disposal price will reduce the post-tax gain on the proposed disposal by RM4.2 million to RM144.5 million, which is a 1.5% reduction, "as a result of lower gross proceeds of RM23.0 million set-off against Tadmax's share of the land conversion premium amounting to RM18.8 million which the company need not now bear since the land is being sold on an 'as is where is basis'".
Tadmax shares closed down 0.5 sen , or 1.41% to 35 sen today, giving it a market capitalisation of RM155.67 million.
ECM Libra Financial Group Bhd raked in a net profit of RM21.45 million in its third financial quarter ended Oct 31 this year, an increase of 335.53% year-on-year from RM4.93 million. 
Its revenue also soared 228.38% to RM25.08 million from RM7.64 million in 2013. Earnings per share increased more than fourfold to 8 sen from 2013's 1.84 sen.
In a filing with Bursa, the financial services group attributed the higher profit to higher gain on disposal of securities and dividend income during the quarter.
As for its nine months ended Oct 31, the group's net profit has more than doubled to RM26.09 million from RM12.63 million a year ago. 
Revenue came in 65.48% higher at RM36.75 million from RM22.21 million in 2013.
ECM Libra closed 0.5 sen or 0.55% lower at 90 sen, with a market capitalisation of RM242.29 million. 
LFE Corp Bhd won a RM350 million provisional contract from Shapadu Corp Sdn Bhd to build the proposed RM600 million Shapadu City Village development in Putrajaya.
The project involves the engineering, procurement and construction of Shapadu City Village, said LFE.
It is expected to commence today with a three-year completion target.
LFE shares closed up 0.5 sen or 3.6% to 14.5 sen today, giving it a market capitalisation of RM12.31 million.
Petronas Gas Bhd (PetGas) is now the controlling shareholder in Pengerang LNG (Two) Sdn Bhd (PLNG-2), a special vehicle which used to be wholly owned by Dialog LNG Sdn Bhd, which is in turn a wholly owned unit of Dialog Group Bhd. 
Dialog told Bursa that PLNG-2 has ceased to be a subsidiary of Dialog Group following PetGas' subscription of 780,000 ordinary shares - representing a 72.22% stake in PLNG-2 - for RM780,000, cash. This means that Dialog LNG now only holds 27.78% in PLNG-2.
According to the shareholders' agreement signed on Nov 14 this year, PLNG-2 will be restructured whereby PetGas will acquire 65%, Dialog LNG to hold 25% and the SSI to hold the remaining 10%.
PetGas closed 24 sen or 1.13% lower at RM21, with a market capitalisation of RM41.6 billion, while Dialog lost five sen or 3.82% to end at RM1.26. 
Malaysia Pacific Corp Bhd's (MPC)  auditors, Messrs BDO have voluntarily resigned, effective upon the appointment of the new auditors at the forthcoming annual general meeting (AGM) of the company. 
MPC said it was not aware of any matters that needed to be brought to the attention of shareholders in regard to Messrs BDO's resignation as the company's auditor. 
In the company's latest annual report, BDO has issued a disclaimer of opinion paragraph that the auditors were not able to form an opinion on MP Corp's financial accounts due to insufficient evidence.
Among the items that BDO had pointed out on MP Corp's accounts were the net losses of RM31.13 million and RM176.52 million respectively in the financial year ended June 30. MP Corp's current liabilities had exceeded current assets by RM262.97 million. The auditors have also expressed concern on the ability of MP Corp to continue as going concerns.
The company now seeks to appoint Messrs UHY as MPC's new auditors at the upcoming AGM. 
MPC closed unchanged at 20 sen with a market capitalisation of RM57.53 million. 
CAB Cakaran Corp Bhd said Like Store Sdn Bhd, a 51%-owned unit of CAB Cakaran Sdn Bhd, which is in turn a wholly owned subsidiary of the group, is buying 25 pieces of agricultural land in Johor for RM41 million.
Like Store has entered into sale and purchase agreements to buy 18 pieces of land from Flavour Right Sdn Bhd for RM30.8 million, five from Positive Honour Sdn Bhd for RM8.1 million, and two from Banghong Agri Resources Sdn Bhd for RM2.1 million.
The acquisitions will be funded through internally generated funds and external borrowings, but have not determined the breakdown between the sources of funding.
CAB expects to complete the acquisitions within three months of completing the conditions precedent.
The counter fell 3 sen or 3.13% to 93 sen today, bringing its market capitalisation to RM123.01 million.
Masterskill Education Group Bhd has aborted its plan to dispose of its Cheras, Kuching, Kota Kinabalu and Johor campuses, after its board was unable to agree on a revised sale consideration based on the property valuation done by Cheston International (KL) Sdn Bhd.
Cheston had ascribed an indicative market value of RM110.4 million for the properties, higher than the initial indicative sale consideration of RM75 million offered by the group's major shareholder Siva Kumar M Jeyapalan.
The board said it would seek alternatives to implementing its asset light strategy and raising funds for the company. 
Masterskill shares shed 0.5 sen or 0.8% to close at 59.5 sen, with a market capitalisation of RM223.77 million.