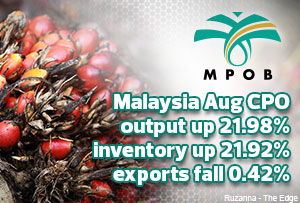 KUALA LUMPUR (Sept 10): Malaysian crude palm oil (CPO) output rose 21.98% month-on-month to 2.03 million tonnes in August from 1.67 million tonnes in July this year, according to the Malaysian Palm Oil Board (MPOB).
In a statement posted on its website today, MPOB said palm oil inventory, comprising CPO and processed palm oil, rose 21.92% to 2.05 million tonnes from 1.68 million tonnes.
Palm oil exports however fell 0.42% to 1.437 million tonnes from 1.443 million tonnes.
The output and inventory growth figures outstripped estimates from a survey done by Reuters on planters, traders and analysts. Reuters had earlier reported that August inventory likely rose 16.4% to 1.96 million tonnes, the highest amount since January.
The survey showed that output likely rose 15% to 1.92 million tonnes.
August palm oil export's 0.42% decline however came in below the estimated 6.7% drop.
Malaysian CPO futures fell. CPO for November 2014 declined RM20 or 1% to RM2,014 a tonne at afternoon break today.
This compares to a six-month high of RM2,741 seen on March 12 this year.
For comparison, the Kuala Lumpur Plantation Index fell 3.55 points or 0.04% today to 8,521.02 at afternoon break. The FBM KLCI declined 4.99 points or 0.27% to 1,869.13.