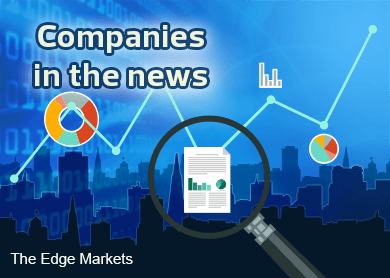 KUALA LUMPUR (April 21): Based on corporate announcements and news flow today, companies that may be in focus tomorrow (Wednesday, April 21) could be: ManagePay Systems Bhd, Yee Lee Corp Bhd, Matrix Concepts Holdings Bhd, IJM Corp Bhd, Eco World Development Group Bhd, Kawan Food Bhd, George Kent (Malaysia) Bhd, Hong Leong Industries Bhd, Malaysia Airports Holdings Bhd (MAHB), Boilermech Holdings Bhd, EG Industries Bhd, Vsolar Group Bhd, Microlink Solutions Bhd and Cypark Resources Bhd.
Electronic payment solutions provider ManagePay Systems Bhd's wholly-owned subsidiary, ManagePay Resources Sdn Bhd (MRSB), has registered as a UnionPay third party service provider.
In a filing with Bursa Malaysia today, ManagePay (fundamental: 1.5; valuation: 0.6) said MRSB received a letter of notification from UnionPay International Co Ltd on the registration.
Upon registration, the electronic payment solutions provider will be responsible for switching and gateway services, system operation and product management of UnionPay card issuance in Malaysia, Myanmar, Thailand, Singapore and Indonesia.
UnionPay is a bankcard association based in the People's Republic of China. Deemed as China's own version of Visa and MasterCard, UnionPay card is most widely used in the mainland and among Chinese tourists.
Fast moving consumer products distributor Yee Lee Corp Bhd will take over the exclusive distributorship for 'Red Bull' energy drinks in Malaysia from Aug 1, from beverage maker Fraser & Neave Holdings Bhd (F&N).
In a filing with Bursa Malaysia today, Yee Lee (fundamental: 1.0; valuation: 0.8) said Allexcel Trading Sdn Bhd has appointed its wholly-owned subsidiary Yee Lee Marketing Sdn Bhd as exclusive distributor, to market, distribute and sell Red Bull Gold, Red Bull Less Sugar and Red Bull Bottle energy drinks in Malaysia.
The appointment came after Yee Lee's January announcement that its wholly-owned unit Yee Lee Trading Co Sdn Bhd had ceased to be the non-exclusive distributor of Red Bull Energy Drink and Red Bull Sugarfree in Malaysia.
F&N (fundamental: 2.1; valuation: 1.1) had on March 27, told the local bourse it would not renew its agreement with Allexcel, first inked in February 2010, as both were unable to reach an agreement on the changes in commercial terms.
Negri Sembilan-based property developer Matrix Concepts Holdings Bhd has proposed to acquire a 5.8-acre (2.3ha) land-cum-approved-residential-development project in Puchong, Selangor, for RM95 million.
In a statement, Matrix Concepts said the new land, which it is purchasing from IRDK Ventures Sdn Bhd, is located beside SetiaWalk and the group intends to enhance the development project's residential density, which has a gross development value (GDV) of more than RM500 million.
The project is expected to be completed within four years.
Matrix Concepts said 40% of the land acquisition cost will be funded internally, while the remaining will be via bank borrowings. The group expects to complete the transaction by the third quarter of this year.
IJM Corp Bhd has bought the remaining shares in its joint venture (JV) firm Aura Hebat Sdn Bhd (AHSB) from partner Perennial Penang Pte Ltd for an undisclosed amount.
Other than gaining full control of AHSB, IJM Corp also told Bursa Malaysia that AHSB is in the midst of acquiring a 32.76-acre parcel of land located within IJM Corp's existing The Light Waterfront development in Penang.
AHSB is buying the land from Jelutong Development Sdn Bhd, an 80%-owned subsidiary of IJM Properties Sdn Bhd which is in turn a wholly-owned unit of IJM Corp through IJM Land Bhd, for RM402.8 million cash.
The Light Waterfront development is an integrated project, spreading across 152 acres of land located on the eastern coast of Penang island.
Eco World Development Group Bhd, a property development outfit controlled by Tan Sri Liew Kee Sin, received the green light from the Penang Development Corp (PDC) to develop 449.64 acres of leasehold land at Bandar Cassia, Batu Kawan, Seberang Perai Selatan, Penang, into an Eco Marina mixed development and an 18-hole golf course.
Eco World (fundamental: 0.5; valuation: 0) told Bursa Malaysia that the application to the relevant authorities for the proposed Eco Marina development will be submitted within three months.
The proposed project's gross development value is estimated at RM10 billion over a development period of 10 years, with the construction works for the mixed development and the golf course expected to commence within six months and three months respectively, from receipt of the vacant possession of the land.
Kawan Food Bhd's non-independent executive director Timothy Tan Heng Han, 34, has been re-designated as managing director (MD) of the frozen food manufacturer.
Tan is the son-in-law of Kawan Food's (fundamental: 3; valuation: 1.1) executive chairman Gan Thiam Chai and his wife Kwan Sok Kay, who is an executive director in the company, according to a filing with Bursa Malaysia today.
Both Gan and Kwan are substantial shareholders of Kawan Food, with some 39.12% of shareholdings.
Infrastructure engineering firm George Kent (Malaysia) Bhd expects better performance in its current financial year ending Jan 31, 2016 (FY16).
George Kent (fundamental: 1.4; valuation: 1.4) executive director Bernie Ooi told the pressmen today that the major driver would be its RM1.1 billion Ampang LRT extension works contract under its engineering segment and the expansion of its metering segment.
Ooi also attributed the group's metering division and other construction contracts that would facilitate its FY16 improvements.
Currently, the company's order book stands at RM1.5 billion. It is also tendering for other projects worth a total of RM10 billion.
Hong Leong Industries Bhd's net profit rose by a marginal 0.4% to RM46.03 million for the third financial quarter ended March 31, 2015 (3QFY15), from RM45.84 million a year ago, mainly due to favourable sales mix and lower production costs for its consumer products segment.
Its revenue for the quarter under review, climbed 8.8% to RM551.1 million, from RM506.3 million in 3QFY14.
 
Hong Leong Industries (fundamental: 1.7; valuation: 1.8) also declared a second interim dividend of 17 sen per share for FY15.
For the nine-month period (9MFY15), net profit increased 4.7% to RM129.82 million, versus RM124.02 million in the previous corresponding period; revenue was up 5.8% to RM1.61 billion, from RM1.52 billion in 9MFY14.
Malaysia Airports Holdings Bhd (MAHB) has established an Integration Steering Committee (ISC) to ensure an "appropriate" integration of its Turkish units Istanbul Sabiha Gokcen Uluslararasi Havalimani Yatirim Yapim Ve Isletme A.S. (ISG) and LGM Havalimani Isletmeleri Ticaret Ve Turizm A.S. (LGM), in their operations.
The airports operator told Bursa Malaysia today that the ISC's objective is to facilitate the integration and rationalisation activities of ISG and LGM.
MAHB (fundamental: 1.15; valuation: 1.4) also said the ISC will establish monitoring controls in ISG and LGM, including but not limited to procurement, finance, human resource and operational issues.
The ISC is headed by chairman Tunku Mahmood Fawzy Tunku Muhiyiddin, a director of MAHB.
Boilermech Holdings Bhd intends to increase oil extraction efficiency by applying patented technology from the Commonwealth Scientific and Industrial Research Organisation, Australia (CSIRO), at an undisclosed fee.
In its filing with the local bourse, Boilermech (fundamental: 2.3; valuation: 1.5) said its wholly-owned unit Boilermech Oretech Sdn Bhd (BOSB) has entered into a commercialisation agreement with CSIRO today, for the commercialisation by BOSB of certain CSIRO patents, patent applications and know-how in oil extraction efficiency.
The agreement will last for 15 years, unless terminated earlier.
The biomass boiler manufacturer said the technology transfer will provide an opportunity to make further inroads into the biomass renewable energy sector, and broaden its scope of business activities and enhance its profitability.
Electronic manufacturing services provider EG Industries Bhd has proposed to buy Singapore-based sales and marketing firm Singyasin Holdings Pte Ltd for SG$3.8 million (RM10.2 million), cash.
In a press release, EG Industries (fundamental: 1.0; valuation: 1.7) said it has entered into a conditional sale and purchase agreement which will see EG Industries acquiring a 95.8% equity interest in Singyasin or 10.75 million ordinary shares, at SG$1 (RM2.7) each.
EG Industries chief executive officer and executive director Alex Kang said the proposed acquisition would allow the group to leverage on Singyasin to serve its clientele and international procurement offices in Singapore, Thailand and southern region of Malaysia.
The acquisition is subject to approval from shareholders and relevant regulatory authorities, and is expected to be completed in the second half of this year.
The group intends to finance it through internally-generated funds and/or external borrowings.
Renewable energy player Vsolar Group Bhd has signed a collaboration agreement with Japan's Eastasia Group Co Ltd to develop commercial solar farms.
Vsolar (fundamental: 0.6; valuation: 0) told the local exchange that it will provide engineering, procurement and construction solutions for the development.
This is part of the loss-making firm's diversification plans by expanding into the renewable energy development business.
Vsolar (formerly known as Fast Track Solution Holdings Bhd), was previously a provider of software solutions in the information technology segment.
Integrated banking solutions provider Microlink Solutions Bhd has fixed the issue price of its private placement at 50 sen per share.
At the issue price, Microlink (fundamental: 1.55; valuation: 0.5) told the exchange that it is expected to raise some RM6.9 million from the placement.
Environmental and infrastructure solutions provider Cypark Resources Bhd expects its current waste-to-energy projects to sustain its earnings this year.
After its annual general meeting today, Cypark (fundamental: 1.3; valuation: 1.8)'s group chief executive officer Datuk Daud Ahmad told reporters the group will continue the waste-to-energy project in Negri Sembilan and other infrastructure-related projects that it has secured.
Cypark's waste-to-energy project is expected to generate future income of some RM2 billion, over a 25-year concession period.
Daud said the group is also eyeing to build assets that will enable it to generate income from future concessions.
Currently, Cypark's orderbook stands at RM303.71 million, which comprises of infrastructure and construction projects spanning across Putrajaya and Johor.
(Note: The Edge Research's fundamental score reflects a company's profitability and balance sheet strength, calculated based on historical numbers. The valuation score determines if a stock is attractively valued or not, also based on historical numbers. A score of 3 suggests strong fundamentals and attractive valuations.)