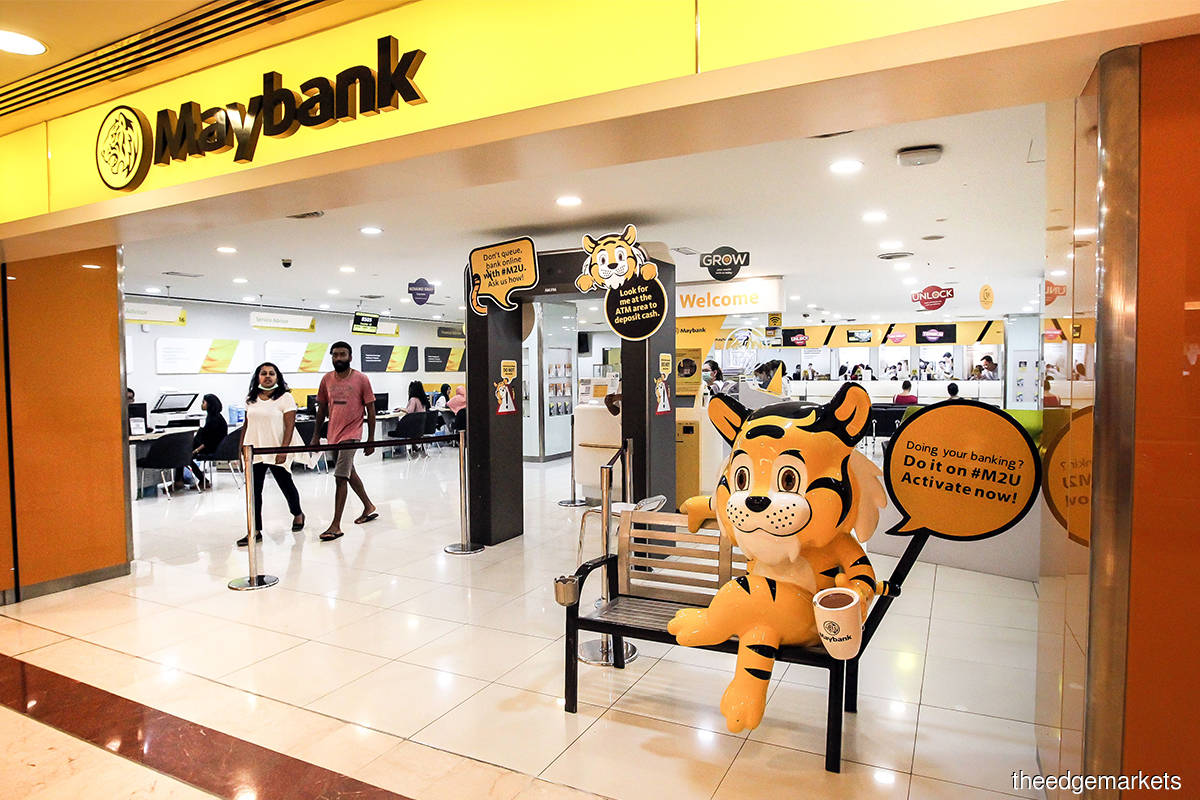 KUALA LUMPUR (Jan 14): A total of 69 Malayan Banking Bhd (Maybank) branches across Malaysia will not be operational temporarily starting from today (Jan 14) due to the re-enforcement of various levels of the nation's movement control order (MCO) to curb the spread of the Covid-19 pandemic.
Maybank, which is Malaysia's most-valuable listed group, said via Twitter today that the temporary closure of the branches is to ensure the safety of its customers and employees.
"In light of the MCO, we are temporarily revising our branch operating hours, while some branches will not be operational from Jan 14, 2021.
"Revised operating hours are as follows: MCO-enforced states and red zones: 9:30am-2pm; yellow zones: 9:30am-3pm; green zones: 9:30am-4pm," said Maybank, which included in its Twitter updates a link to a web page that indicates the list of closed branches and those with revised operating hours.
According to the list, the 69 branches, which are closed starting from today, comprise 20 each in Kuala Lumpur and Selangor, 10 in Johor, nine in Penang, five in Sabah, three in Negeri Sembilan and two in Melaka.
Maybank did not specifically mention Covid-19 in the group's Twitter updates.
However, the red zone, yellow zone and green zone phrases are synonymous with Covid-19 as an indicator of the number of cases within a specific area.
News reports, quoting health director general Tan Sri Dr Noor Hisham Abdullah, reported that areas are designated as red zones when 41 or more Covid-19 cases have been recorded there over a 14-day period.
It was also reported that yellow zones are areas where one to 40 Covid-19 cases have been recorded, while green zones are areas where there are no reported Covid-19 cases.
On Monday, the government reinstated the MCO in Penang, Selangor, Melaka, Johor and Sabah as well as the federal territories of Kuala Lumpur, Putrajaya and Labuan for a two-week period from yesterday to Jan 26.
In a national address on Monday, Prime Minister Tan Sri Muhyiddin Yassin said these states and federal territories were considered high-risk areas following a risk assessment as well as the evaluation of health services by the Ministry of Health (MoH).
Meanwhile, the conditional MCO (CMCO) has been enforced in six other states — Pahang, Perak, Negeri Sembilan, Kedah, Terengganu and Kelantan — while Perlis and Sarawak are under the recovery MCO (RMCO) during the same period.
On Bursa Malaysia today, Maybank's share price was 11 sen or 1.33% higher at RM8.41 as at 3.19pm, with a market value of about RM94.53 billion.
The stock had seen some four million shares traded.