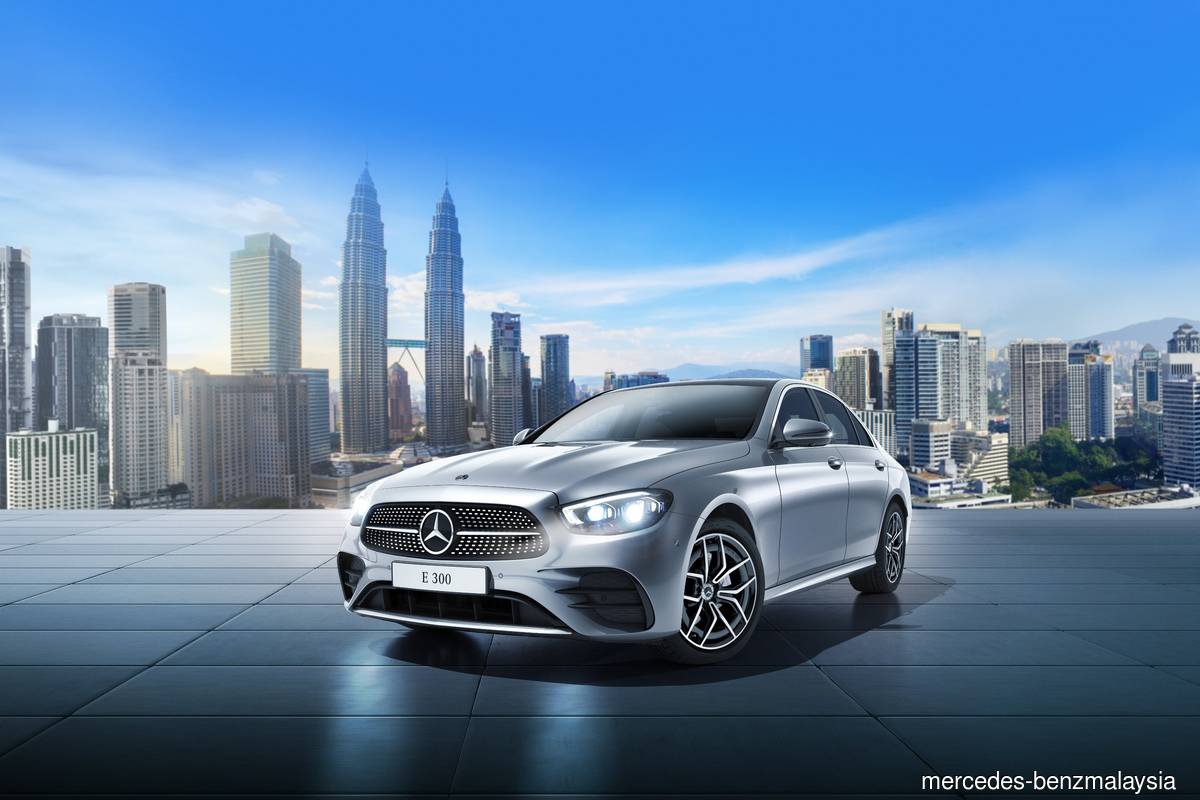 KUALA LUMPUR (July 29): Mercedes-Benz Malaysia (MBM) today has launched the new Mercedes-Benz E-Class, namely the E 200 Avantgarde and E 300 AMG Line at a retail price (without insurance) of RM326,943 and RM375,432 respectively.
According to the company, the E 200 Avantgarde can go from 0-100km per hour in 7.4 seconds and has a top speed of 240km. It also has an engine capacity of 1,991 cc, combined fuel consumption of 6.9-6.5 litres per 100km, and a maximum output of 197hp at 5,500-6,100 rpm. Its peak torque is 320 Nm at 1,650-4,000 rpm. Meanwhile, it's carbon dioxide emissions range from 158-149 grams per kilometre.
On the other hand, the E 300 AMG Line can go from 0-100km in 6.2 seconds and has a top speed of 250 km per hour. It has similar specs as the E 200 Avantgarde, except that it has a maximum output of 258hp at 5,800-6,100 rpm and peak torque of 370 Nm at 1,800-4,000 rpm. Meanwhile, its carbon dioxide emissions range from 157-149 grams per km.
In a statement today, MBM president and chief executive officer (CEO) Sagree Sardien said the new locally-assembled Mercedes-Benz E-Class continues to set the standards in automotive luxury.
"It has gone through several stages of redefinition over the years to maintain the variety of top-class innovation, memorable highlights and a luxurious, stylish interior with high-value perception.
"The new E-Class creates history by going the extra mile in the evolution of safety, comfort and performance, while upholding the standards of design and luxury. Customers will get to experience first-hand, the latest-in-class luxury and performance as well as superior technology," she added.
MBM marketing vice-president Michael Jopp said the Mercedes-Benz E-Class has been the heart of the Mercedes-Benz brand for many generations.
"This emotionally appealing and at the same time intelligent vehicle is also extremely successful in Malaysia. To date, more than 10,000 customers in Malaysia have bought the current generation E-Class limousines.
"Adding to this success, today the E-Class limousines have undergone a comprehensive update featuring top of the line additions such as the next-generation Mercedes-Benz User Experience (MBUX) infotainment system and the class-leading safety and assistance systems.
"Customers can rest assured knowing that when it comes to comfort, luxury and safety, the E-Class is truly at the top of its class," he added.
MBM said the E-Class, Mercedes-Benz's bestselling model series globally with over 14 million delivered since 1946, variants are equipped with the URBAN GUARD Vehicle Protection package providing all-round monitoring.
"It comprises an anti-theft alarm system plus tow-away protection which is able to detect changes in position. Movement in the vehicle interior also triggers visual and audible warnings. The driver will be notified of theft or parking damage detection through the Mercedes me app," it said.
MBM said the new E-Class has the latest generation of Mercedes-Benz driving assistance systems, providing a high level of active safety.
"As the E-Class is able to react if the driver does not. The hands-off recognition now works on a capacitive basis. This enhances user-friendliness when driving in semi-automated mode.
"As standard, the E-Class comes with Active Brake Assist, which in many situations is able to use autonomous braking to prevent collision or mitigate its severity. The system is also able to brake for stationary vehicles and crossing pedestrians at typical city speeds and even to prevent collisions, depending on the situation," it added.