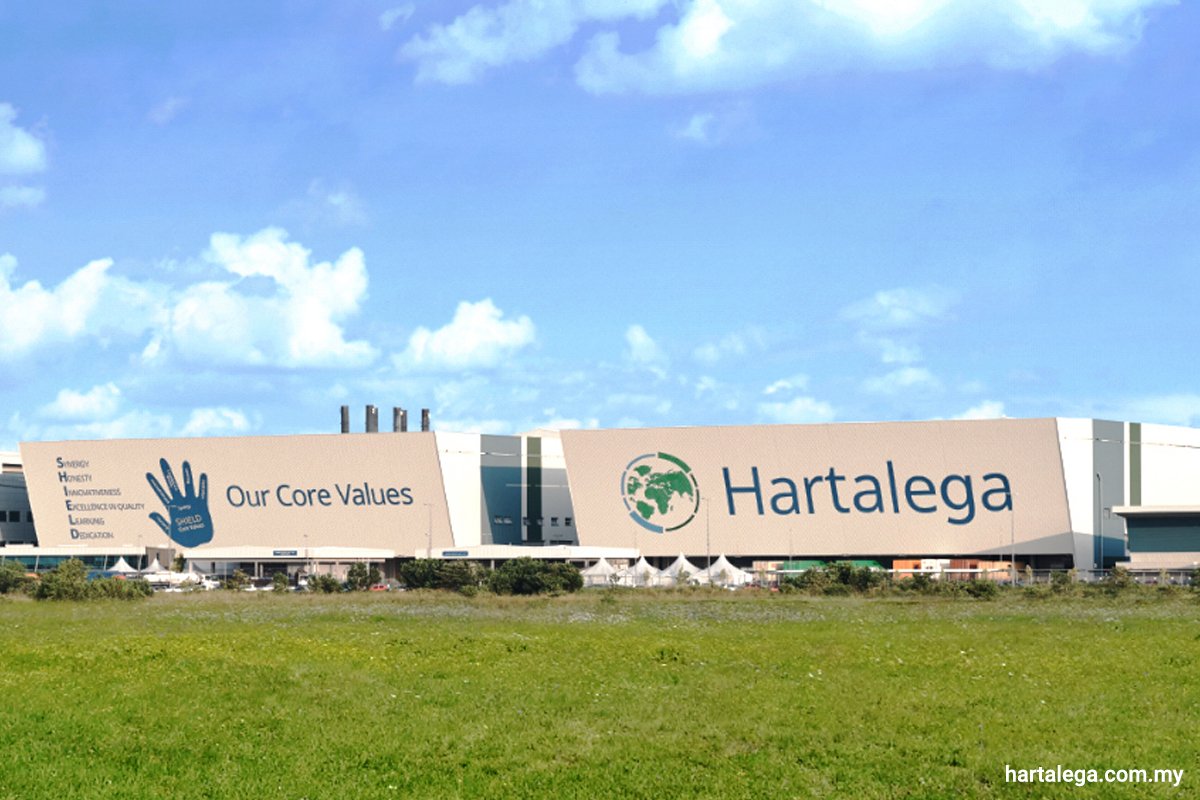 KUALA LUMPUR (Aug 4): Hartalega Holdings Bhd's latest quarterly results have smashed past market expectations. 
There are bullish analysts, who are probably the contrarians now, raising their earnings forecasts and target prices (TPs) after the record-high quarterly results. 
On the other end of the spectrum, the glove bears, which are growing in number, are downgrading Hartalega's earnings simply because of the declining average selling prices (ASPs) and expectation of global demand for gloves to normalise. Furthermore, competition from China is getting fierce.
Hartalega's net profit of RM2.26 billion for the first quarter ended June 30, 2021 (1QFY22) makes up 58% of the consensus full-year forecast as sales volume rose by around 50%, while ASPs were 13% higher quarter-on-quarter (q-o-q). Hartalega proposed a final dividend of 19.75 sen for the financial year ended March 31, 2021 (FY21).
Hong Leong Investment Bank (HLIB) Research is upbeat on Hartalega's prospects. The research outfit, which has one of the highest TPs for Hartalega, further increased its TP to RM14.05 from RM13.74 after raising its net profit forecast for the financial year ending March 31, 2022 (FY22), while maintaining its "buy" call on the counter.
HLIB raises its core net profit forecast to RM4.42 billion in FY22 or 131.2 sen per share, and RM2.82 billion or 83.7 sen per share for FY23. Its TP is based on its FY23 price-earnings ratio (P/E) of 27.5 times.
"While ASPs are expected to decrease q-o-q, we reckon the negative sentiment is overblown. At current price levels, Hartalega is trading close to pre-pandemic prices despite ASPs in 2H21 (the second half of 2021) being expected to average two to three times pre-pandemic levels, and Hartalega is expected to yield 11.6%," HLIB Research said.
HLIB Research expects ASPs to decrease by 25% to 30% q-o-q, but pointed to the possibility of improved utilisation rates in the coming quarters if the government allows full-capacity operations after all its employees are fully vaccinated by end-August.
Meanwhile, MIDF Research recommends clients to buy Hartalega shares in view of the recent share price correction, and that the glove maker's fundamentals in terms of operations and supply-demand dynamics remain intact.
It maintains its TP of RM8.40 pending further clarity of the ASP trends. The TP is pegged on the research house's unchanged FY23 earnings forecast of RM3.99 billion or 116.8 sen per share. Hartalega is valued at FY23 P/E of 24 times, it said.
"Looking past the near-term uncertainties, we think that Hartalega is steadfast in maintaining its market share, particularly in the nitrile glove segment through its operational processes and product reliability.
"Its business ambitions are supported by its calculated expansion plan, healthy cash flow and robust balance sheet (net cash of RM3 billion). Hartalega is our top pick for the sector," it said.
Meanwhile, UOB Kay Hian is less optimistic. It maintained its "hold" call, with a lower TP of RM7.10 from RM7.20, as it trimmed its FY22-FY23 earnings forecasts by 10%-23% on lower ASPs despite the strong 1QFY22 results.
UOB Kay Hian expects Hartalega to make a net profit of RM3.93 billion or 116.2 sen per share in FY22, and significantly lower at RM1.06 billion or 31.3 sen per share in FY23. 
Management's expectations of a 30% q-o-q decline in ASPs is below initial expectations of 10%-20% q-o-q, UOB Kay Hian said. Other concerns include the US Customs and Border Protection (CBP) investigation into forced labour as North America sales account for close to 50% of Hartalega's total sales.
"After normalisation of its share price over the past year alongside the industry, we believe Hartalega's current valuations have largely factored in its future prospects.
"The gradually diminishing sentiment and possible downside risk are reflected by our 2023 earnings [forecast] being pegged at -1SD (one standard deviation). The entry price: RM6," it said.
On the other hand, PublicInvest Research lowered its TP to RM7.80, based on CY23 EPS forecast of 33.5 sen pegged on P/E ratio of 26 times.
PublicInvest had cut Hartalega's FY22 earnings forecast by 2% to RM4.05 billion or 118.3 sen per share, and 20% lower for FY23 to RM1.53 billion or 44.7 sen per share. It also pointed out that higher returns in 1QFY22 included the positive impact of shipment delays from the previous quarter.
The research house, however, maintained its "outperform" rating of the stock, in preference for Hartalega's "superior margins during these pre-pandemic times".
"Moving into 2HCY22 (the second half of calendar year 2022), management is of the view that glove ASPs will gradually decline and is expecting a 30% q-o-q drop in 2QFY22.
"Glove buyers have resorted to source part of their supplies from China in a bid to mitigate supply risk as the limited workforce has prohibited local glove makers from fulfilling all orders on a timely basis," PublicInvest Research said.
Hartalega's share price was unchanged at RM6.80 at the noon break with 5.34 million shares traded in the morning session. The stock hit a high of RM6.94 and low of RM6.73. Its market capitalisation stood at RM23.3 billion. 
Read also:
Hartalega's 1Q net profit breaks new record at RM2.26b, up 102% q-o-q despite lower average selling price
Surin Murugiah & Kathy Fong