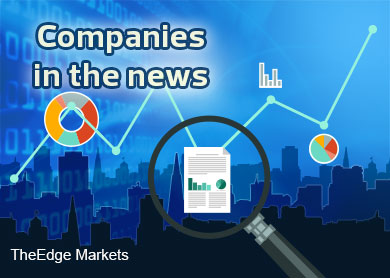 KUALA LUMPUR (Nov 27): Based on news flow and corporate announcements today, companies that may be in focus tomorrow (Nov 28) could include: MMC Corp Bhd, NCB Holdings Bhd, PJ Development Holdings Bhd, Protasco Bhd, Boustead Holdings Bhd, Tropicana Corp Bhd, Magnum Bhd, Felda Global Ventures Bhd, and Brahim's Holdings Bhd.
Tan Sri Syed Mokhtar's MMC Corp Bhd has acquired a 15.73% ordinary equity stake in port operator NCB Holdings Bhd from MISC Bhd for RM221.98 million cash.
MMC Corp's wholly owned subsidiary MMC Ventures Sdn Bhd has entered into an agreement for the sale and purchase of shares with MISC for some 73.99 million shares in NCB, said the group in a filing with Bursa Malaysia.
The acquisition was to make 'further strategic investment' for its ports and logistics division, which is a core business of the group, said MMC Corp, adding that the acquisition would contribute positively to its future earnings.
MMC Corp closed unchanged at RM2.35, giving it a market capitalisation of RM7.16 billion, while NCB went up 13 sen to close at RM2.63, giving it a market cap of RM1.24 billion. MISC ended 1 sen lower at RM7.44, with a market cap of RM33.21 billion.
Minority shareholders in PJ Development Holdings Bhd walked out of an annual general meeting (AGM) today in protest of an attempt to re-vote by poll the reappointment of Tan Sri Ong Leong Huat as its chairman after he failed to garner the 75% majority threshold by a show of hands earlier.
According to an official of PJ Development, 33 shareholders had voted in favour of the reappointment of Ong as the property developer's chairman, while 23 shareholders voted against it during the show of hands. This fell short of the 75% majority threshold to reappoint Ong as chairman.
Shareholders were then told this was a procedural mistake and the group's independent director Foo San Kan, who chaired the meeting, requested for a re-vote by polling.
Some shareholders were unhappy with the request and walked out of the AGM. PJ Development closed 1 sen or 0.62% lower at RM1.61, giving it a market capitalisation of RM728.22 million.
Protasco Bhd directors Tey Por Yee and Ooi Kock Aun walked out of the company's shareholders meeting today after the Kuala Lumpur High Court allowed rival board members to vote on the removal of Tey and Ooi from the board.
Yesterday (Nov 26), Tey had obtained a court injunction to prevent Protasco shareholders and directors Datuk Seri Chong Ket Pen and Tan Heng Kui from voting on the proposal.
Today, Tey told reporters after Protasco's extraordinary general meeting (EGM) that he was appealing against the lifting of the injunction and that the court would hear the appeal on Dec 2.
Protasco shares rose four sen or 2.5% to close at RM1.64, with a market capitalisation of RM550 million.
Boustead Holdings Bhd saw an 81% plunge in its net profit to RM18.2 million for its third quarter ended Sept 30, 2014 (3QFY14) from RM97.5 million in 3QFY13, bringing its earnings per share down sharply to 1.76 sen from 9.43 sen.
Its revenue for the quarter was also slightly lower at RM2.69 billion, compared to RM2.70 billion in the year before.
In its filing with Bursa Malaysia, Boustead said its finance and investment division and its property division posted lower profit for the quarter, while its heavy industries division posted a loss.
Meanwhile, its plantation division saw a higher profit due to higher crude palm oil (CPO) prices during the period, while lower expenses had boosted profit for its pharmaceutical division.
Boustead climbed four sen or 0.81% to close at RM4.96, bringing its market capitalisation to RM5.09 billion.
Property developer Tropicana Corp Bhd's net profit rose 24% to RM29.5 million for its third financial quarter ended Sept 30, 2014, from RM23.7 million in the previous year. However, revenue fell 3% to RM363.1 million from RM363.4 million in the year before.
"The better financial performance was attributed to higher revenue recognition across key projects within the Greater Kuala Lumpur such as Tropicana Gardens in Kota Damansara, Tropicana Heights in Kajang and Tropicana Metropark in Subang Jaya, as well as Tropicana Danga Bay in the Iskandar region in Johor," said the company in a press release.
Meanwhile, a gain on disposal of land amounting to RM3.7 million during the quarter had also supported its profit growth.
The counter ended the day unchanged at RM1.23, with market value of RM1.69 billion.
Magnum Bhd's net profit dropped 30% to RM45.4 million in the third quarter ended Sept 30, 2014 (3QFY14), from RM64.8 million in 3QFY14. But the number forecast operator still managed to declare a third interim single tier dividend of five sen per share.
It told Bursa Malaysia the profit decline was due to losses incurred by its investment holdings segment, which suffered fair value loses of quoted investments.
It also garnered lower gaming sales as a result of weaker consumer spending and competition from illegal operators. Consequently, 3QFY14's revenue shrunk 4.6% to RM669.99 million from RM702.39 million a year earlier.
Its shares ended the day 3 sen or 1% higher at RM2.91, translating to a market capitalisation of RM4.15 billion.
Felda Global Ventures Holdings Bhd (FGV) slipped into the red for the first time since its listing on June 26, 2013, posting a net loss of RM9.33 milion for the third quarter ended Sept 30, 2014 (3QFY14) from a RM22.9 million net profit in 3QFY13, dragged down by higher commodity futures, trading losses and fair value changes in land lease agreement (LLA) liability.
Revenue for 3QFY14 was, however, higher at RM4.32 billion versus RM3.22 billion a year ago.
FGV said commodity trading losses for 3QFY14 rose to RM105.5 million from RM237,000 a year ago, while fair value changes in LLA liability increased to RM98.9 million from RM41.05 million.
FGV closed 12 sen or 3.43% lower at RM3.38, bringing it to a market capitalisation of RM12.33 billion.
Brahim's Holdings Bhd's net profit for its third quarter ended Sept 30, 2014, plunged 84% to RM1.0 million from RM6.5 million a year ago, mainly due to lower contribution from its in-flight catering segment. Revenue fell 10% to RM89.7 million, from RM100.1 million.
Brahim's in-flight catering and related services segment's net profit for the quarter was down 58% to RM8.9 million from RM21.2 million a year ago. 
"The poorer results arose from Malaysian Airline System Bhd's reduction in unit cost of food services, as part of their strategy to counter declining passenger loads caused by the MH17 incident," it said.
The counter was down 1 sen or 0.67% at RM1.49, bringing market capitalisation to RM349.70 million.