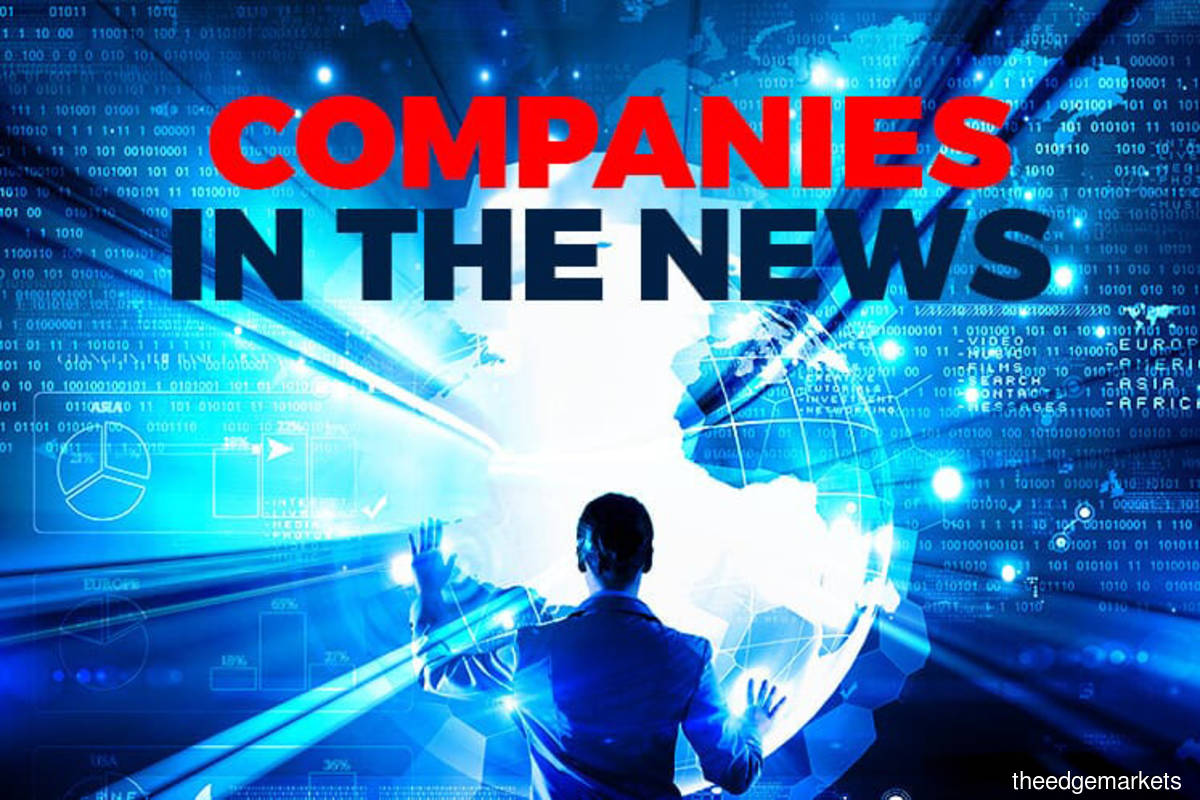 KUALA LUMPUR (Dec 8): Based on corporate announcements and news flow on Wednesday, companies in focus on Thursday (Dec 9) may include: ManagePay Systems Bhd (MPay), CTOS Digital Bhd, Top Glove Corp Bhd, Scientex Bhd, TAFI Industries Bhd, Gamuda Bhd, SKP Resources Bhd (SKP), Petronas Gas Bhd (PetGas), VS Industry Bhd, WZ Satu Bhd, Sapura Energy Bhd, Edaran Bhd, Axiata Group Bhd and Toyo Ventures Holdings Bhd.
ManagePay Systems Bhd (MPay) has signed a deal with PLUS Malaysia Bhd to provide services relating to software application development, merchant application, systems integration, payment terminals roll-out and Internet Payment Gateway PLUS Group's business partners operating along highways, operated by PLUS Group.
CTOS Digital Bhd has acquired an additional 3.5% stake in bond-rating firm RAM Holdings Bhd for RM7.61 million from Standard Chartered Bank Malaysia Bhd, in a move which will allow CTOS and RAM to leverage each other's expertise in areas including credit assessment and data. The acquisition will see CTOS hold an 8.1% stake in RAM.
Top Glove Corp Bhd has won shareholders' approval for its dual listing plan in Hong Kong, saying it expects to complete the exercise by the first quarter of next year. It added that the next step was to seek approval from the Stock Exchange of Hong Kong. The IPO in Hong Kong plans to raise HK$3.68 billion (US$473 million), or less than a quarter of its initial target of US$1.9 billion, but could go up to HK$4.24 billion if the over-allotment option is fully exercised.
Scientex Bhd reported an 11.2% rise in net profit to RM102.87 million for the first quarter ended Oct 31, 2021 from RM92.53 million a year ago, on the back of a 15.7% increase in revenue to RM928.17 million from RM802.26 million. First-quarter earnings per share improved slightly to 6.63 sen from 5.98 sen.
TAFI Industries Bhd has been awarded a RM30 million contract by Buana Tunggal Sdn Bhd to build a mixed commercial development project at Permas City, Johor Bahru. It will also be entitled to a 30% share of the net gross development value proceeds of certain units of properties under the Permas City project, which is estimated to be around RM6 million.
Gamuda Bhd is aiming to achieve RM10 billion worth of new orders for its current financial year ending July 31, 2022 — a target it carried forward from last year to the current year — as it expressed cautious optimism amid the steady economic recovery seen following the easing of movement restrictions. Under half of these new orders will come from the Penang South Island reclamation, which had suffered a six-months setback after the project's environmental impact assessment was revoked, with the remainder from Australia, Gamuda Engineering managing director Justin Chin Jing Ho told a virtual press conference after Gamuda's annual general meeting
SKP Resources Bhd said the company and migrant worker rights specialist Andy Hall are already in discussions to further enhance the welfare of foreign labour in its employment. The company acknowledged that Hall had received a complaint from workers of SKP's unit SPI Plastic Industries (M) Sdn Bhd concerning excessive overtime and payment of recruitment fees, and had proactively reached out to him immediately.
Petronas Gas Bhd (PetGas) said its board has approved a final investment decision amounting to an estimated RM460 million for the construction of a new gas compressor station in Kluang, Johor, as part of its gas transportation business. The project is aimed at increasing the gas capacity of Peninsular Gas Utilisation (PGU) II, particularly in the southern region
VS Industry Bhd said the Employees Provident Fund (EPF) has ceased to be a substantial shareholder in the company, according to a filing on Wednesday (Dec 8). The provident fund's stake in the company dropped below 5%, after it sold 21.68 million shares on Dec 2. Based on back-of-the-envelope calculations, the latest transaction leaves EPF with 175.47 million shares in VS Industry, representing a stake of about 4.6%.
WZ Satu Bhd has signed a joint development agreement with Perbadanan PR1MA Malaysia (PR1MA) to develop 763 units of affordable two-storey terraced houses, as part of Residensi D'Marina Phase 2 in Kuantan, with an estimated gross development value of RM219 million over four to five years. The group said the project could contribute at least 25% of its net profits throughout the next four to five years.
Sapura Energy Bhd has acknowledged it is facing short-term cash flow and liquidity issues, exacerbated by Covid-19. It clarified recent news reports about the group by saying it will continue to take decisive actions, which includes expediting claims and commercial settlements with clients, discussing with vendors, and negotiating with lenders for support through existing working capital facilities, to address the liquidity issue. 
Edaran Bhd said it has bagged a one-year contract worth RM41.34 million to undertake hardware and server software maintenance work for the Customs Department's Customs information system (SMK), sales and service tax system (MySST) and tourism tax system (My TTX). The group said the proceeds will contribute to its earnings for its financial year ending June 30, 2022.
Axiata Group Bhd has extended a US$20 million loan to edotco Sdn Bhd for the 63%-owned subsidiary to inject further capital into its Pakistan operations. The loan agreement signed on Tuesday (Dec 7) will have a tenure of 12 months.
Toyo Ventures Holdings Bhd has proposed to settle RM250.45 million in debts owing to four parties, via the issuance of five-year zero coupon irredeemable convertible unsecured loan stocks. The amount is part of total outstanding debts of RM435.48 million owing to Ng Lu Siong @ Ng Soon Huat, Eng Lian (L) Inc (ELLI), Biscayne Investment Pte Ltd (BIPL), and Nextgen Corp as at end-June 2020, when the company was looking to fund the initial development costs for a US$3.24 billion coal-fired power plant in Vietnam.