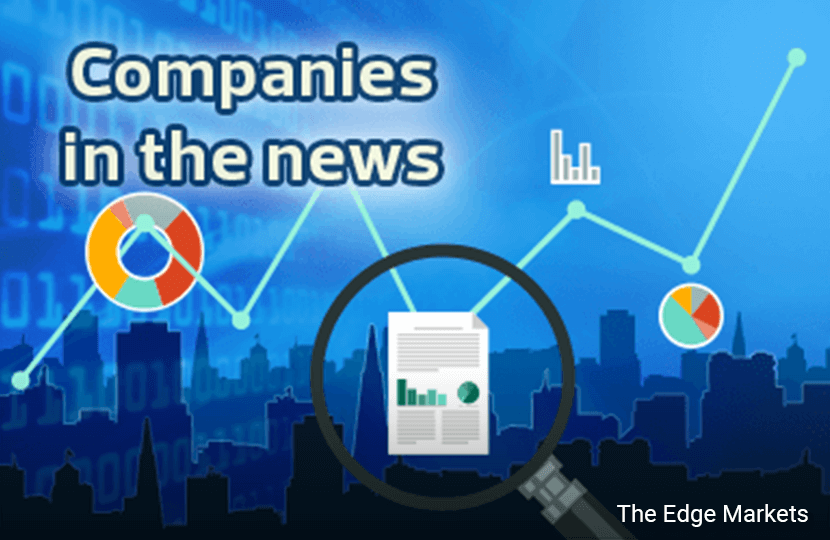 KUALA LUMPUR (Oct 28): Based on corporate announcements and news flow today, companies in focus on Thursday, Oct 29 could include: MRCB, E&O, Maxis, MISC, NCB, UMW-OG, Caring, and Sunway REIT.
Malaysian Resources Corp Bhd (MRCB) has clinched two major jobs totalling RM4.78 billion and also announced it would be taking up a major role in the development of the Cyberjaya City Centre (CCC), which carries an estimated gross development of almost RM10 billion.
The two jobs it won were: the development and construction of the Kwasa Utama commercial development worth RM3.15 billion, and the refurbishment and upgrading of facilities at the National Sports Complex in Bukit Jalil, Kuala Lumpur, worth RM1.63 billion.
MRCB told Bursa Malaysia it had entered into a management contract with Kwasa Utama Sdn Bhd (KUSB), under which MRCB was appointed the management contractor for the development and construction of Kwasa Utama — a 29.82 acre commercial development in the new Kwasa Damansara township in Sg Buloh.
KUSB is 95%-owned by the Employees Provident Fund (EPF) and the remaining 5% stake is held by Kwasa Land Sdn Bhd, which is wholly-owned by EPF.
The 29.82-acre Kwasa Utama development, which will span over a period of 12 years from 2016 to 2027, is expected to comprise seven separate development plots. It will feature eight office towers, a hotel, an auditorium and a common facility block.
As for the RM1.63 billion job to refurbish and upgrade the Bukit Jalil National Sports Complex into the Kuala Lumpur Sports City (KL Sports City), it will be repaid by the government with three pieces of leasehold land, totalling 92.5 acres nearby.
The job was awarded to MRCB's Rukun Juang Sdn Bhd, which was chosen by the federal government for offering "the best overall development concept", after 11 companies submitted proposals in an open nation-wide tender, MRCB said in a statement this evening.
The upgrading project will be undertaken in two phases; the first is to get the national stadium ready to host the 2017 Southeast Asia Games. The second phase will commence once the SEA games are over and will create KL Sports City, a fully-integrated sports hub with, among others, world-class infrastructre and a sports-focused mall.
Phase 1 is to be completed in 18 months and will begin one week after the necessary approvals are obtained. Phase 2 — to begin no later than Jan 1, 2018 — is slated to complete in three years.
Lastly, MRCB's wholly-owned subsidiary MRCB Land Sdn Bhd is expected to fork out RM269.5 million for a 70% stake in CSB Development Sdn Bhd, the joint venture company (JVC) that will undertake the development of CCC.
It said MRCB Land has entered into a joint venture agreement with Cyberview Sdn Bhd, a government-owned company wholly-owned by the Minister of Finance for the development. Cyberview will take up the remaining 30% in CSB Development for RM115.5 million.
Cyberview, mandated by the Malaysian government to spearhead the development of Cyberjaya, has earmarked approximately 141.27 acres of land located in Cyberjaya for development of the CCC.
Property developer Eastern & Oriental Bhd (E&O) has awarded RM2.32 billion worth of land reclamation works to Chinese contractor China Communications Construction Co Ltd (CCCC) for the proposed Seri Tanjung Pinang Phase 2 (STP2) project in Penang.
In a filing with Bursa Malaysia, E&O said its subsidiary Tanjung Pinang Development Sdn Bhd has issued a letter of award (LOA) to CCCC's Malaysian unit China Communications Construction Co (M) Sdn Bhd (CCCC (M)) to undertake the proposed project.
The LOA serves primarily as an acceptance of the tender to reclaim Phase 2A of STP2, an area measuring 384 acres which includes the 131-acre Gurney Drive foreshore (Package 1), for a contract sum of RM1.035 billion, with works to be completed within two years and five months from the acceptance of the LOA.
The LOA also includes the conditional award for the proposed land reclamation works for the remainder of STP2, made up of Phase 2B and Phase 2C covering an area of 507 acres (Package 2), with a contract sum of RM1.285 billion.
Maxis Bhd said its third quarter and nine-month revenue rose from a year earlier, as the mobile telecommunication network provider secured more prepaid subscribers.
In a statement to Bursa Malaysia, Maxis said revenue in the third quarter ended Sept 30, 2015 (3QFY15) rose 5% to RM2.17 billion, from RM2.07 billion; while net profit, however, fell 6% to RM420 million, from RM449 million.
Cumulative 9MFY15 net profit declined to RM1.27 billion, from RM1.38 billion a year earlier; while revenue was higher at RM6.43 billion versus RM6.27 billion in 9MFY14.
The company said year-to-date, service revenue grew 4% to RM6.379 billion, driven by the strong performance of the prepaid segment.
Prepaid service revenue grew 7.2% to RM3.143 billion, whilst post-paid service revenue was relatively stable at RM2.92 billion.
However, earnings before interest, taxes, depreciation, and amortisation (Ebitda) fell to RM3.17 billion, from RM3.23 billion, due to unrealised foreign exchange losses from the weakening ringgit and higher staff costs largely due to a non-recurring reversal made in the same period last year, which was partially offset by lower prepaid service tax.
Maxis proposed a dividend of five sen a share for 3QFY15. The ex-date falls on Nov 26 this year.
Looking ahead, Maxis said it expects low single-digit service revenue growth in FY15, while Ebitda is seen at similar levels, compared to a year earlier.
MISC Bhd's wholly-owned unit AET Inc Ltd has commissioned the construction of eight new vessels for approximately US$500 million.
In a statement, MISC said AET signed shipbuilding contracts today with Samsung Heavy Industries Co Ltd, for the construction of four new 113,000 dead weight tonnes (DWT) Aframax vessels, which are slated for delivery in 2018.
The company inked similar contracts with Hyundai Heavy Industries Co Ltd for the construction of two new 114,000 DWT long range 2 (LR2) product vessels, and two new 158,000 DWT Suezmax vessels. These four are to be delivered to AET in 2017.
The combined value of the shipbuilding contracts are approximately US$500 million.
The two LR2 product vessels are tied to long term time charters, which has been awarded with a strategic oil major client, MISC said.
The six other new vessels will replace older tonnage in the AET fleet, ensuring AET continues to deliver optimum solutions for its customers, it added.
The vessel purchases will be funded by AET's internally-generated funds and external borrowings.
NCB Holdings Bhd, which is in the midst of a takeover attempt by its second largest shareholder MMC Corp Bhd, returned to profitability in its third quarter ended Sept 30, 2015 (3QFY15), with a net profit of RM10.89 million or 2.3 sen earnings per share, compared with a net loss of RM2.3 million or 0.5 sen loss per share in 3QFY14.
The better earnings was driven by the higher revenue registered by the port operations, due to higher throughput handled for the current quarter under review, it told Bursa Malaysia in a filing.
Revenue for 3QFY15 was 9.47% higher at RM218.41 million, from RM199.51 million in 3QFY14, on better container and conventional businesses and marine operations.
For the cumulative nine months (9MFY15), NCB's net profit soared 460.5% to RM29.54 million or 6.3 sen per share from RM5.27 million or 1.1 sen per share in 9MFY14.
Revenue for 9MFY5, however, was marginally lower by 0.38% at RM608.59 million against RM610.91 million a year ago.
UMW Oil and Gas Corporation Bhd (UMWOG) has bagged a drilling rig services contract from Petronas Carigali Sdn Bhd (PCSB) for an undisclosed value.
In a filing with Bursa Malaysia, UMWOG said its unit UMW Offshore Drilling Sdn Bhdhas received a letter of award from PCSB for the contract for the provision of a jack-up drilling rig, whereby UMW NAGA 7 has been assigned for the contract.
The contract, which commenced on Oct 15, 2015, is for seven firm wells with extension option of one plus one well, and an estimated duration of minimum one month for each well, it added.
UMW NAGA 7 is a premium independent-leg cantilever jack-up rig that has a drilling depth capability of 30,000 feet and has a rated operating water depth of 375 feet.
Caring Pharmacy Group Bhd reported a 83.94% increase in its net profit for its first quarter ended Aug 31, 2015 (1QFY16) to RM1.02 million, from RM554,000 a year ago, due to the opening of a total 12 new outlets in FY15 and the recently-concluded quarter.
The group reported a 4.7% increase in revenue to RM92.55 million for 1QFY16, from RM88.4 million last year.
Looking forward, the group expects to perform profitably on the recent zero-rated medical items announced in Budget 2016, which may improve retail pharmacy market sentiment.
Under Budget 2016, the government has announced that the number of zero-rated GST medicines has been doubled from 4,215 to 8,630.
Sunway Real Estate Investment Trust (REIT) will be able to pay higher non-taxable income distribution from the first quarter of its financial year ending June 30, 2016, onwards, after winning a judicial review that allows it to claim for industrial building allowance (IBA) for its properties.
In a filing with Bursa Malaysia, Sunway REIT said the entitlement came after the Inland Revenue Board (IRB) withdrew its appeal at the Court of Appeal against the High Court's judgment, allowing the REIT to claim for IBA.
The REIT said its manager Sunway REIT Management Sdn Bhd will compute income distribution by claiming IBA on its hotel properties from 1QFY16, which will result in a higher non-taxable income distribution to be paid.
The REIT's manager is currently liaising with IRB on the manner of refund to unitholders, as a result of the higher withholding tax amount paid to IRB in relation to the affected distributions.
(Note: The Edge Research's fundamental score reflects a company's profitability and balance sheet strength, calculated based on historical numbers. The valuation score determines if a stock is attractively valued or not, also based on historical numbers. A score of 3 suggests strong fundamentals and attractive valuations.)