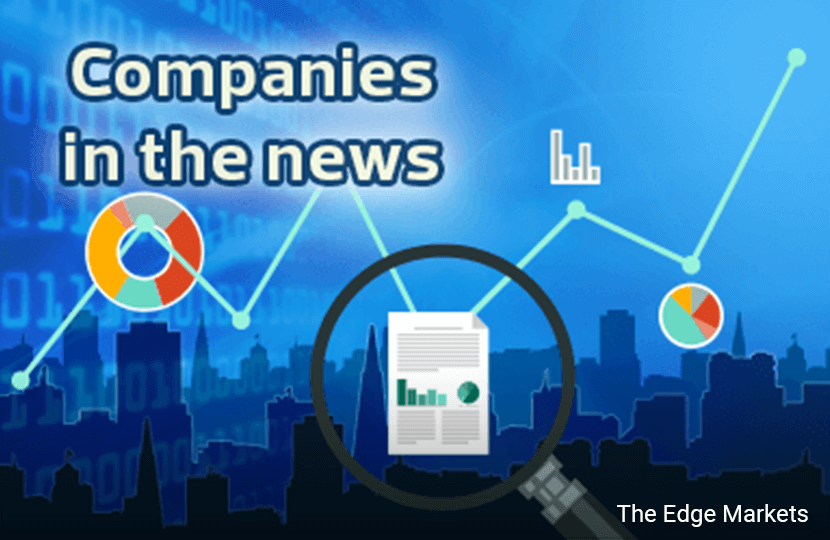 KUALA LUMPUR (Nov 3): Based on corporate announcements and news flow today, companies that may be in focus tomorrow (Wednesday, Nov 4) could include the following: MRCB, MMHE, Lay Hong, S P Setia, PetChem, Tasek Corp, FGV, Telekom, Hibiscus, F&N and BAT.
Malaysian Resources Corp Bhd (MRCB) has dismissed concerns that the mega projects it is undertaking soon, particularly the rejuvenation of the Bukit Jalil National Sports Complex, will strain its cash flow or spike its debt level.
Its executive director Mohd Imran Mohamad Salim said MRCB intends to undertake a de-gearing exercise this year, but did not say what it would do to pare down MRCB's debt-to-equity level.
The RM1.6 billion construction value of the project is pegged to the 92.5-acre land that it will receive as compensation for the job.
As at June 30, MRCB's net borrowings stood at RM2.6 billion, while shareholder's fund was at RM2.31 billion; its net gearing level was at 1.12 times.
Malaysia Marine and Heavy Engineering Holdings Bhd (MMHE) saw its net profit for the third quarter ended Sept 30, 2015 (3QFY15) fall 56.6% to RM16.97 million or 1.1 sen per share, mainly due to a weakened offshore segment, which fell into an operating loss with lower revenue.
The oil and gas (O&G) service provider posted a net profit of RM39.09 million or 2.4 sen per share last year, its filing with Bursa Malaysia today showed.
Revenue for the quarter came in 19.2% lower at RM436.25 million, from RM539.79 million in 3QFY14, mainly driven by its marine business segment, which saw higher on-year revenue — and operating profit — due to higher value for vessels repaired.
For the cumulative nine months (9MFY15), MMHE's net profit fell 37.4% to RM71.02 million, from RM113.45 million a year ago.
Revenue for the cumulative period declined 20.7% to RM1.74 billion from RM2.19 billion in 9MFY14.
Going forward, MMHE said the downturn in upstream O&G industry is expected to be protracted and this adverse market scenario will impact its offshore business unit, but its marine segment is anticipated to remain strong and cushion the downturn's impact somewhat.
Lay Hong Bhd, which previously revealed it was mulling a possible joint venture (JV) project overseas besides being in talks with two foreign groups over taking up a stake in the company, said today that it may seal the agreements for either or both deals in less than two months.
In its response to the bourse regulator's unusual market activity (UMA) query today, Lay Hong said both negotiations are progressing and that it expects "to conclude and execute definitive agreements in less than two months, either with one party or both".
While its talks with the two foreign groups are on them taking a strategic investment stake in the egg producer, the JV talks is for an investment "in an integrated layer farming and integrated broiler processing in local and overseas operations".
S P Setia Bhd, the country's biggest listed developer by sales, in a JV with Investec Australia Ltd (IAL), has been shortlisted to bid for the contract to transform the A$500 million (RM1.5 billion) old Royal Adelaide Hospital site into a more upscale area, according to The Australian newspaper yesterday.
The daily reported that S P Setia-IAL JV is one of four shortlisted bidders in the race for the mixed-use project, along with construction giant John Holland with parent group China Communications Construction Co Ltd in partnership with Adelaide-based Commercial & General, listed giant Lend Lease Group, and tycoon Lang Walker's property company.
"The four master developers shortlisted for the mixed-use precinct are to present schemes after their initial visions for the 7ha site were selected by Renewal SA after a process handled by real estate agency JLL," said The Australian.
South Australian Deputy Premier John Rau was reported as saying that the next step was requests for proposals from the shortlisted developers.
The developers are to come up with schemes to transform the existing 275,000 sq m of buildings into a project that could rival elements of Sydney's Barangaroo precinct, another site undergoing an urban transformation which is expected to be completed in 2023.
National oil company Petroliam Nasional Bhd (Petronas) is injecting three companies that are currently undertaking petrochemical works at its RM60 billion Refinery and Petrochemical Integrated Development (RAPID) project in Johor into Petronas Chemicals Group Bhd (PetChem) for RM13,000.
Following that, the chemical arm of Petronas will assume the assets and liabilities of the three companies, which amount to approximately US$110 million (RM470.52 million).
PetChem, which is 64.35%-owned by Petronas, is acquiring the units from Petronas Refinery and Petrochemical Corporation Sdn Bhd (PRPC), a wholly-owned unit of Petronas.
"The payment for the paid up capital in the companies of RM13,000 is expected to be paid to PRPC on Nov 3, 2015, while the liabilities of the companies of US$110 million is expected to be settled by the respective companies before the end of the year," said PetChem in an announcement to Bursa Malaysia today.
The three companies are currently working on petrochemical projects with a future total investment cost of about US$3.9 billion (RM16.68 billion), with a combined total capacity of approximately 2.7 million tonnes per annum (2.7 mtpa), it added.
Following the acquisition, PetChem said the three companies will become its wholly-owned subsidiaries.
However, the chemical products manufacturer said there may be a potential dilution to its equity in the project companies, based on current arrangements between PRPC and its existing partners — but did not elaborate.
PetChem said the transaction does not have any effect on its issued and paid up share capital, nor its earnings or the net assets at the transaction date of Nov 3.
"The [three companies'] project(s) are expected to contribute positively to both future revenue and earnings," it added.
Tasek Corp Bhd's third quarter net profit fell from a year earlier as the cement manufacturer lowered selling prices amid costlier raw materials.
Tasek told Bursa Malaysia today that the group's net profit fell to RM18.04 million in the third quarter ended Sept 30, 2015 (3QFY15) from RM21.47 million.
Revenue was higher at RM165.57 million versus RM148.68 million in 3QFY14, mainly due to higher sales volume registered by both cement and ready-mixed concrete divisions.
Tasek said cumulative 9MFY15 net profit fell to RM72.79 million from RM77.49 million a year earlier. Revenue was higher at RM514.11 million compared to RM483.09 million in 9MFY14.
Despite lower 3QFY15 profit, Tasek plans to pay a dividend of 20%, which translates into 20 sen a share. The ex-date falls on Nov 18.
Felda Global Ventures Holdings Bhd (FGV) has completed the divestment of its non-core oilseeds crushing and refining plant in Quebec, Canada, to Viterra Inc today for CAD172.7 million (RM567.1 million).
In a filing to Bursa today, FGV said Viterra had settled the cash purchase price of CAD172.7 million (RM567.1 million) to the company today, in accordance with the terms of the sale and purchase agreement.
FGV had on Aug 23 announced it was disposing of the oilseeds crushing and refining plant, Twin Rivers Technologies Entreprises De Transformation De Graines Oleagineuses Du Quebec Inc (TRT-ETGO), in Quebec, Canada.
Today, the crude palm oil player said post-closing adjustment will be carried out to determine the final purchase price, subject to the finalisation of both the closing net indebtedness and the closing net working capital.
Telekom Malaysia Bhd (TM) has tied up with Medini Iskandar Malaysia Sdn Bhd to jointly set up a managed services operating company to provide smart building services and smart city services in Medini, Nusajaya, Johor.
TM, in its announcement to Bursa Malaysia today, said its wholly-owned unit Intelsec Sdn Bhd has inked a JV and shareholders' agreement with Medini Iskandar's wholly-owned subsidiary Township Management Services Sdn Bhd (TMS) to effect the tie-up.
TM said Intelsec will hold a 51% stake in the JV company, via the subscription of 25.5 million shares for RM25.5 million, while TMS will take up the balance 49%.
Additionally, both Intelsec and TMS have agreed to invest an additional RM18 million for capital contribution at a later time.
Hibiscus Petroleum Bhd, which was slapped with an UMA query by Bursa Malaysia earlier today, said some shareholders may be subject to margin calls on shares that have been collateralised and are being asked to regularise their margin positions.
Aside from that and two drilling programmes undertaken by its jointly-controlled Norwegian entity and Australian unit, the O&G player said it was not aware of any other possible explanation for the sudden fall in its share price.
In its UMA query response today, Hibiscus said the company is currently drilling two wells — one in the North Sea in Norway and another in Australia.
Fraser & Neave Holdings Bhd (F&N) saw its net profit for the fourth quarter ended Sept 30, 2015 (4QFY15) fall 8.8% to RM56.7 million or 15.5 sen per share from RM62.2 million or 17 sen per share in the same period last year, on weaker performance in its soft drinks segment.
Quarterly revenue, however, came in 3.7% higher at RM1 billion from RM964.52 million a year ago, underpinned by better revenue from its dairies operations in both Malaysia and Thailand.
The dairy products and soft drinks manufacturer proposed a 35.5 sen dividend for the current quarter under review, payable on Feb 4, 2016, bringing its full-year dividend to 57.5 sen per share.
For the full year (FY15), its net profit rose 8% to RM280.07 million against RM259.43 million last year, due to higher revenue and lower milk-based commodity cost during the year.
Revenue grew 6.3% on year to RM4.06 billion from RM3.82 billion in FY14, due to strong revenue growth from its dairies operations in both Malaysia and Thailand, which registered an increase of 3% and 17.7% respectively.
Going forward, F&N expects to see challenging trading conditions in both Malaysia and Thailand against a softer consumer sentiment — which would manifest in intense price competitions — and volatile currency exchange rates.
British American Tobacco (Malaysia) Bhd will be increasing the prices of its cigarettes by as much as RM3.20, after accounting for a 40% excise tax hike mandated by the government.
Effective tomorrow (Nov 4), its Dunhill, Kent and Benson & Hedges ranges will be sold at RM17 per pack; Peter Stuyvesant and Pall Mall for RM15.50 per pack; Lucky Strike Plain for RM17.50 per pack; and Shuang Xi for RM18 per pack.
(Note: The Edge Research's fundamental score reflects a company's profitability and balance sheet strength, calculated based on historical numbers. The valuation score determines if a stock is attractively valued or not, also based on historical numbers. A score of 3 suggests strong fundamentals and attractive valuations.)