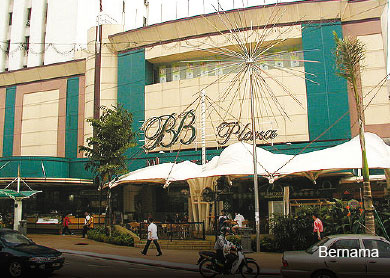 PETALING JAYA (Oct 28): Mass Rapid Transit Corporation Sdn Bhd (MRT Corp) has refuted a claim by UDA Holdings Bhd that the underground works of the Mass Rapid Transit (MRT) line has resulted in BB Plaza not being safe for occupation. UDA is the owner of BB Plaza located along Jalan Bukit Bintang.
In a statement today, MRT Corp said it has taken necessary measures to ensure safety, and that tunnelling works at a stretch along Jalan Bukit Bintang in front of BB Plaza do not have adverse effects on the nearby buildings.
MRT Corp said construction of the Bukit Bintang station had started since November 2012 in two main stages, including the use of two tunnel boring machines (TBM) to create a tunnel underneath Jalan Bukit Bintang.
It added that the tunnel has passed through the stretch in front of BB Plaza in July 2014 and August 2014, without adverse effects on nearby buildings.
"Throughout the tunnelling and the on-going station construction, no buildings along the road were damaged as a direct result of MRT works," the statement read.
"Our contractor, MMC Gamuda KVMRT (Tunnelling) Sdn Bhd (MGKT), had taken all necessary steps to monitor ground movements during the activity, to ensure that building and public safety was not compromised."
Among the measures taken by the contractors included installation of monitoring equipment on buildings and structures along Jalan Bukit Bintang, as well as visual monitoring of roads and buildings by engineers, it explained.
"Apart from two sinkholes that appeared in April 2014 at the western end of the very busy road, no other untoward incidents were reported to have occurred as a result of MRT construction there, or along the 9.5km underground alignment of the Sungai Buloh-Kajang (SBK) Line," the statement read.
"We therefore deny that BB Plaza was or is under any threat of collapse or damage due to the construction of the MRT tunnels and station. All other buildings on the surface of where underground works are conducted, are also safe.
"The technology applied for the construction is state-of-the-art, and all necessary precautions were undertaken by MGKT to ensure the safety of buildings and structures along the route," the statement said.
Yesterday, Bernama had quoted UDA Managing Director Ahmad Abu Bakar in a statement, saying the company had decided to assist tenants of its building to vacate the building and relocate them to new premises at year-end, in order to execute redevelopment plans for BB Plaza.
"BB Plaza in its current state is unsafe for occupation, due to the MRT on-going underground construction works," the statement had read.
UDA came under fire from its tenants, after the government-linked company had called for tenants to vacate the premises by year end.
UDA had said it would redevelop BB Plaza into commercial space, serviced-apartments and a shopping mall, which it would manage and maintain.