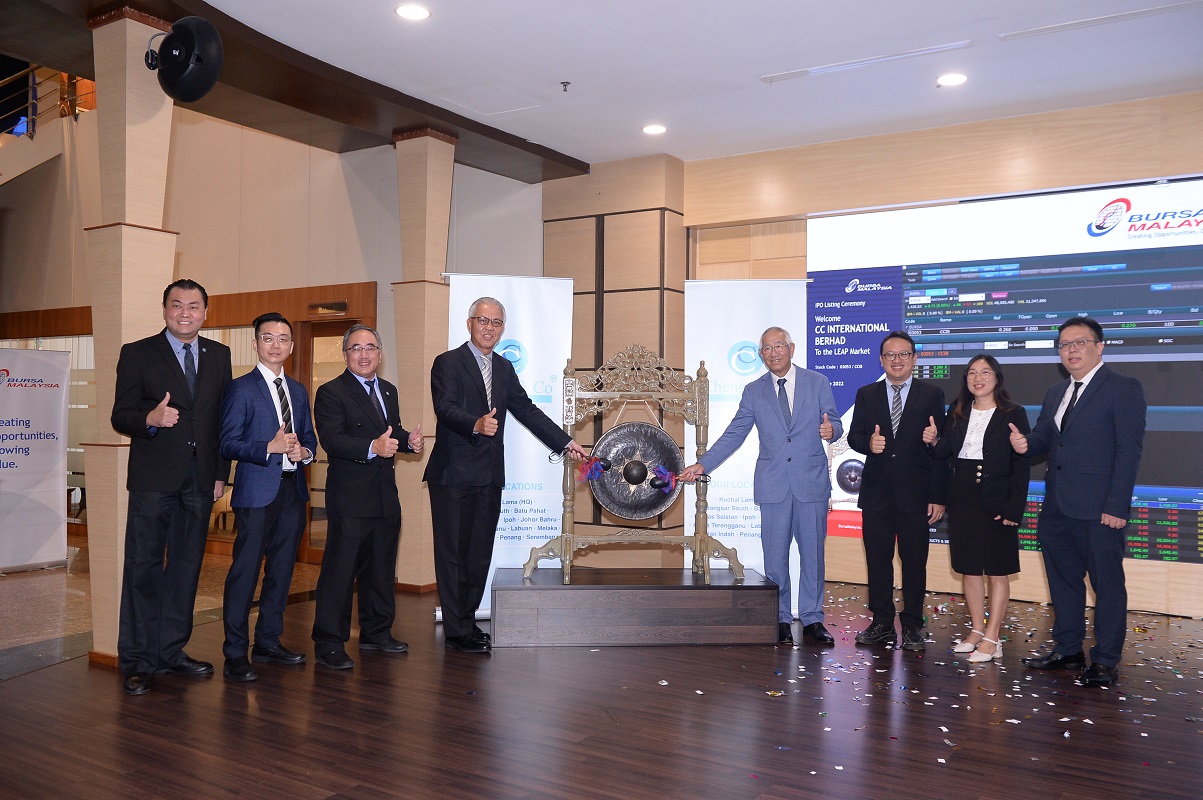 KUALA LUMPUR (June 28): Shares of CC International Bhd closed at its intraday high of 31 sen on its first day on the LEAP Market of Bursa Malaysia Securities Bhd on Tuesday (June 28). 
At the opening bell, CC International shares debuted at 27 sen apiece, a premium of one sen over its 26 sen reference price. Some 202,000 shares exchanged hands on its first trading day.
At its close, the multidisciplinary business services group had a market capitalisation of RM119.7 million. The group's listing was the 16th on Bursa and the third on the LEAP Market in 2022.
CC International said it has been mainly serving and acquiring underserved businesses in rural towns in Malaysia, but the homegrown company aims to also extend to overseas markets, especially Singapore and Australia.
The group has about 250 staff and 13 local offices located in Kuala Lumpur, Selangor, Penang, Negeri Sembilan, Johor, Melaka, Perak, Terengganu and Labuan, serving almost 8,000 of both corporate and individual clients.
"For M&A, we have focused on businesses in small towns which have been practising for 30 or 40 years. They want to retire but they may not be able to find a successor because of the lack of talents in small town," the group's executive chairman Datuk Dr Chua Hock Hoo said in a press conference after the listing ceremony.
"In terms of expansion strategy, our current market is in our 13 locations, and we hope to merge more and grow bigger from there. We are also looking to expand to overseas regional markets, especially Singapore and Australia because [their] currencies are three times stronger.
"With the listing, hopefully more people will know us, we also hope young people and modern IT (information technology) based organisations will be more willing to work with us and be enticed to work in smaller towns."
Chua added that CC International practises a performance-based culture where its staff have obtained performance bonuses ranging from two months to six months.
On the group's dividend policy, Chua said it has no fixed dividend policy but it is proposing to distribute 50% of its profit as a dividend.
"We have a good past record, last year 2021 our dividend was about 113%, in 2020 66%, and in 2019 is 89%. Our group does not have any debt, bank loan or liability and [has] a strong cash flow, thus it is easier to give high dividends," he said.
CC International also emphasised on leveraging technology to enhance its operation efficiency. Presently, the company uses technological tools such as online-based solutions such as Xero, Bukku, UBS and a virtual private network.
It also used online-based accounting and tax solutions to minimise human errors. From its internal processes perspective, the group had developed its own internal operation and management platform named Pro B Platform.
CC International began offering tax services when Chua incorporated Cheng & Co Taxation in 1998 with other shareholders.
The group's service offerings now comprise accounting and business service outsourcing, tax, corporate secretarial, business consultancy and wealth management services.
The group had undertaken a placement of 38.70 million new ordinary shares, which represents 10% of its enlarged share capital of 386.24 million shares, bringing the group a market capitalisation of RM100.42 million at the point of listing.
Some RM6 million, a majority of its total gross proceeds of RM10.06 million raised, will be used to fund the group's business growth and expansion through mergers and acquisitions, joint ventures, strategic partnerships and collaborations with other professional service providers that provide similar or complementary services.
Another RM1 million will be utilised for investment in software and hardware for its new branch offices as well as additional information technology personnel to support the group.
Meanwhile, the remaining RM2.06 million and RM1 million will be allocated to fund CC International's working capital and estimated listing expenses respectively.
According to its fact sheet, CC International's revenue gained RM1 million to RM24.49 million in the financial year 2021 (FY21) compared to RM23.49 million in FY20. Its profit after tax also rose to RM5.11 million in FY21 from RM4.47 million in FY20, recording a latest profit after tax margin of 20.9%.