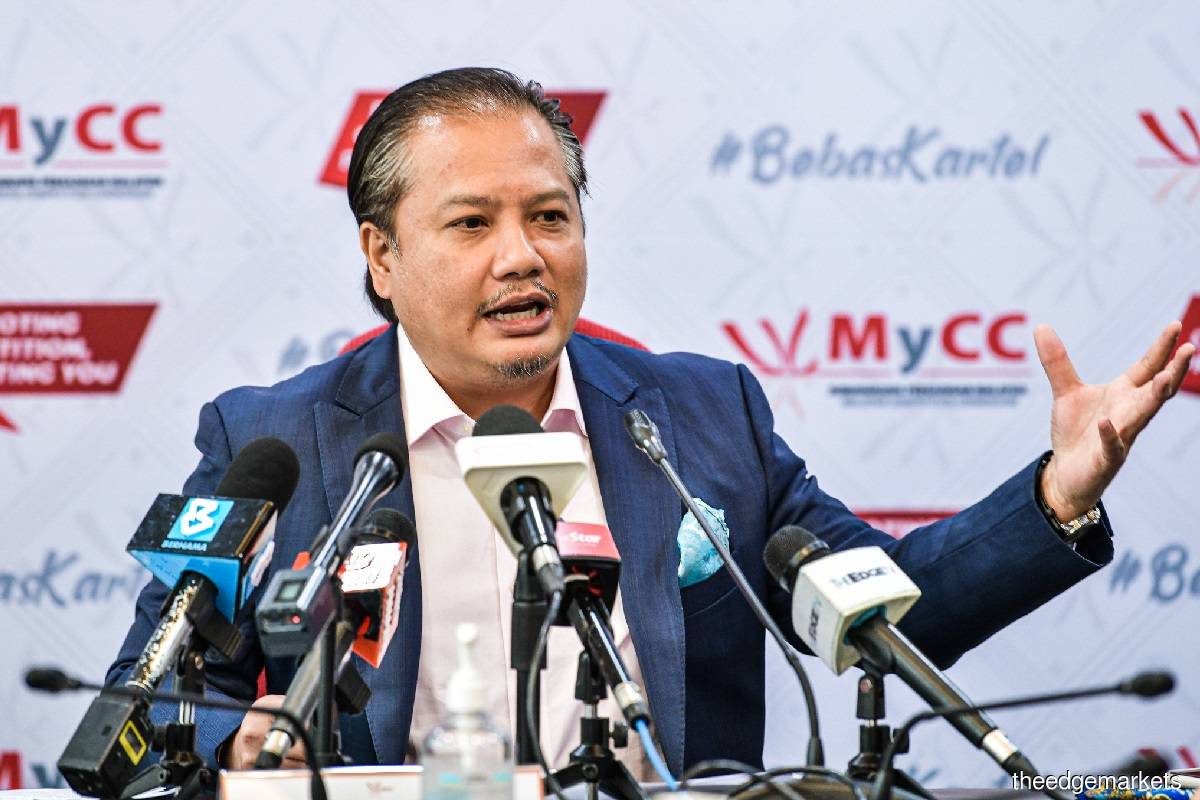 KUALA LUMPUR (July 5): The Malaysia Competition Commission (MyCC) has fined eight companies a total of RM1.548 million for bid-rigging in four IT-related contracts they tendered for between 2015 and 2016 worth a collective RM1.925 million from the National Academy of Arts, Culture and Heritage of Malaysia (ASWARA).
This is the first time MyCC penalises companies whom it found to have colluded in bid-rigging since the commission's inception in 2011.
MyCC chief executive officer Iskandar Ismail told a press conference that the commission will write to government ministries and agencies to propose that these eight be blacklisted from the procurement processes, in accordance with a newly released circular by the Ministry of Finance, which states that those involved in bid-rigging will be blacklisted for up to five years.
MyCC originally proposed penalties totalling RM1.93 million on these companies in 2019, more than the value of the contracts involved. The final penalty sum was arrived at after the companies submitted their representations for a total of three times to MyCC.
MyCC started its investigations into the issue after ASWARA submitted information to the commission in 2017 on a suspected bid-rigging arrangement between two companies — Tuah Packet Sdn Bhd and Caliber Interconnects Sdn Bhd — in a 2016 project worth RM467,727.
According to MyCC, this included the provision of tender documents by Tuah Packet for Caliber, even though they were supposed to be competing with each other. Caliber, who won the 2016 tender, then brought along Tuah Packet during the project briefing, during which the latter said it had been appointed by Caliber for parts of the project.
During the investigations, the commission found another cartel, led by Novatis Resources Sdn Bhd, had also taken part in the 2016 tender but lost the bid. Nonetheless, Novatis was also fined, alongside its cartel partners Silver Tech Synergy Sdn Bhd, Venture Nucleus (M) Sdn Bhd, and Basenet Technology Sdn Bhd.
"Under the law, it does not matter if you lose or succeed in a tender. As long as you are found to have formed a cartel, you have breached the [Competition Act 2010]," said Iskandar.
MyCC's investigations further revealed that Tuah Packet had formed cartels with two other companies — Aliran Digital Sdn Bhd and ViaMED Sdn Bhd — in three other ASWARA contracts in 2015 worth RM1.457 million.
All eight companies were penalised for breaching Section 4 of the Competition Act, which prohibits agreements between enterprises that prevent, restrict, or distort competition in the market.
"This decision is a reflection of MyCC's commitment to continuing cracking down on enterprises that collude to drain public funds through bid-rigging activities," he said, adding bid-rigging costs the government up to 30% of the value of each contract.
MyCC is currently investigating 500 companies suspected of bid-rigging activities for contracts worth RM2 billion across industries. A company found infringing the Competition Act can be penalised up to 10% of its annual worldwide turnover.
Read also:
MyCC probing 500 companies suspected of bid-rigging contracts worth RM2 bil
MyCC: Parties caught in bid rigging will face five-year blacklist by MoF