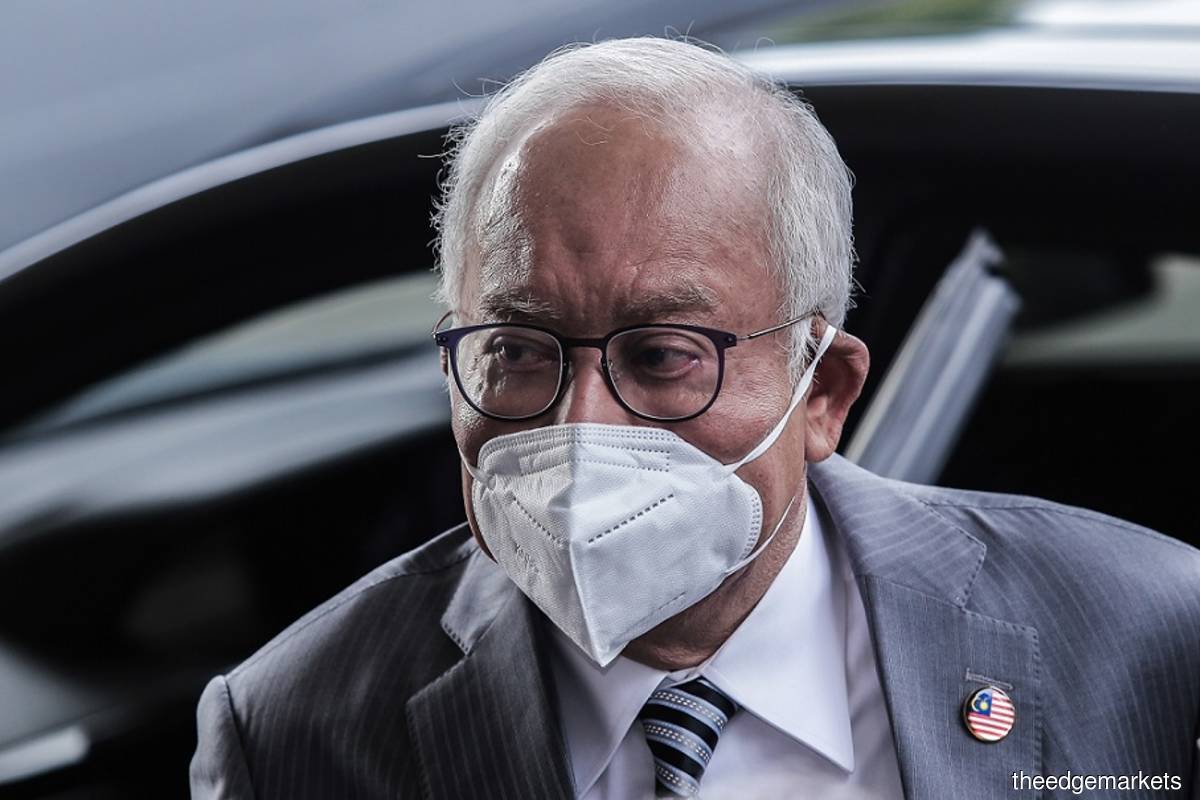 KUALA LUMPUR (July 27): While Datuk Seri Najib Razak's move to discharge Tan Sri Muhammad Shafee Abdullah from handling his final graft conviction appeal in the SRC International Sdn Bhd case may have raised questions, it is nevertheless a legitimate move as Article 5 of the Federal Constitution provides that a person can be represented by the counsel of his choice.
However, the former premier will unlikely be able to escape the perception that this eleventh-hour manoeuvre is nothing more than a delaying tactic, some law practitioners told The Edge.
The final appeal is set to start at the Federal Court in less than three weeks.
Criminal lawyer Cheow Wee said clients are entitled to change lawyers at the last minute, as long as there are valid reasons.
"What is valid or not will depend on the circumstances and justification by the client. Also, the new lawyer will only take on the brief (case) if he is able to proceed with the dates fixed."
Cheow described Hisyam Teh Poh Teik, who has replaced Shafee as Najib's lead counsel, as a highly regarded legal practitioner, and opined that Hisyam would have considered the case and known the likelihood that he may not be granted postponement of the final SRC appeal — which his team has asked for, to familiarise themselves with the case, according to court documents sighted — and that he would have to go on with the case regardless.
"So, I think the defence is banking on Hisyam being given sufficient time to study and argue the case.
"Of course, the perception is that Najib is attempting to delay. Against that, the court has to weigh giving his respected lawyer every opportunity to argue his case, so that justice is seen to be done," Cheow said.
"Perhaps they (the Federal Court) may meet them halfway by giving Hisyam a short adjournment nevertheless, so that Najib can never argue otherwise [that he was not treated fairly in his adjournment application] later.
"That could very well be Najib's reason to delay the proceedings. But the documents to this case are quite voluminous and it does take time to go through them. And if we give Hisyam the benefit of the doubt, then we should at least give him that chance," Cheow added.
Muhammad Rafique Rashid Ali, another criminal practitioner, said Najib's sudden change of counsel right before his final appeal is legal and "perfectly alright on paper".
"There's nothing wrong [with it]. However, when seen from the circumstances in which it is made and the time frame of this move — remember it's only less than three weeks from the scheduled appeal (at the Federal Court), which had been fixed much, much earlier — the public cannot be faulted when snide remarks are made, especially when some label it as a tactic to delay the case.
"The ball is in the court of the prosecution, as they are the guardians of public interest and can press for any urgent disposal of the hearing," he added.
Rafique also highlighted that there are guidelines from the Bar Council, which stipulate that a lawyer who takes on a case can only do so if he/she is prepared to proceed with the trial dates that were allotted. However, it does not become an issue that warrants disciplinary action even if the lawyer seeks postponement to better prepare for the case.
'Changing lawyers does not grant the appellant an automatic right to an adjournment'
A senior lawyer who wanted to remain anonymous opined that the Federal Court does not usually allow postponements in such cases.
"The client runs the risk (consequences) [when] changing his lawyers. But the lawyers who come on board must be ready, willing, and able to conduct the appeal. Otherwise, this is seen as a tactic by the appellant (Najib) to get a postponement by pretending to change lawyers," the senior counsel added.
A former senior judge, who also spoke on condition of anonymity, said while Najib is free to change his lawyer, it should not be at the expense of causing a delay to the scheduled hearing.
"The newly-engaged lawyer should be able to carry on with the hearing [on] the scheduled dates. There is no automatic right to an adjournment, just because an accused has changed his lawyer," the former judge added.
They were asked to comment on Najib's sudden move to discharge Shafee and appoint Hisyam and other lawyers from the firm of Zaid Ibrahim, Suffian TH Liew and Partners on Tuesday (July 26).
Besides seeking an adjournment of the final SRC appeal that is slated to begin on Aug 15, Najib's new defence counsels have also written to the apex court to withdraw Najib's appeal against the High Court's decision in refusing to grant admission to Queen's Counsel Jonathan Laidlaw to represent him in the case.
On July 28, 2020, the High Court sentenced Najib to 12 years in jail and fined him RM210 million after he was found guilty by Justice Datuk Mohd Nazlan Mohd Ghazali of seven charges concerning SRC. The seven charges comprise one count of abuse of power involving Retirement Fund Inc's (KWAP) RM4 billion loans to SRC, three counts of criminal breach of trust involving RM42 million, and three counts of money laundering.
His conviction and sentence were upheld by the Court of Appeal on Dec 8 last year, resulting in this final appeal.