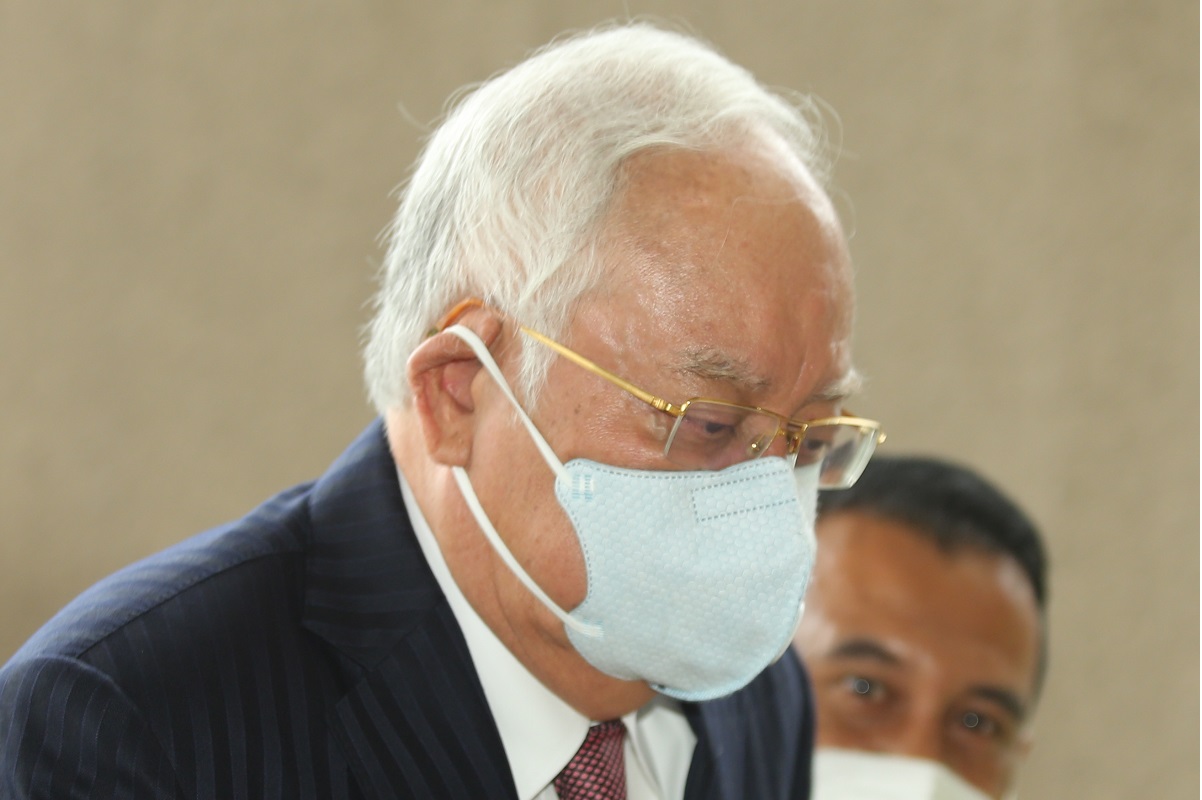 Najib named AmIslamic, AMMB Holdings and the bank's ex-customer relationship manager Joanna Yu Ging Ping as defendants in relation to his four accounts, in which the former premier claimed that some of the transactions were made without his prior knowledge.
KUALA LUMPUR (Aug 17): The civil suit filed by Datuk Seri Najib Razak against the AmBank group should be struck out as it is a collateral attack on the former premier's just-concluded SRC International Sdn Bhd criminal case, the High Court heard today.
Yoong Sin Min, counsel for the banking group, submitted that the decision to prosecute Najib in the SRC case was made by the attorney general after independent investigations by the Malaysian Anti-Corruption Commission (MACC).
As such, AmBank should not be held responsible for Najib's prosecution, Yoong said in her submission in the group's application to strike out Najib's suit.
"Hence (it is) an abuse of the court process for the former PM to initiate the suit," she said. "Furthermore, this collateral attack at the SRC proceedings is certainly against public policy."
Noting that Najib had been charged for abusing his position, criminal breach of trust and money laundering in the SRC case, Yoong said he had never complained at that time about his four accounts with AmIslamic Bank that had been closed since 2013.
"This suit is as a result of the prosecution's submission in the SRC case when they asked the former premier why he did not do anything on his claims that his accounts were manipulated by someone and why he did not sue. Two months after what the prosecution said, Najib filed the action (in December) last year to try and rebut the prosecution's case," she added.
In his suit, Najib named AmIslamic, AMMB Holdings and the bank's ex-customer relationship manager Joanna Yu Ging Ping as defendants in relation to his four accounts, in which the former premier claimed that some of the transactions were made without his prior knowledge.
Najib claimed that AmIslamic and Yu had breached their duties and were negligent in affairs concerning the four accounts as they disclosed information to fugitive businessman Low Taek Jho (Jho Low), who Najib said was an unauthorised third party.
The information that has been disclosed included balances of the funds, details of cheques, credit and debit remittance transactions and bank account statements.
Najib also alleged that Yu and the bank had acted on Jho Low's instructions to actively ensure that the accounts and other banking statements were kept away from him, and they failed to inform him that Jho Low was seeking disclosure of information and documents.
Other unauthorised third parties named included Kee Kok Thiam, Ung Su Ling and Jerome Lee Tak Loong.
In her submission today, Yoong also said the suit should be struck out as the defendants would send monthly statements of the accounts to Najib but he did not report any discrepancy or any wrongdoings.
"Hence, his action in filing the suit are untenable as there are no discovery of wrongdoings and furthermore the accounts had been closed and money had been taken out seven years ago as there are no complaints made then," she said.
Yoong, who appeared with counsel Benjamin Dawson, also said AMMB should not be made a party to the civil suit as the holding company of AmIslamic Bank was not liable for such actions given that AMMB has no contractual relationship with Najib.
'Joanna Yu should be given immunity'
Meanwhile, Yu's counsel Datuk Dr Gurdial Singh Nijar told the court that his client was seeking to strike out the suit on the same grounds that this civil suit is a collateral attack on the criminal proceedings that just ended.
Furthermore, Gurdial said there is no causal link between the damage caused as a result of Yu's action as the action had been taken by the MACC and the attorney-general.
"Furthermore, Yu who had been cross-examined for six days in the SRC trial as a prosecution witness is entitled to immunity from action as the plaintiff (Najib) is bringing this action based on her extensive evidence in the criminal proceedings," he said.
Gurdial submitted that Najib is charged for a criminal offence, and that his client cannot be held liable for the attorney-general's actions.
Najib's lawyer Harvinderjit Singh, in opposing the striking out application, said there are triable issues as this action follows evidence adduced during the SRC case.
This included the testimony that AmIslamic, along with AmBank, was fined by Bank Negara Malaysia (BNM) in relation to the accounts but this was not disclosed to Najib.
"This is something which was discovered during the SRC trial and for this reason, the plaintiff (Najib) is taking action via the civil suit," Harvinderjit said.
It was previously reported that AmBank was fined more than RM53.7 million by BNM in 2015.
Harvinderjit further said the civil suit against the bank and its staff was for breach of care and fiduciary duty and this should be determined after a trial is held.
He further cited a Supreme Court decision that said a civil suit can be taken against the bank when it did not report back to the account holder.
Harvinderjit further pointed to Yu's testimony where she herself admitted her dealings with an unauthorised holder (Jho Low) as further grounds for this court to have the matter be put on trial.
Earlier, Najib's lawyer tried to ask for an adjournment because AmIslamic and Yu had filed an affidavit quoting grounds of High Court Justice Mohd Nazlan Mohd Ghazali's verdict in Najib's SRC trial last July 28.
Harvinderjit said his side wanted to reply to the affidavit and include the grounds of the decision if it is available, however, presiding Judicial Commissioner Datuk Khadijah Idris disallowed the request.
The hearing continues tomorrow afternoon, with further submission by Najib's other counsel, Tan Sri Muhammad Shafee Abdullah.