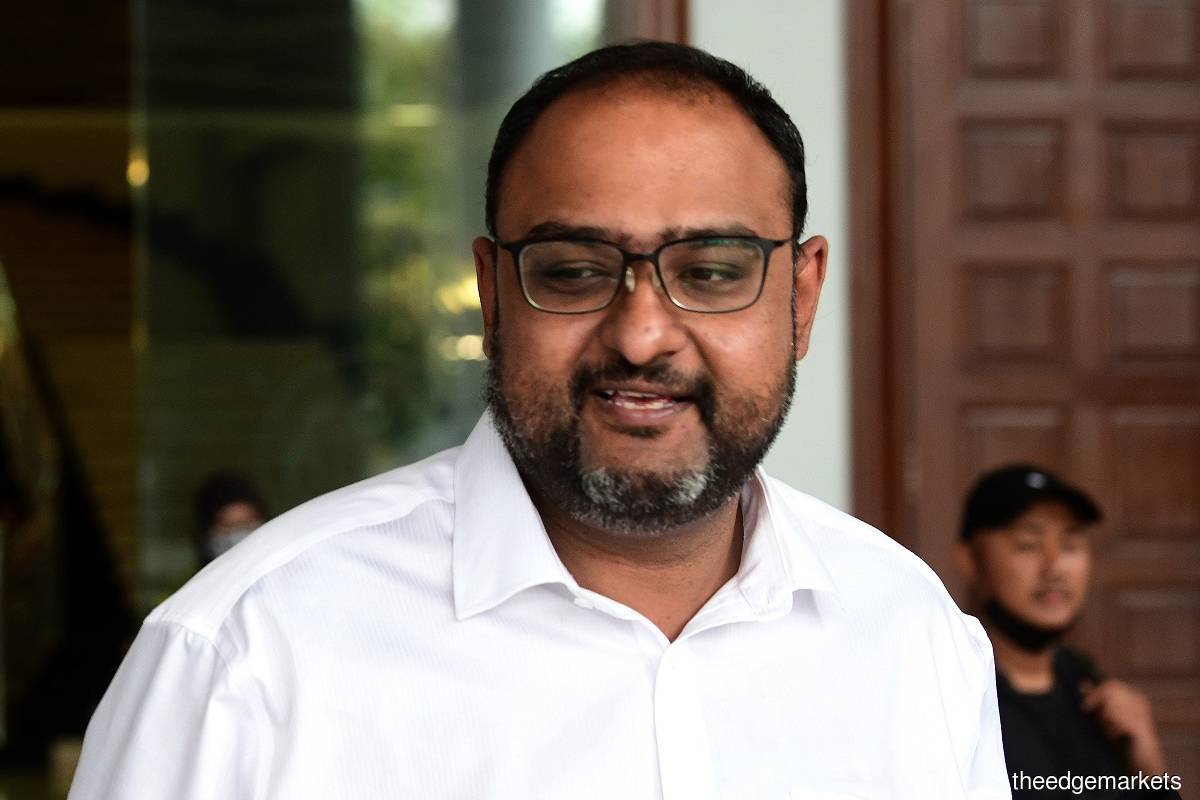 KUALA LUMPUR (July 6): The High Court will give its decision on July 21 on whether it will allow UK lawyer Jonathan Laidlaw's bid to be admitted to the courts so he can represent former premier Datuk Seri Najib Razak in his SRC International Sdn Bhd appeal at the nation's apex court.
Judge Datuk Ahmad Kamal Md Shahid set the date after hearing submissions from both Najib's lawyer Harvinderjit Singh and lead prosecutor Datuk V Sithambaram.
Also present during the proceedings were Datuk Dr Gurdial Singh Nijar, who represented the Kuala Lumpur Bar, and Datuk Bastian Vendargon, who represented the Malaysian Bar. Both organisations opposed Najib's application.
Earlier, Harvinderjit submitted to the judge that the defence sought out Laidlaw because of his special qualifications in "novel and complex issues", which might arise during the appeal at the Federal Court.
He also claimed that Laidlaw was an "expert in regulatory affairs and prosecution conduct", and that Laidlaw would be dealing with the area of the prosecution's conduct, in particular whether constitutional rights were infringed on, during the SRC trial at the High Court.
The lawyer also said Laidlaw would only deal with that specific area of the appeal.
He also addressed the prosecution's contention that lead counsel Tan Sri Muhammad Shafee Abdullah and himself are more than capable and experienced in handling the appeal, and that Laidlaw would not know the conduct of Malaysian courts.
"He doesn't need to be an expert in every aspect of the case. He is there for specific and special areas of the case. The local counsel (Najib's lawyers) will handle other arguments taken. The Queen's Counsel will be complementary to the local counsel, and not apart from the local counsel," Harvinderjit said.
"We just have to show your lordship that he has got expertise and experience and that particular expertise and experience is not available among lawyers here. We have to show that his niche expertise is not available here," he added.
Prosecution: Allowing the QC now will open the floodgates to similar applications
Sithambaram, however, argued that if Laidlaw is allowed to represent Najib in the final appeal, this will open the "floodgates" to similar applications in the future.
"Then every time there's a novel issue and they want to bring in a Queen's Counsel, then we (the local courts) will have to allow it," Sithambaram said.
Sithambaram also said Harvinderjit's arguments indicated the defence was "running to England" for help because the trial was complex. "The moment it's serious and complex, we should all drop it and run to England to take statements. That's how they framed their argument," Sithambaram told the judge.
Sithambaram then cited a case in 2006, where UK lawyer Cherie Booth — the wife of former UK premier Tony Blair — had applied to appear for a party in a Malaysian court case, which the Federal Court ruled against.
Citing the Federal Court's decision in that case, Sithambaram questioned Laidlaw's involvement in the trial as he was not involved in the High Court and Court of Appeal stage of the SRC trial.
"The appellant was not present at the High Court and Court of Appeal stage, so to what extent would the appellant be able to assist the Federal Court?" Sithambaram asked.
He also said a foreign counsel would lack local knowledge, and that since Laidlaw did not handle the trial and appeal, he would be "disadvantaged" in handling the Federal Court appeal.
Sithambaram further argued that the issues posed by Najib are not novel, but even if it was so, there was no reason a QC is needed. "He's (Laidlaw) a brilliant man and while that may be so, that does not mean we need him here," he said.
Gurdial, representing the KL Bar, agreed with Sithambaram and said that allowing Najib's application now would "demean" the more than 20,000 advocates and solicitors in the country.
Gurdial argued that Najib and his team could refer to and analyse international cases and precedents to argue their case. "Are we so bereft of a modicum of intelligence to do that? To analyse the laws?" he asked.
Bastian concurred, adding that there was no valid reason to suggest that the legal assistance provided to Najib was insufficient and that his appeal would be prejudiced if Laidlaw did not represent him.
After hearing submissions from both sides for almost four hours, the judge set July 21 for his decision, which will be delivered via Zoom.
In July 2020, Najib was found guilty of abusing his power, committing criminal breach of trust and money laundering involving RM42 million of SRC funds and sentenced to 12 years in jail, and fined RM210 million by High Court Judge Datuk Mohd Nazlan Mohd Ghazali.
The Court of Appeal on Dec 8 last year unanimously upheld the High Court's verdict, which led to Najib making his final appeal to the Federal Court. The Court of Appeal has allowed a stay of sentencing pending this appeal, which is set to be heard in August.