This article first appeared in The Edge Malaysia Weekly, on September 2, 2019 - September 08, 2019.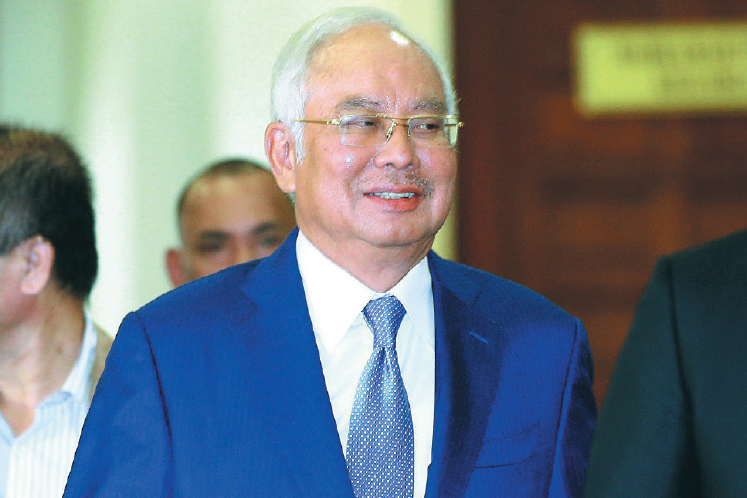 Photo by Sam Fong/The Edge
ON Nov 11, former prime minister Datuk Seri Najib Razak will know if he needs to enter a defence on the seven charges of criminal breach of trust, abuse of power and money laundering of RM42 million of SRC International Sdn Bhd's funds.
This follows the conclusion of the prosecution's case at the Kuala Lumpur High Court last week.
Judge Mohd Nazlan Mohd Ghazali will decide whether the prosecution has proved a prima facie case against Najib, or essentially, whether the Pekan member of parliament has a case to answer on the charges levelled against him.
Nazlan fixed Oct 22 and 23 for oral submissions by the prosecution and defence. He also directed both parties to file their written submissions next month and a reply to the submissions two weeks from Oct 22.
Nazlan will have to evaluate the evidence, testimonies and more than 770 documents tendered as evidence by the 57 prosecution witnesses.
He will have to evaluate the direct and circumstantial evidence, and whether the man who was once Malaysia's most powerful individual has a case to answer on all seven charges, or only some of the charges. He can also choose to acquit Najib without his defence being called.
If ordered to enter his defence, Najib has three options — either keep quiet and not answer to the charges; give an unsworn statement from the dock without being cross-examined by the prosecution; or testify under oath on the witness stand with the prosecution given the opportunity to question him during cross-examination.
Under this scenario, Nazlan has fixed Dec 3 and 4, Dec 9 to 12 and Dec 16 to 19 for Najib to testify and call his witnesses.
The highest-ranked politician in the country to face criminal charges, Najib was charged on July 4 last year and the trial began on April 3.
It drew to a close last Tuesday with the SRC investigating officer from the Malaysian Anti-Corruption Commission, Senior Assistant Commissioner Rosli Hussain, concluding his testimony.
Rosli was the 57th prosecution witness to take the witness stand in a trial that ran for 58 days.
The prosecution has offered 66 witnesses to the defence. Should Najib's defence be called, his team has been given Nov 11 to Dec 3 to interview the witnesses and decide on who to call to testify.
Najib is represented by Tan Sri Muhammad Shafee Abdullah, along with co-counsel Harvinderjit Singh, Farhan Read, Wan Aizuddin Wan Mohammed, Nur Syahirah Hanapiah, Muhammad Farhan Muhammad Shafee and Rahmat Hazlan.
The prosecution is led by Attorney-General Tommy Thomas, along with lawyer-appointed-prosecutor Datuk V Sithambaram, Datuk Ishak Mohd Yusoff, Datuk Suhaimi Ibrahim, Sulaiman Kho Kheng Fuei, Muhammad Saifuddin Hashim Musaimi, Muhammad Izzat Fauzan, Budiman Lutfi Mohamed, Mohd Ashrof Adrin Kamarul and Donald Joseph Franklin.