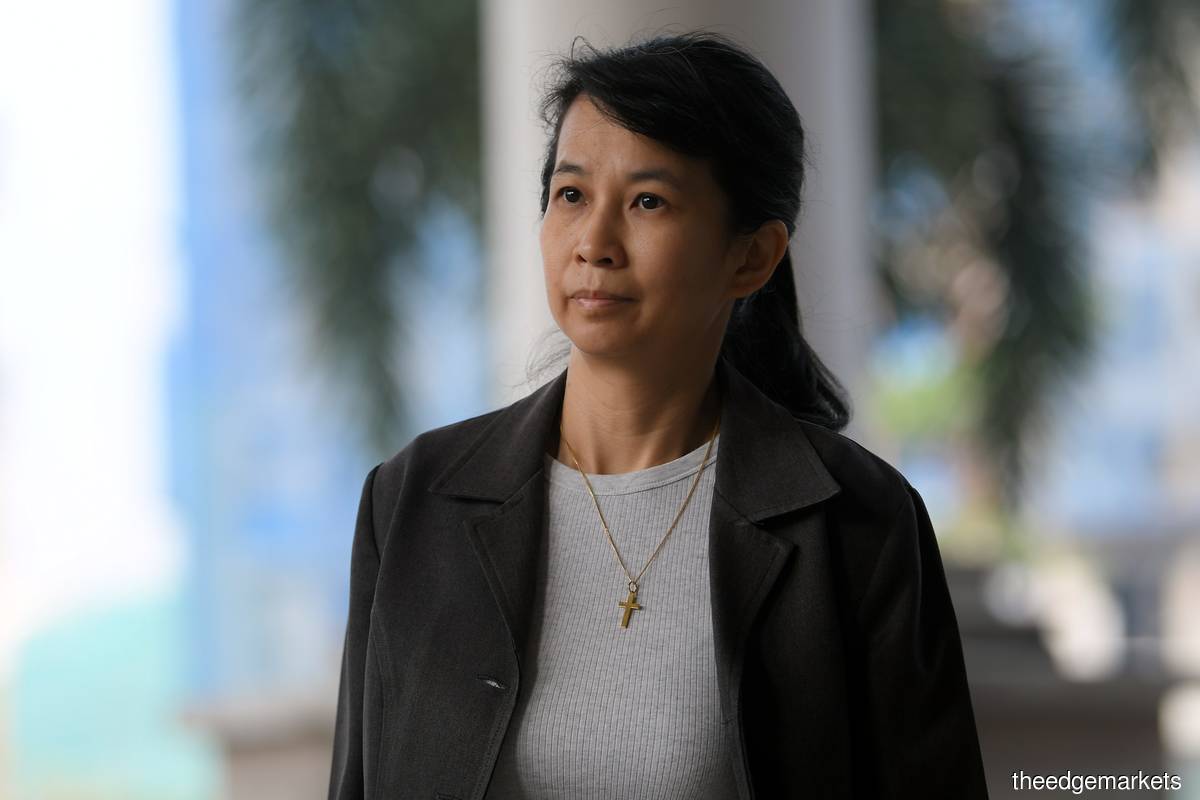 KUALA LUMPUR (Aug 18) : The question as to why Datuk Seri Najib Razak did not file any action against AmIslamic Bank Bhd or its former customer relationship manager Joanna Yu Ging Ping (pictured) immediately after he was cleared of wrongdoings in relation to 1Malaysia Development Bhd by former attorney-general Tan Sri Mohamed Apandi Ali in January 26, 2016, was raised at the High Court today.
The matter was raised by Yu's counsel and former law professor Datuk Dr Gurdial Singh Nijar, during the hearing of a suit that was filed by the former prime minister only last year against his client, as well as AMMB Holdings Bhd (AmBank) and its Islamic arm Ambank Islamic Bhd (AmIslamic), who were represented by Yoong Sin Min and Benjamin Dawson.
Gurdial questioned the timing of Najib's suit when the former premier and former finance minister, which was filed not just years after Apandi's exoneration but only when he was facing charges of power abuse, money laundering and criminal breach of trust involving SRC International Sdn Bhd, a former subsidiary of 1MDB.
"They [Najib's lawyers] claimed that Yu manipulated the bank accounts without the involvement or the knowledge of the plaintiff (Najib). Did they file action against Yu or the bank for breaching the Banking and Financial Institution Act? He knew he had been exonerated and that Yu and the bank had caused the headache, [but] he did not pursue or institute any action [then].
"He (Najib) only filed it after he was charged and after the 14th general election, when Yu gave her testimony in July last year," the senior lawyer said.
He also said since Yu had testified extensively in the SRC case, the court should not allow her to be subject to further harassment and instead grant her immunity over her testimony. "For these reasons, this is a fit and proper case for this court to allow the striking out of this suit," he said.
Gurdial also highlighted that even the prosecution in the SRC case had raised the question as to why Najib had not taken any action against the bank or Yu when the former Umno president claimed four of his bank accounts had been manipulated by the bank. Guardial further argued that Najib's lawsuit was merely an action to bolster his defence in the SRC case.
The submission was made in the hearing of Yu, AmIslamic and AMMB's application to strike out Najib's suit today.
'Fine imposed by Bank Negara is not a conviction', AmIslamic counsel Yoong Sin Ming agreed with Gurdial
"This attempt in filing the civil action is to bolster what he had not done in the criminal action — that is to shore up his defence. He wanted to show proof by filing this action. It is an attempt to undermine the court process, as this is a collateral attack on the other trial and hence should be considered an abuse of the court process and the suit should be struck out," she told the court.
Yoong also defended the bank against claims by Najib's counsel that it had been found guilty, saying the bank was only fined by Bank Negara Malaysia for contravening certain anti-money-laundering regulations, and that this was not recorded as a criminal offence.
"The bank was fined for not reporting [certain transactions] under certain provisions of money-laundering. It had not been found guilty of any conviction," she said, adding Najib only filed the civil suit after witnesses' testimony in the SRC trial showed him in a bad light.
Dawson, meanwhile, pointed out that Najib, then a premier and finance minister in 2016, had all the resources at his disposal to question the credibility of the defendants when he was cleared by the AG, but did not.
"The court has to take this into consideration in determining this civil action  —whether it is prejudicing the criminal trial of another court, one way or another. Would the civil court intrude the questions that have already been decided by the criminal court?" he asked.
Najib's lawyer, Tan Sri Muhammad Shafee Abdullah, denied that Najib's action was a collateral attack on the SRC case, as the criminal trial had ended and a verdict had been passed down.
He further said the courts can have two separate proceedings on an issue, namely a criminal and a civil hearing, and that this had been proven in past cases.
The senior lawyer also said Yu should not be granted immunity over her testimony in the criminal trial.
"Let us question her again in the civil trial and if her evidence is inconsistent or she contradicts herself, action could be taken against her for saying something faulty. All this is done within the control of this court," he said.
Meanwhile, Najib's co-counsel Harvinderjit Singh said the case should go on full trial, as the court could not summarily dismiss the claim based on the acts and omissions of the defendants from 2013 to 2015.
"Whatever findings in this court would not affect Justice Mohd Nazlan Mohd Ghazali's decision [in the SRC case], as he had already made his decision," Harvinderjit said, adding this court should not close its door on Najib's attempt to prove his case against the bank, and that the bank should be given the opportunity to defend itself.
Najib filed the suit last December, and he named AMMB Holdings, its Islamic arm AmIslamic, and Yu as defendants. He claimed that some transactions in his accounts ending with the numbers 694, 880, 898 and 906, were made without his prior knowledge.
He alleged AmIslamic and Yu had breached their duties and were negligent in handling his accounts, as they had disclosed information about these accounts to fugitive businessman Low Taek Jho (Jho Low), whom Najib said was an unauthorised third party.
Judicial commissioner Datuk Khadijah Idris has fixed Sept 28 to deliver her decision.