This article first appeared in Digital Edge, The Edge Malaysia Weekly, on October 19, 2020 - October 25, 2020.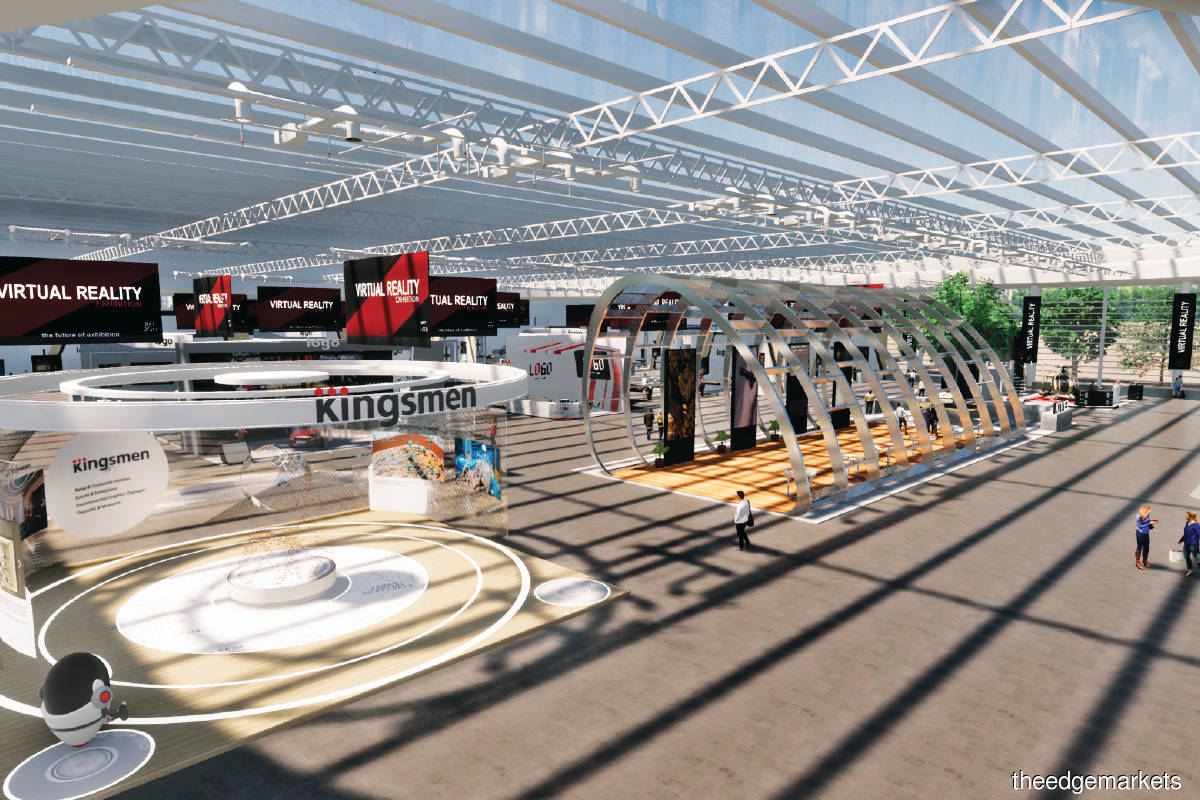 The business events industry is at a standstill. Since the beginning of the year, exhibitions and conferences have been cancelled or put on hold indefinitely due to the Covid-19 pandemic.
Industry players, however, did not sit idly by. Pressured to find an avenue for revenue, events companies took matters into their own hands by figuring out a way to digitise an industry that traditionally relied on physical interaction.
Innogen Sdn Bhd general manager Feyond Teh tells Digital Edge that in the last five years, the terms "digitalisation" and "IR 4.0" (Industrial Revolution 4.0) have been bandied about with monotonous regularity, but players in the events space were largely unaffected because it did not seem possible to digitise human interaction.
Last year, the company started taking baby steps to figure out a solution for a hiatus in events following a pandemic. At the time, there was no urgency, but once Covid-19 hit, all large-scale events had to be cancelled or rescheduled and the company found itself in something of a bind.
Teh says during the Movement Control Order (MCO), Innogen finally had the time to focus on fine-tuning its virtual events platform, InnVirtual. The company had planned to launch this platform in the middle of next year. However, during the MCO, it went full steam ahead and managed to launch it on Aug 10.
During the launch, Innogen managing director Richard Wong said stakeholders, including partners and industry players, needed to embrace digital transformation. "We are now in the age of experience, which means that every event, no matter how small, needs to become an immersive experience. The new generation, who are sophisticated and tech savvy, will settle for nothing less," he said.
And indeed, the Age of Experience has arrived. Events and exhibition company Kingsmen Sdn Bhd, which saw its revenue dwindle to nothing during the MCO, had to pivot quickly. It too developed a virtual exhibition space.
"Our focus is on creating the right ambience and experience through our designs. As we specialise in graphics, we adopted a virtual solution in May and from there partnered with other companies to plug in their solutions to create a virtual exhibition hall," Alix Lim, Kingsmen's managing director tells Digital Edge.
Kingsmen designs event spaces and exhibition halls. Its founder and senior director CK Cheong set up the Malaysian office of the Singapore-headquartered company in 1982. Over the years, its services have evolved to include theme park and museum decorations as well as signage.
Lim shares that since its inception in Malaysia, the company has gone through four recessions, but the present one is by far the worst. He says the one thing it has learnt from all these downturns is the importance of being able to adapt to change.
"You must work fast and change according to market needs. Business was not looking good but enquiries were still coming in up to mid-March," says Lim.
"People were looking for an alternative, so we did some R&D to see what was out there. Within two weeks, we knew we wanted to develop a virtual event space and managed to finalise the software within two months.
"We are eager to learn new technology. When we first started in 1982, there were no computers and everything was sketched by hand. Today, there is a lot of new software out there but this also means there is a lot of competition. But business must go on, so we came up with this solution," says Lim.
Extending reality
It is no secret that most employees are experiencing screen fatigue, with many opting for a work-from-home policy due to the pandemic. On top of that, Innogen and Kingsmen were receiving enquiries from their clients on solutions that would enable them to organise an "almost real" event.
Extended or cross reality (XR) — encompassing augmented reality (AR), virtual reality (VR) and mixed reality technologies — enabled these two companies to create engaging virtual halls and exhibitions, not just allowing their clients to carry out virtual events but also elevating the experience to keep participants engaged.
Fariz Hanapiah, creative director at Experiential Design Team (EDT), on the other hand, focuses on enhancing video calls and streaming. EDT in late June launched Arvena, an AR studio for live streaming, using real-time graphics to make it more interesting and engaging.
"It uses the same engine that people use for triple-A games (games with high development budgets) but instead we produced a virtual set for people to be in, as if it were a real event. One of our first clients was an eSports company, Kitamen, who used it to do an online FIFA competition," Fariz tells Digital Edge.
"Usually green screen images are two-dimensional but we can make it three-dimensional. The best thing is that clients can be interactive and create games around it."
He adds that typically, live streaming is very linear, where the most interactivity will be through a chat box, but EDT is trying to incorporate more interactive games such as Wheel of Fortune and Family Feud.
"Content creators are not just limited to creating streaming contents now; they can also create interactive content to stream out that the audience can participate in. And all of this will be live," he says.
"It's all about engagement. If you do live streaming and it looks beautiful but has no engagement, it doesn't make sense. Nowadays, you can't really tell [how engagement is] from the video views. But when you have concrete engagement where you interact and ask questions, the result is a solid number that cannot be misleading."
Arvena is a useful tool for those who have resorted to selling products via live streaming on social media. Fariz explains that the platform is accessible to any company via a subscription, where EDT will set up the green screen, cameras, computers and software needed. "What you want to do with it is up to you, but we will build it for you and install it.
"Arvena combats video call fatigue through engagement. So, whoever is hosting needs to engage with the audience by doing surveys and quizzes, but with a candy or prize at the end of it so you get a high engagement rate."
InnVirtual and Kingsmen's virtual event spaces, on the other hand, use similar technology but apply it for events. Both platforms are similar in nature and accessible via a browser. Participants can click on touch points to "walk" through the space and visit different booths. At the booths, there is an interactive panel and a chatbot, through which participants can ask questions and interact with representatives of the company. Participants can also click on the doors to enter different rooms.
When a participant enters a room or auditorium, they are placed in front of a stage with a screen, where a talk or presentation takes place. For both platforms, companies can opt to do a live streaming or pre-recorded talk.
The main difference between the two platforms is in terms of functionality and services. InnVirtual's functions, such as its chatbot, video conferencing and video streaming functions, were developed by Innogen. On the other hand, while Kingsmen created the main design and infrastructure of the virtual space, the features were put in by its collaborating partners.
"It's kind of like a jigsaw puzzle. For example, if you want the event to be 'by invitation only', we can make it so that only those with a password or QR code can access the room. And if a company already has a chatbot function on its website, we can embed it using APIs (application programming interfaces)," says Kingsmen's Lim.
"It's just a plug-and-play thing. This also means that companies don't need to incur additional costs. We understand that people are facing liquidity problems, so we're trying to make it affordable and adaptable as well."
InnVirtual has two networking lounges for business matching and pre-arranged appointments, which utilises a video call or live chat function. Teh says the transition from a full physical to digital experience has been too big. So these functions help people adapt and migrate from one to the other more easily.
"It needs to have a soft landing. Hybrid events will come into play later on when people feel comfortable and it becomes another premium version of exhibitions."
Hybrid events combine in-person experience with a virtual experience, allowing attendees to experience a real-life event with the added XR experience to showcase food, performances and service excellence while leaving the technical expertise to InnVirtual. 
This is especially important in today's social distancing environment, says Teh.
Nevertheless, customisation and personalisation is a key part of both the platforms. Both platforms can be customised to suit a client's needs, from the design to the type of third-party platform they would like to incorporate. There are virtual billboards around the room as well, which can be rented out and used by event organisers to earn additional revenue.
However, InnVirtual's Teh reiterates that virtual events will not be a substitute in the long run. In fact, hybrid events will be the trend moving forward.
"People still need to socialise with people. Virtual solutions bring the industry to another level, so moving forward in the post-Covid-19 era, it will be an element at events.
"It's just that now, one of the selling points, especially since people cannot travel between countries and the uncertain economic situation, is that people are still able to participate in events, no matter where they are in the world," she says.
While Kingsmen is still finalising the pricing structure for its virtual space, 
InnVirtual's Teh estimates that the cost of a premium virtual event will be 30% of the cost of a full-fledged physical event.
Kingsmen has partnered with the Malaysian Dutch Business Council (MDBC) to launch a virtual exhibition space late this month. Lim says the company has a wide vision for this application and the team at Kingsmen is constantly updating its features to keep its offering relevant.
"Taking things virtual is a thing now. Video calls and webinars are becoming stale. What if this becomes stale too? As such, the more time and effort we spend on developing and enhancing our solution, the further we can take it," he says.
The XR potential
In the past, technology has always been about users needing another screen or device to access its features. Now, VR and AR technology is more seamless, which means we do not need a special apparatus to view the extended reality.
Fariz says that over the years, this technology has become more accessible, thus resulting in wider usage. A good example would be the face filters on Snapchat and Instagram. Although the development of face filters and events is still going to be EDT's bread and butter, he believes that live streaming will be an up-and-coming trend, especially with Arvena as it unlocks the potential for e-commerce.
"We're going into the e-commerce space, specifically in live streaming," he says.
Fariz says EDT has noticed them selling everything from fresh fish to watches through this medium.
"The smaller component would be a collaborative environment. So if you want to do a seminar with speakers from all around the world, rather than having a Zoom call presented in a boring grid, you can have their faces on a virtual stage," he explains.
Teh agrees: "I believe that in the coming years, the hybrid solution will be at the forefront. For example, a local event organiser would typically target local participants, but with the tech available, the reach can be extended to countries in the region. It's a natural progression."