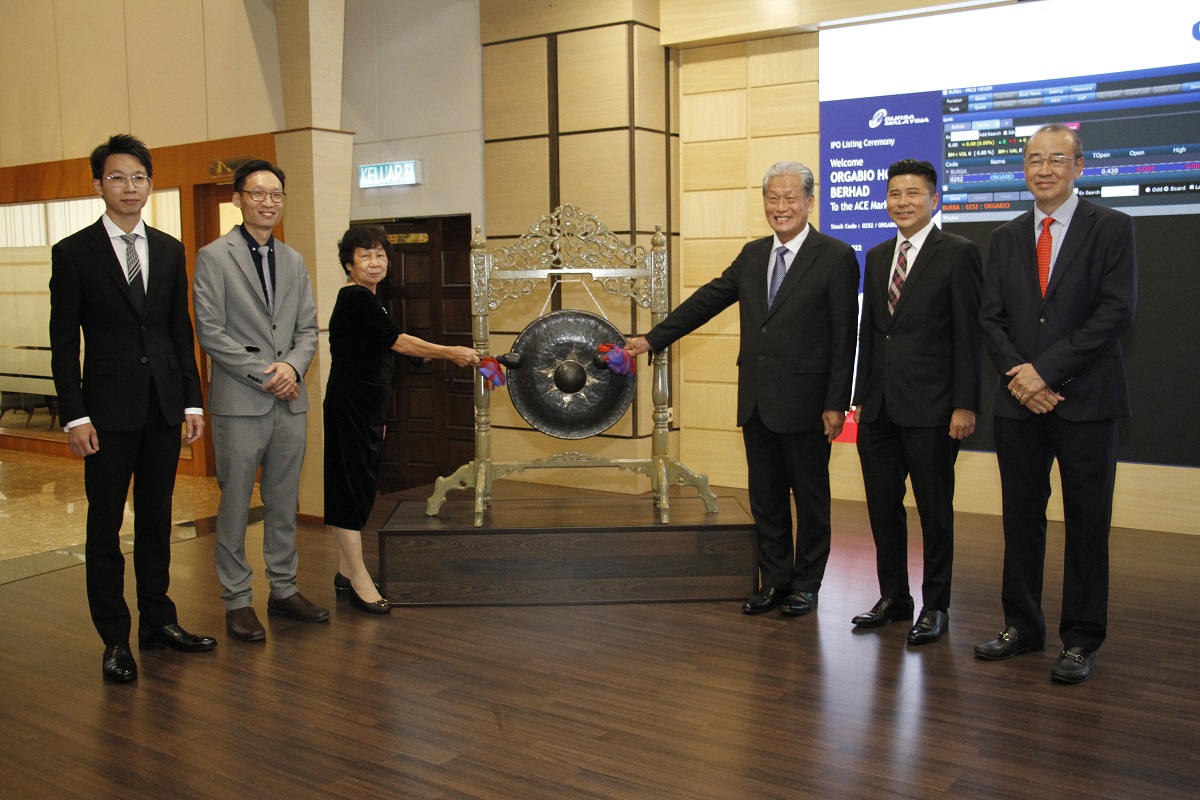 KUALA LUMPUR (July 5): Instant beverage premix manufacturer Orgabio Holdings Bhd, which made a firm debut on the ACE Market on Tuesday (July 5), plans to fully pass on the jump in raw material and packaging costs to its consumers to improve its gross profit margins, which have been eroded by surging costs.
According to Orgabio's chief executive officer/executive director Ean Yong Hien Voon, one of the key ingredients the company uses in its instant coffee manufacturing is non-dairy creamer, the price of which has jumped by more than 40% from last year.
"I think you all know that the cost of raw materials is going up... We have started to gradually pass the [increased] costs on to our customers. We have contracts with the customers, [and] we have to inform them, usually with three months' notice, for the price increase.
"We are trying our best to [pass on the increased costs] by 100%, but the price increase will be by mutual agreement [with customers]," Hien Voon told reporters in conjunction with the company's listing on the ACE Market on Tuesday.
In the financial year ended June 30, 2021 (FY21), Orgabio made a profit after tax (PAT) of RM7.6 million on a revenue of RM59.1 million. But in the first six months ended Dec 31, 2021 (1HFY22), the company only made RM2.7 million in PAT, just over 35% of what it made in FY21 — even though revenue was RM34.8 million, more than half FY21's total — as it grappled with higher cost of raw and packaging materials. The group's profit margin in FY21 stood at 30.3%, but this dropped to 18.6% in 1HFY22.
Orgabio shares, which opened at 36 sen per share and touched as high as 40 sen — up nine sen or 29% over its initial public offering price of 31 sen, finished its maiden day at 34 sen after 101.98 million shares changed hands, giving it a market capitalisation of 84.275 million.
Expansion of direct sales segment, overseas market
Meanwhile, Orgabio executive deputy chairman Datuk Ean Yong Tin Sin said the company intends to further expand its customer base in the direct selling segment by securing more local and overseas direct selling companies as new customers.
"Direct selling companies will be able to provide us with high manufacturing volumes, which will in turn enhance the growth of our financial performance and the sustainability of our company.
"In the past four financial years, our sales to direct selling companies contributed between 61.4% and 80.6% of our company's revenue. As at May 17, 2022, we had nine local direct selling companies as our customers," Tin Sin said in a statement.
Orgabio also plans to build a new factory and equip it with new machinery to expand its manufacturing capacity and enhance overall efficiency.
The new factory in Semenyih, which is expected to be operational by August 2023, will increase Orgabio's capacity to 230 million sachets per annum from 117.2 million per annum as at Dec 31, 2021.
The company also intends to leverage Malaysia's global reputation as a major exporter of coffee extracts to further expand its export markets through various marketing activities such as participation in overseas trade fairs and exhibitions, and digital marketing, Tin Sin explained.
As at end-December, export sales made up 21.9% of the company's overall revenue. The countries that Orgabio currently exports to include Singapore, China, Papua New Guinea, the United Arab Emirates, Hong Kong, Trinidad and Tobago, Japan, Myanmar, Russia, Taiwan, India and Australia.
Orgabio is the third largest instant beverage premix manufacturer for third-party brand owners in Malaysia. It also manufactures and markets its instant beverage premixes under its own brands, EveryDay and BrogaHill.
Its customers include food and beverages companies, supermarkets and hypermarkets, and direct selling companies such as Amway (M) Sdn Bhd, TDC Avenue Sdn Bhd as well as Hai-O Enterprise Bhd, Lotuss Store (Malaysia) Sdn Bhd, and Econsave Cash & Carry Sdn Bhd.
Tan Choe Choe & Surin Murugiah