This article first appeared in The Edge Financial Daily, on March 19, 2019.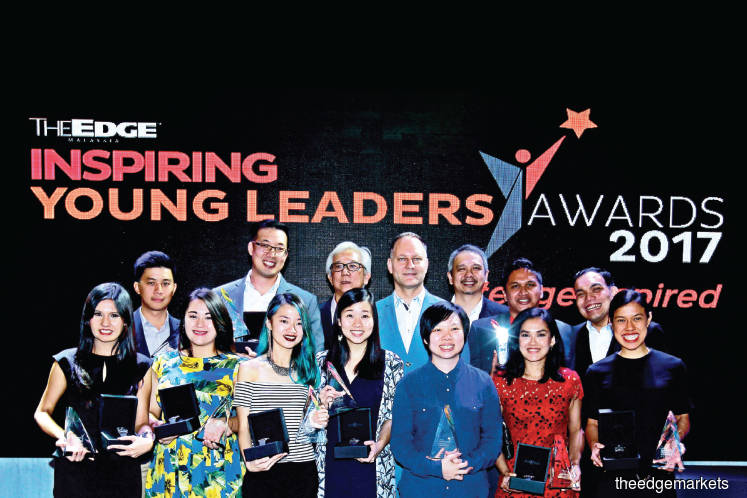 The award winners with Ho and Valiram Group chief financial officer Szilard Brenner (back row, third and fourth from left respectively).
When we embarked on The Edge Inspiring Young Leaders Awards (Teiyla) for the first time two years ago, it was with the aim to acknowledge young people who have made noteworthy and interesting contributions to their chosen field. There was no shortage of nominees, and our initial list of eight winners spanned several industries, including sports, social enterprises, human rights, film-making and education. The awardees moved us with their stories of tenacity, grit and passion, having achieved so much in so little time.
The inaugural awards ceremony was held on July 11, 2017, as part of luxury retailer Valiram Group's biennial watch fair, Revolution by Time Kulture. The winners were featured on the cover of Options the following week, providing them with a public platform to talk about what they do — human rights lawyers Syahredzan Johan, Michelle Yesudas and Melissa Sasidaran, squash icon Datuk Nicol David, the founders of social enterprises The Picha Project and EPIC Homes, film-maker Chiu Keng Guan and Teach for Malaysia founder Dzameer Dzulkifli.
In the two years since, these inspiring young people have continued to make the country proud. For example, The Picha Project was the first Malaysian finalist of the Chivas Venture Global Final last year, and Chiu's box office film Ola Bola has been turned into a hugely successful musical. Teach for Malaysia has continued to gain traction, while David announced her retirement earlier this year after a truly extraordinary professional career in squash.
It is based on these success stories that we are embarking on this project once again, and this time, expanding our list of winners to 10 that includes more categories. Activism, education, energy and the environment, entrepreneurship, sports and the arts are all featured this year in equal measure, each with inspiring stories that continue to fill us with hope for the future.
An increased number of winners is not the only change we have made to Teiyla — although co-hosting it with Valiram Group was a wonderful way to kick off the programme, the awards ceremony has grown enough to deserve a platform of its own and will be held today at the new Sheraton Petaling Jaya. Together with guest of honour Dr Ong Kian Ming, the deputy international trade and industry minister, The Edge publisher and group CEO Datuk Ho Kay Tat will celebrate each winner and the ways that they have changed the world. All their stories, as well as a round-up of the event itself, will be published in the March 25 issue of Options.
This year, we are also proudly joined by three partners — Chivas Regal,  Samsung Malaysia Electronics and Volvo Cars Malaysia.
The cocktail event may be the climax of this year's Teiyla, but it will be just the beginning. Through the exposure that each winner gets, we hope that the upsurge in awareness and support will allow them to continue on their unique journeys. To that end, we also hope to establish even more meaningful partnerships that will help us to propel our winners to new heights, and to equip them with the resources they need to better further their cause and purpose.